Live from New York, it's Saturday night! Season 47 of Saturday Night Live is well underway, and show runner Lorne Michaels has yet to disappoint with his choice of show hosts and musical guests. This week, comedian Natasha Lyonne, 43, makes her hosting debut at Studio 8H alongside first-time musical guests Japanese Breakfast, on Saturday, May 21.
Owen Wilson, 52, opened the season with musical guest Kacey Musgraves, 33, on Oct. 2. The Wedding Crashers star also made his hosting debut in season 47, chalking up the long wait to nerves. "I get really nervous with public speaking. I've never done any of those commencement addresses or Saturday Night Live just because I get too nervous," he explained on a hike to friend Kevin Nealon in a YouTube video. Owen slayed it, and even had some help from his brothers Andrew, 57, and Luke, 50, during his opening monologue.
Learn more about this week's show below.
Natasha Lyonne Is Hosting 'SNL' For The 1st Time
Saturday Night Live welcomes Natasha Lyonne for the first time to the show! The 43-year-old is no stranger to the comedy world with her popular series Russian Doll on Netflix, as well as her hilarious role on the show Orange Is The New Black. Beyond those roles, she's also known as Jessica from the American Pie franchise.
She took to social media to announce the hosting news on May 13. "Live from New York it's yippee ki yay, motherf——-!!!," she exclaimed on Instagram, captioning a screenshot of the show's classic post-it image with her name and the musical guest. She added plenty of airplane, heart and sunglass-wearing emojis, capturing her excitement about the opportunity.
Natasha also appeared in a promo with Kate McKinnon, who will be appearing in her last episode on May 21 amid news that she is departing the show, as well as Kenan Thompson and Japanese Breakfast's Michelle Zauner. "Hi, I'm Natasha Lyonne and I'm hosting the season finale of SNL this week with musical guest Japanese Breakfast," she announced, as Kate noted that her voice is "iconic" before comparing her to Marge Simpson from The Simpsons and "every secretary' in a movie. "Not really a compliment," Natasha quipped. "You sound like you've had COVID for a thousand years," Kenan also quipped, as Natasha said she was "sufficiently insulted."
The 'SNL' Musical Guest Tonight Is Japanese Breakfast
Japanese Breakfast, fronted by vocalist Michelle Zauner, along with bass player Deven Craige, are set to make their SNL debut on May 21! The group came together back in 2013, and has earned accolades in the indie music industry, especially for three releases: 2016's Psychopomp, Soft Sounds From Another Planet which dropped in 2017. The group released their third album Jubilee in 2021, which received rave reviews.
Zauner, who is Korean-American, has previously said she came up with the name Japanese Breakfast because it sounded "curious." She said to Teen Vogue, "I think I just wanted something that sounded kind of curious, like something that sounded really American and well-known, like breakfast, and combining it with something that I think American people just associate with something exotic or foreign."
"I thought it would make people curious, like, 'What is a Japanese breakfast?' Japanese Breakfast is quite like beautiful, and I really enjoy it. I think I was just looking at pictures of it one day and was just like, 'Oh, I'll just release this album under this name'," she explained in 2017.
Saturday Night Live airs at 11:35 p.m. PST/EST and 9:30 p.m. MT on local NBC affiliates. The series can also be streamed live on the Peacock app.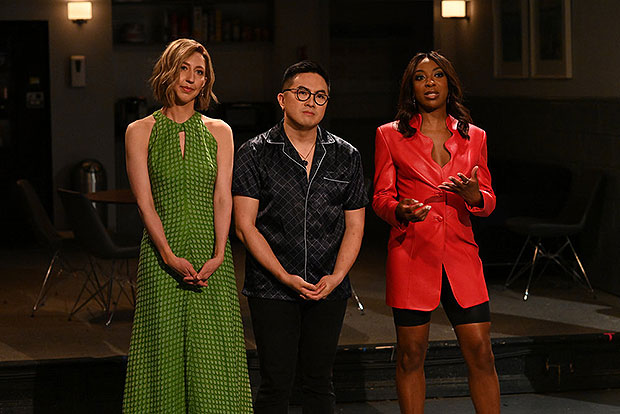 'SNL' Cast Members This Season
Saturday Night Live
has a number of new cast members joining the show this season, including
Andrew Dismukes
,
Sarah Sherman
,
James Austin Johnson
,
Punkie Johnson
and
Aristotle Athari
.
Michael Che
and
Colin Jost
remain in their roles as "
Weekend Update
" hosts, which they took over in 2014 from
Seth Meyers
and
Cecily Strong
. Other returning cast members include
Pete Davidson
,
Aidy Bryant
,
Kate McKinnon
,
Kenan Thompson
,
Chloe Fineman
,
Heidi Gardner
,
Alex Moffatt
,
Kyle Mooney
,
Chris Redd
,
Ego Nwodim
,
Melissa Villaseñor
,
Bowen Yang
and Cecily.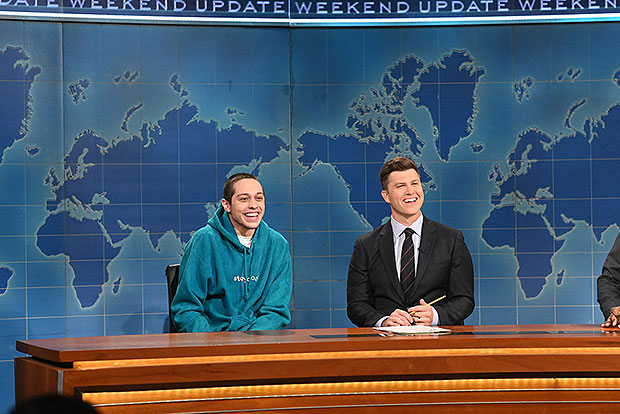 Beck Bennett
and
Lauren Holt
announced their departures ahead of season 47. Beck, 36, took to social media with a heartfelt message
about his exit
. "Love you, SNL," he wrote on Sept. 27. "Gonna miss you so much. Thank you for 8 years of remarkable people and incredible experiences that completely changed my life. I had so much fun," he also penned, alongside a slew of photo highlights which you
can see here
.
Lauren also shared a sweet tribute to mark the end of her one year run. "What an incredible year spent with incredible people. I will always be so grateful," the comedian began. "Cheers to all the cast members past, present, & future…so proud to be/have been a part of this amazing family. These three letters will always bring joy to my heart… SNL, I love you," she also said.