King Charles III is the current reigning monarch of the United Kingdom.
He was officially named the King on Sept. 10, 2022, two days after the death of his mother, Queen Elizabeth II.
The official Coronation ceremony was held on May 6, 2023. Both of his sons, Prince William & Prince Harry, will attend.
Following the death of Queen Elizabeth II on Sept. 8, 2022, her son, King Charles III, 74, was officially declared the King of the United Kingdom on Sept. 10. The date of his official Coronation, May 6, 2023, was revealed by the institution in Oct. 2022. It took place at Westminster Abbey, London, and was conducted by the Archbishop of Canterbury. Not only did people see King Charles crowned, but his wife, Queen Camilla, 75, was also crowned on Saturday.
In addition, the Coronation ceremony was announced to "reflect the monarch's role today and look towards the future, while being rooted in longstanding traditions and pageantry," per the official Buckingham Palace website. Compared to the late Queen's coronation of 1953, Charles' was set to vary in a few ways. One of the biggest differences is the number of guests set to attend, about 2,000, whereas Elizabeth's guest list included over 8,000 people. Secondly, her son's coronation was about one hour, a two-hour markdown from her three-hour ceremony over 70 years ago. Learn more about who is on the guest list for the prestigious event, like Prince William, 40, his son, Prince George, 9, and his brother, Prince Harry, who has not been with his family since releasing his scathing biography, Spare. See the full guest list below.
Prince William, Princess Kate, & More Confirmed Royals Attending King Charles' Coronation
Buckingham Palace confirmed that members of the Royal Family will be in attendance at the event, including William and his family. On Apr. 4, 2023, the official Instagram account for the institution revealed that Charles and Camilla will have "eight Pages of Honour" that will attend the ceremony, which included George. William's wife, Princess Kate, 41, and their other two children, Princess Charlotte, 7, and Prince Louis, 4, will also join. Royal sources previously told Entertainment Tonight that William and Kate were rethinking having Louis there, after he infamously acted out during the Platinum Jubilee celebration in June 2022. But Louis' attendance was confirmed when he went to the ceremony's dress rehearsal a few days before the coronation, according to Page Six.
A few others from the Royal Family reportedly invited, as reported by The Telegraph, include:
While George served as a Page of Honor, his brother and sister did not have official roles in the ceremony, and they were seated between their parents. Prince George appeared to take his part very seriously, and his siblings were adorable next to their parents.
Will Prince Harry & Meghan Markle Attend King Charles' Coronation?
It was officially announced that Prince Harry will be attending the coronation on April 12th. In a statement from the palace, a rep announced, "Buckingham Palace is pleased to confirm that The Duke of Sussex will attend the Coronation Service at Westminster Abbey on May 6th," said the royal decree in a statement to HollywoodLife on Apr. 12. However, Meghan, Duchess of Sussex, will not be attending and will instead remain in California with Prince Archie and Princess Lilibet. This follows multiple reports that claimed that Prince Harry's kids have not yet been invited.
Earlier this year, the Spare author sat down for an interview with ITV and hinted that he might skip the ceremony. "There's a lot that can happen between now and then," Charles' son said at the time. "The door is always open. The ball is in their court. There's a lot to be discussed and I really hope they're willing to sit down and talk about it."
It was also reported that Harry's older brother has "strong feelings" about him attending, per royal expert Richard Fitzwilliams, via US Weekly. "There's no doubt he feels very strongly," he said on Mar. 2. "Charles is a symbol of national unity, of course, as the monarch, and the invitation comes from him. So far as William is concerned, I mean, it's a terribly deep rift and I don't see it being mended."
Harry arrived at the event and sat behind his aunt Princess Anne. He spoke with his cousin Princess Beatrice and her husband as they walked into the special occasion.
Will Prince Andrew Attend Brother King Charles' Coronation?
Charles' brother, Prince Andrew, Duke of York, 63, is reportedly also set to attend, however, he will likely not have a "ceremonial role" as he is not a working royal, per The Daily Mail. Since the 63-year-old was stripped of his royal affiliations by the late Queen in Jan. 2022, Andrew is not likely to perform any official duties any longer. The disgraced royal was stripped of his titles after Virginia Giuffre accused him of sexual assault in Dec. 2019.
Will Prince Andrew's Ex-Wife, Sarah Ferguson, Attend King Charles' Coronation?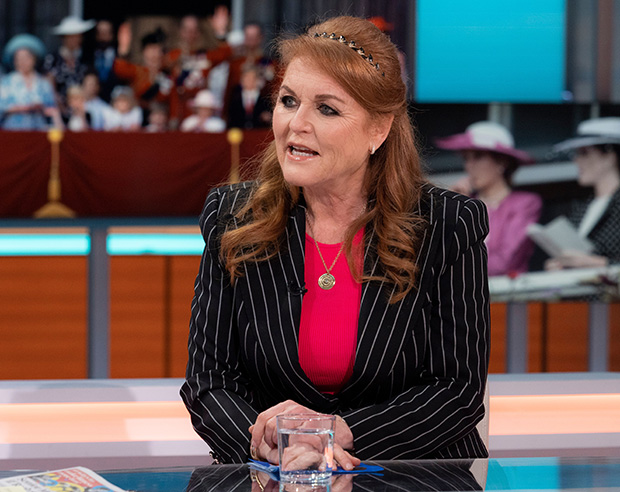 It was revealed that Sarah Ferguson, the ex-wife of Prince Andrew, would not attend King Charles III's coronation in mid-April. About a week later, she spoke out about her lack of invite. "[I'm not going] cause it's a state occasion. And being divorced, I don't think you can have it both ways," she explained on the April 20 episode of Good Morning Britain. However, she said that she's still around the family at other events.
"I think that Charles and Camilla are doing an exceptional job at unifying the family. And just because I'm not there on the state occasion, but in private I can be there," she noted. "And that's a lovely feeling to be part of the family. It really is. As I said, you can't have it both ways. You mustn't sit on the fence. You're either one in or out, but don't muck around."
Sarah and Andrew separated in 1992 and divorced in 1996, but remained close. In fact, they are still living together.
Will President Joe Biden & Dr. Jill Biden Attend King Charles' Coronation?
It became clear whether or not U.S. President Joe Biden, 80, would attend the Coronation on Apr. 4, 2023. After he and the King spoke on the phone, the White House released an official statement to inform citizens on the plan, which indicated that First Lady Jill Biden, 71, would go in his place. "President Joseph R. Biden, Jr. spoke today with King Charles III, underscoring the strength of the relationship between our countries and the friendship between our peoples. The President congratulated the King on his upcoming Coronation and informed him that First Lady Jill Biden looks forward to attending on behalf of the United States," the statement read. "The President also conveyed his desire to meet with the King in the United Kingdom at a future date."
While the president didn't attend, Dr. Jill Biden did not attend alone. She arrived at the event with her granddaughter Finnegan, 23. She extended her congratulations on Twitter. "The United States and the United Kingdom have a special relationship," she wrote. "It's an honor to represent the United States on this historic day at Westminster Abbey."
Are Leaders From Other Countries Attending?
At least one foreign monarch will be at King Charles' coronation, which is a break from tradition. According to PEOPLE, King Carl XVI Gustaf from Sweden and his eldest daughter and heir, Crown Princess Victoria, will be there. So will Denmark's Crown Prince Frederik and Crown Princess Mary, and Japan's Crown Prince Fumihito and Crown Princess Kiko. Typically, foreign monarchs don't attend British coronations, but Sweden's King Carl XVI Gustaf is going anyway. It could be because he's actually Charles' third-cousin once removed. Prince Albert of Monaco has also reportedly confirmed that he'll be at the coronation.
In addition to Jill Biden, other foreign leaders did attend, including Canadian Prime Minister Justin Trudeau. Not only did foreign politicians come out, but former British leaders were also seen in attendance. Former Prime Minister David Cameron, as well as current Prime Minister Rishi Sunak were seen at the event.
Did Celebrities Attend?
Besides politicians and members of the Royal Family, there were a few celebrities that made appearances at Westminster Abbey. Dames Maggie Smith, Judi Dench, and Emma Thompson were all guests at the ceremony. American musicians Katy Perry and Lionel Richie, who will also be performing during a concert later in the evening were also seen at the church.
Will Queen Camilla's Children & Grandchildren Play A Role In The Coronation?
As previously mentioned, Camilla and her husband will have eight "Pages of Honour" that day, which mean they will have eight people selected to carry the robes of the "prominent figures", per AP News. The 75-year-old's Pages include: Her Majesty's grandsons, Master Gus and Master Louis Lopes and Master Freddy Parker Bowles, along with Her Majesty's great-nephew, Master Arthur Elliot. The statement did not note if her children: Laura Lopes and Tom Parker Bowles will be there, however, The Telegraph did claim that they would be.