Not all television shows can live to see additional seasons. This year, networks and streaming services cancelled TV shows for a multitude of reasons — production costs, COVID-19 issues, ratings, and more. Some show cancellations came out of left field, especially the ones that had already been renewed, while some of the other cancelled TV shows weren't so surprising.
While most networks and streaming services cancelled TV shows in 2020, a couple of streaming services did not. Apple TV+ renewed the majority of its series for additional seasons, which are set to debut in 2021. HBO Max launched in May 2020 and continues to roll out new content. The streaming service has yet to make any official cancellations in 2020. From streaming services to network TV, find all the TV shows that were cancelled in 2020.
Streaming Services Shows That Were Cancelled
Netflix
The Society
Netflix renewed The Society for season 2 in 2019, and the show was initially set to start filming in early 2020. However, Netflix reversed its renewal and canceled the series because of uncertainty around production dates, balancing the needs and availabilities of a large cast, and unexpected budget increases due to COVID.
I Am Not Okay With This
I Am Not Okay With This hadn't been officially been renewed, but it was initially set to return. However, due to circumstances created by COVID-19, Netflix opted not to continue with the second season of the critically-acclaimed series starring Sophia Lillis and Wyatt Oleff. The show was based on Charles Forsman's graphic novel and followed a young girl as she grappled with new superpowers.
Chilling Adventures of Sabrina
Netflix revealed in July 2020 that Sabrina would be coming to an end with Part 4 of Chilling Adventures of Sabrina. The news of the show's cancellation came as a shock to fans, and the show became a trending topic on Twitter after the news was revealed. "It all comes down to one last Chilling Adventure. Our final chapter is coming later this year. Coven forever," Netflix tweeted on July 8. The fourth and final season with Kiernan Shipka premieres Dec. 31.
G.L.O.W.
The beloved Netflix series about female wrestlers was canceled due to COVID-19's impact on Hollywood. The show had been renewed for a fourth and final season in 2019, but the streaming service decided to reverse its renewal, according to Deadline. G.L.O.W. had started filming season 4 in early 2020, but it was shut down along with other productions. The season 3 finale serves as the show's series finale.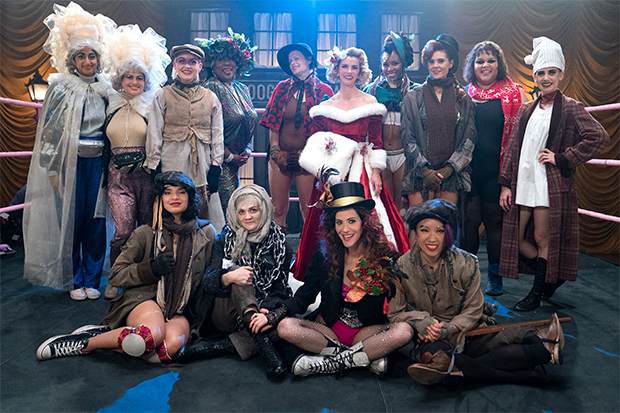 Altered Carbon
Altered Carbon was not renewed for a third season. The second season featured Anthony Mackie playing Takeshi Kovacs this time around. Takeshi was on a quest to reunite with his love Quellcrist Falconer (Renée Elise Goldsberry). The show was reportedly not cancelled because of COVID but due to Netflix's "standard viewership vs. cost renewal review process."
Astronomy Club
The Netflix sketch show was canceled after season 1 debuted in late 2019. "Seems like a good time to mention #AstronomyClub was sadly not renewed by @netflix," the show's Twitter account announced in June 2020. "Thank you to all the fans who watched! Hoping that more black artists & comedians are given the platform to have voices in the future."
V Wars
V Wars was one of many series Netflix cancelled after just one season in 2020. Ian Somerhalder's return to the vampire universe launched in Dec. 2019 and was axed a few months later, THR reported. The series followed Ian's character, Dr. Luther Swann, as he tried to save the planet after a vampire outbreak.
October Faction
October Faction's cancellation was announced at the same time as V Wars. The series, which launched in Jan. 2020, followed a married couple who work together as monster hunters.
Spinning Out
The figure skating drama was nixed by Netflix a little over a month after it debuted in Jan. 2020, Deadline first reported. The series centered around Kat Baker (Kaya Scodelario), a talented figure skater who gets a second chance at greatness after a terrifying fall nearly ended her career. The show gained a fan following, but it wasn't enough to save the show from getting canceled.
Patriot Act with Hasan Minhaj
Netflix cancelled the buzzy talk show after 2 seasons in Aug. 2020. Hasan Minaj announced the news via Twitter. "What a run. @patriotact has come to an end," he tweeted. "I got to work with the best writers, producers, researchers, and animators in the game. My 2 babies were born and grew up with the show. TY to @Netflix and everyone who watched. Now it's time to return these screens to Best Buy."
Messiah
The drama series launched Jan. 1, 2020, and followed a CIA agent (Michelle Monaghan) who investigates a man (Mehdi Debhi) whose followers claim is the second coming of Jesus. Netflix reportedly didn't "feel confident about producing another season of the show, which features an international cast and filmed in several countries, given the current state of the world as it faces the coronavirus pandemic," according to THR.
AJ and the Queen
The Netflix series starred RuPaul as Ruby Red, a drag queen who is traveling across America and finds an unlikely sidekick in AJ (Izzy G.). RuPaul announced the cancellation on Twitter. "End of the road for AJ and The Queen," RuPaul wrote. "Netflix has decided to not extend our trip across America. Thank you for all the love & support. We're so very proud of the work."
Insatiable
The Debby Ryan revenge comedy series was canceled in Feb. 2020 after two seasons. Alyssa Milano, who co-starred alongside Debby, revealed her sadness over the show's cancellation on Twitter. "This is sadly true. We had the most fun creating this show. I want to thank the fans who gave us a shot and kept coming back for more," she wrote.
Soundtrack
The romantic musical drama didn't make the cut for a second season. The series focused on the love stories connecting a group of people in LA through music. Creator Joshua Safran weighed in on the cancellation on Twitter: "What if you made a show and no one noticed? That's how it felt with SOUNDTRACK. The most incredible team of artists worked tirelessly on it – some of them (like me) for over two and a half years – and felt we'd made something unique, fresh, weird, and, well, great. And yet, it all but disappeared. Barely even got reviewed. I personally feel like it never came out."
The Dark Crystal: Age of Resistance
The prequel series to Jim Henson's original 1982 film was canceled after just one season in Sept. 2020. The news of the show's cancellation came just after The Dark Crystal had won the 2020 Emmy for Outstanding Children's Program. Lisa Henson, who served as an executive producer, revealed in a statement that The Dark Crystal team would "look for ways to tell that story in the future."
Teenage Bounty Hunters
Teenage Bounty Hunters launched in Aug. 2020 to critical acclaim. The series that followed twins Sterling (Maddie Phillips) and Blair (Anjelica Bette Fellini) as they took on the side gig of bounty-hunting was sadly axed after one season in Oct. 2020. Even though the season ended with a major cliffhanger, the teen dramedy show was canceled.
The Order
The Order came to an end after just 2 seasons on Netflix. Creator Dennis Heaton broke the news on Twitter in Nov. 2020. "For two seasons, I was honored to work with an incredible cast and crew on The Order for Netflix… Unfortunately, we aren't returning, but I will always cherish the memories and the props I stole. Thank you all for watching." HollywoodLife spoke EXCLUSIVELY with Dennis about the season 3 finale, and he confirmed Alyssa was dead but hoped to bring Sarah Grey back for a third season.
Terrace House
The hit Japanese reality TV show's production was canceled in May 2020 days after cast member Hana Kimura, 22, died by suicide. "We would like to express our sincere condolences for the death of Hana Kimura, who appeared on the program. We also deeply mourn the bereaved families," Fuji TV said in a statement. "Regarding TERRACE HOUSE TOKYO: 2019-2020, we have decided to stop recording, broadcasting, and distribution on FOD in the future. We take this issue very seriously and would like to continue to earnestly respond to it."
Next In Fashion
The fashion competition series hosted by Alexa Chung and Queer Eye's Tan France was not renewed for season 2 by the streaming service. Tan told Variety that "we're not doing a second season" but noted that "we don't know what will happen in the future."
Ashley Garcia: Genius in Love
The Netflix original series, also known as The Expanding Universe of Ashley Garcia, was another one of Netflix's one and done shows. The show followed Paulina Chavez's character, who is the only 15-and-a-half-year-old robotics engineer and rocket scientist in the world. Netflix released a Christmas episode in Dec. 2020 that was filmed before the COVID-19 pandemic.
The Big Show Show
Like Ashley Garcia, The Big Show Show was not renewed for a second season. The series starred WWE wrestler Big Show as a father of three daughters. A Christmas episode also aired in Dec. 2020.
Queen Sono
Netflix's first African original series was canceled in Dec. 2020 after just one season, even though Netflix renewed it for a second season in April 2020. Queen Sono followed Pearl Thusi's titular character, who finds her purpose working for a spy agency. The show's renewal was reversed because of "production challenges" due to the COVID-19 pandemic, according to South African news outlet Channel24.
Hoops
Netflix's animated comedy series starring Jake Johnson as a foul-mouthed high school basketball coach was canceled after just one season in Dec. 2020. The series debuted in Oct. 2020. The streaming service reportedly "decided not to proceed with season 2" after looking at viewership versus cost, according to Variety.
Away
The Hilary Swank space series about a mission to Mars was canceled after just one season in Oct. 2020. Despite a solid debut, Netflix decided to cancel the series a month after its debut, Deadline reported.
Turn Up Charlie
The Netflix comedy series Turn Up Charlie premiered all the way in March 2019, but it wasn't canceled until April 2020. The series featured Idris Elba playing a struggling DJ who gets one last chance at success.
Hulu
Castle Rock
Castle Rock was cancelled after two seasons at Hulu. The news of the show's cancellation was revealed over a year after season 2's launch in Oct. 2019. The series was based on the stories of Stephen King and intertwined his characters and themes.
High Fidelity
High Fidelity's run ended after just one season. The TV series reimagined the 2000 film starring John Cusack with Zoe Kravitz playing the role of Rob. Zoe called out Hulu for canceling the series in a response to Tessa Thompson on Instagram. "It's cool. At least Hulu has a ton of other shows starring women of color we can watch. Oh wait," Zoe wrote.
Helstrom
Helstrom was a drama series based on Marvel comic book characters Daimon (Tom Austen) and Ana Helstrom (Sydney Lemmon), the son and daughter of a serial killer. The siblings had to work together to track down the worst of humanity. The show was canceled less than 2 months after the show's premiere on Hulu. Helstrom's cancellation marked the end of live-action Marvel television shows.
Amazon Prime
Utopia
The drama series about a group of young fans who come together when they figure out that the conspiracy in an elusive comic, Utopia, is real, was canceled after one season. Utopia had a long journey to TV, with the show originally being developed and picked up at HBO with David Fincher involved in 2014. The show eventually moved to Amazon with creator Gillian Flynn and without Fincher attached.
Peacock
Brave New World
Brave New World, based on Aldous Huxley's bestselling novel, was canceled after one season. The show made its debut when Peacock launched in July 2020. At the time of Brave New World's cancellation in Oct. 2020, the studio behind the show, UCP, was going to be shopping the show to other outlets.
Facebook Watch
Sorry For Your Loss
The Elizabeth Olsen drama series about a widow struggling after the loss of her husband was canceled by Facebook Watch was not renewed for a third season, Deadline reported. The cancellation was reportedly due to the company's decision to "significantly" decrease "their scripted development efforts." The critically acclaimed show was shopped to other networks, but it was not picked up as of Dec. 2020.
Limetown
Jessica Biel starred and executive produced the series about a journalist attempting to solve the mysterious disappearance of over 300 people in Tennessee. The series premiered in Oct. 2019 and was canceled a few months later in Jan. 2020.
CBS All Access
Tell Me A Story
Kevin Williamson's anthology series, which put a sinister spin on beloved fairytales, was canceled by CBS All Access after season 2 in May 2020, TVLine confirmed. The CW acquired the broadcast rights to Tell Me A Story, and the show premiered on the network in July 2020. Despite the re-airing, the show was not picked up for a third season.
Interrogation
The crime drama series came to an end after only one season on CBS All Access. The non-linear series starring Peter Sarsgaard followed an interrogation of people who may or may not have been involved in a decades-old murder case. Interrogation's cancellation was announced by The Hollywood Reporter in Nov. 2020.
DC Universe
The DC Universe streaming service initially launched in Sept. 2018. In Aug. 2020, WarnerMedia announced that the streaming service would be moving its original series over to HBO Max. Those titles include Titans, Doom Patrol, and more. DC Universe will be relaunched as DC Universe Infinite, a premium digital comic book service, in Jan. 2021.
50 Cancelled TV Shows Of 2020 On TV
ABC
Stumptown
Stumptown had been renewed for season 2, but ABC reversed its decision and cancelled the series in the wake of the COVID-19 pandemic. The show, which star Cobie Smulders, was reportedly axed "due to timing and scheduling needs for the current season" that became impacted by COVID-19. The show was shopped to other outlets, but it was not picked up.
The Baker and the Beauty
Freshman rom-com The Baker and the Beauty was axed after just one season following its final episode in June 2020. Star Lisa Vidal told HollywoodLife EXCLUSIVELY that the show's cancellation was a "huge disappointment" because the show deserved a "great future." Fans rallied around the show and garnered over 100,000 signatures on a Change.org petition to renew the show, but the show, unfortunately, did not get a second season on another network.
Single Parents
Single Parents was another comedy ABC cancelled in May 2020. The network opted not to renew the show for a third season after ratings dropped in its sophomore run. The show starred Leighton Meester, Taran Killam, and more as single parents raising their kids.
Bless this Mess
Bless this Mess was also nixed by ABC after season 2. The show followed Lake Bell and Dax Shepard as a newlywed couple who move to Nebraska after living it up in the big city.
Emergence
Emergence starred Allison Tolman as a police chief who takes in a young girl after she's found near a mysterious accident with no memory. The show premiered in 2019 and was cancelled in May 2020. Emergence had been developed and piloted at NBC before moving to ABC. Despite good reviews, the show failed to generate stellar ratings.
Schooled
Schooled was one of the ABC comedies cancelled by the network in May 2020. The series, a spinoff of The Goldbergs, followed Lainey (AJ Michalka) as a teacher at William Penn Academy. The show ran for two seasons.
Kids Say the Darndest Things
The variety show reboot, hosted by Tiffany Haddish, was cancelled by ABC in May 2020. However, CBS picked up the series in Dec. 2020 for a second season. The original series was hosted by Bill Cosby and aired on CBS. Season 2 is expected to air in 2021.
GMA3: Strahan, Sara & Keke
The daytime talk show co-hosted by Michael Strahan, Sara Haines, and Keke Palmer will not be returning to ABC's daytime lineup. Keke confirmed the cancellation on WWHL in Aug. 2020. "I knew if our show did come back, it would have to be much, much, much later because our show is really about an audience," she said. "That's what we do. We do a little bit of news, but it's entertainment news. It's fun conversations and lightheartedness, and we're in a different time now. Some of the conversation has changed, and that pushed SSK out. So I expected it." The show was rebranded as GMA3: What You Need To Know.
United We Fall
The sitcom starring Will Sasso and Christina Vidal-Mitchell as a couple facing the challenges of parenthood together will not return for a second season. United We Fall was pushed to ABC's summer schedule and subsequently cancelled after its finale aired in Aug. 2020.
CBS
God Friended Me
CBS opted not to renew the dramedy for a third season in April 2020. The show followed an atheist (Brandon Micheal Hall) whose life is changed forever when "God" adds him as a friend on Facebook. The God Friended Me producers were given enough time ahead of the show's cancellation to prep a series finale ending.
Carol's Second Act
Patricia Heaton starred in this CBS comedy series about a former schoolteacher who pursues her dream of becoming a doctor. The series was cancelled after one season. Carol's Second Act was one of 4 CBS series cancelled in May 2020.
Man With A Plan
The Matt Leblanc-led CBS sitcom about a stay-at-home dad raising his kids when his wife returns to work was surprisingly cancelled after 4 seasons in May 2020. Despite solid ratings, the series was "pretty expensive, which was expected to be a major fact in the renewal decision," according to Deadline
Tommy
The CBS drama series starred Emmy and Golden Globe-winning actress Edie Falco as a former high-ranking NYPD officer who becomes the first female Chief of Police in Los Angeles. The show was cancelled after one season in May 2020.
Broke
The CBS sitcom, which was NCIS alum Pauley Perrette's return to CBS, was nixed after one season. CBS decided not to move forward with the comedy about a trust-fund dependent man (Jaime Camil) who is cut off by his dad and forced to move in with his wife's estranged sister. Pauley released a video on Twitter after the show's cancellation and admitted that the "show restored my faith in people, in this industry. SO GRATEFUL I worked with this cast & crew Best people I've EVER worked with. Healed me. Changed me. Made me whole. So Blessed."
NBC
Superstore
Superstore's run will end after season 6. The show was not renewed for season 7. Superstore's cancellation was announced after America Ferrera, who played lead character Amy, left the series at the beginning of season 6.
Bluff City Law
The Memphis legal drama initially ran in the fall of 2019 with 10 episodes. NBC did not order additional episodes at the time, which wasn't a good sign for the show. Bluff City Law about a father and daughter lawyer duo taking on civil rights cases in Memphis was officially cancelled in June 2020, Deadline reported.
Sunnyside
Sunnyside was officially axed at the same time as Bluff City Law. The show was pulled from NBC's schedule after 4 episodes, and the remaining episodes were put online. Co-creator and star Kal Penn admitted in Oct. 2019 that Sunnyside had found a "promising" digital audience, but it wasn't enough to save the show.
Indebted
Indebted, which centered on a young couple who end up living with the husband's overbearing parents, was cancelled along with Sunnyside and Bluff City Law. Despite the show being Fran Drescher's return to network comedy, Indebted just didn't pull in the ratings needed to get a second season.
Lincoln Rhyme: The Hunt for the Bone Collector
The drama series was nixed by NBC after just one season in June 2020. The show was based on the novels by Jeffery Deaver and the 1999 movie starring Denzel Washington and Angelina Jolie. Russell Hornsby starred as a quadriplegic forensic expert who works with a female NYPD officer (Arielle Kebbel) to hunt down a serial killer.
Perfect Harmony
Perfect Harmony's cancellation was announced at the same time as Lincoln Rhyme. The comedy, which starred Bradley Whitford as a widowed former music professor who ends up directing a small-town church choir, just didn't have the ratings to warrant a second season.
Council of Dads
The family drama was axed after just one season in June 2020. Executive producer Tony Phelan revealed to TV Insider that season 2 would have featured "everybody recovering from the hurricane and all of the things that happened during the hurricane. It would have also explored how each of the dads finds themselves leaning on the family a little more."
FOX
Filthy Rich
Kim Cattrall starred as matriarch Margaret Monreaux in the drama Southern family who has made a fortune through their Christian television network. The show was not renewed for season 2. Filthy Rich was supposed to premiere in spring 2020, but it was pushed to a fall 2020 launch because of the COVID-19 pandemic. "Rising production costs" due to the pandemic reportedly played a "significant part" in the decision to cancel the series.
NEXT
Like Filthy Rich, NEXT was cancelled after just a single season. The show's cancellation was announced after just 2 episodes had aired on FOX. NEXT, which was billed by FOX as a limited series, starred John Slattery and revolved around a cybersecurity team facing off with a rogue AI that had the ability to improve itself.
Almost Family
Almost Family was one of the first shows to be cancelled in 2020, Deadline first reported. The series, about a woman who discovers her dad fathered many other children as a sperm donor, did not receive a back order of episodes after its premiere in 2019. It was also initially left off FOX's midseason schedule before the last two episodes of its first and only season aired on Saturdays. The network announced Almost Family was axed following Sera Johnston's accusation that star Timothy Hutton allegedly raped her in 1983. The Oscar winner denied the allegation and claimed he's been the "target of multiple extortion attempts" by Sera.
Deputy
The police drama starring Stephen Dorff premiered midseason in Jan. 2020. The show followed Deputy Bill Hollister who suddenly becomes acting sheriff of Los Angeles County when the previous sheriff suddenly dies. Deputy came to an end in March 2020 after 13 episodes, and the show's cancellation was announced in April 2020.
Outmatched
The Jason Biggs and Maggie Lawson family comedy about a couple trying to raise 4 genius kids was cancelled after one season in May 2020. The series was one of three FOX shows that were cancelled after only one season.
Showtime
On Becoming A God In Central Florida
Kirsten Dunst's dark comedy about a woman who lies and schemes her way up the ranks of a pyramid scheme was originally renewed for season 2 in Sept. 2019. In Oct. 2020, Showtime reversed On Becoming A God's renewal and cancelled the show after one season because of scheduling issues due to the COVID-19 pandemic.
Penny Dreadful: City of Angels
The Penny Dreadful sequel series was axed after only one season, Deadline confirmed. The show premiered 4 years after the original series came to an end after 3 seasons. City of Angels was set during the Golden Age of Hollywood and revolved around a brutal murder in Los Angeles.
Kidding
The Jim Carrey series was cancelled after two seasons by Showtime in July 2020. The comedy-drama featured the famed actor playing an iconic children's television host. "After two seasons, Kidding has concluded its run on Showtime," the network said in a statement. "We are very proud to have aired this imaginative, critically acclaimed and rewarding series, and we would like to thank Jim Carrey, Dave Holstein, Michael Aguilar, Michel Gondry, and the entire cast and crew for their brilliant and tireless work."
Ray Donovan
The fixer drama starring Liev Schreiber was cancelled just weeks after airing its season 7 finale in Jan. 2020, which ended with a cliffhanger. Following backlash from fans at the sudden cancellation, Liev took to Instagram to tell fans that "there will be more Ray Donovan" in the future. Showrunner David Hollander admitted to Vulture that he had "no indicator that the show was ending" and noted that the season 7 finale was "in no way a series finale." The decision to cancel the series was reportedly for "political reasons amid the recent merger between CBS, which owns Showtime, and Viacom," according to Page Six. The outlet also reported in Feb. 2020 that the show would get a proper ending and the cast and crew would return to set in the fall, but there's been no update since.
Comedy Central
Drunk History
Drunk History had been renewed for season 7 and was filming new episodes when the COVID-19 pandemic shut down production. Months later in Aug. 2020, the live-action sketch show, which featured historical reenactments, was cancelled after 6 seasons.
Tosh.0
Comedy Central cancelled the long-running series hosted by Daniel Tosh after it was renewed for 4 additional seasons in Jan. 2020. The show was reportedly axed due to Comedy Central's "new focus on adult animation," but ViacomCBS was open to shopping the show to other networks. The series finale aired Nov. 24.
HBO
The Outsider
The HBO horror-crime drama series was an adaptation of Stephen King's bestselling novel about the investigation of the brutal murder of a boy and the mysterious force surrounding the case. The show, starring Ben Mendelsohn, Bill Camp, Jason Bateman, and Cynthia Erivo, was cancelled after one 10-episode season. The show's production company, MRC, shopped the series to other outlets, according to Variety. The show has not been picked up yet.
Run
The comedy thriller about a woman (Merritt Wever) whose life is turned upside down when she gets a text from an ex (Domhnall Gleeson) to drop everything and fulfill a pact they made 17 years ago was cancelled after one season. "After exploring potential ways of continuing Ruby and Billy's journey, together with showrunner Vicky Jones, we have come to the decision that we will not be moving forward with a second season of Run," HBO said in a statement, according to Deadline.
The CW
Katy Keene
The Riverdale spinoff following Katy Keene's life in New York City was surprisingly cancelled after one season. Warner Bros. Television reportedly planned to "explore options" to keep the show going, but they were not successful. Star Lucy Hale got emotional on Instagram after the show's cancellation. "We did not get picked up for a second season, which happens," Lucy said. "It's happened a few times to me, and each time it's just heartbreaking. I mean, it's a job that has broken my heart numerous times…[but] this is bad, this is a bad one, and it will take some time to get over."
Syfy
The Magicians
The Magicians was cancelled while in the midst of its fifth (and now final) season. The Magicians was shopped to other networks but EP John McNamara revealed to TV Insider that "none of them seemed in the end like a perfect financial or creative fit," so the creative team decided to mold the season 5 finale into a series finale.
Disney XD
DuckTales
The reboot of the legendary animated series was cancelled after 3 seasons on Disney XD. "The talented creative team, led by Matt Youngberg and Francisco Angones, have delivered exceptional storytelling with uniquely reimagined characters for three seasons of 75 episodes and more than 15 shorts," a Disney XD spokesperson said in a statement. "While physical production is wrapping, DuckTales continues to be available on Disney Channels and Disney+ around the world and fans will get an epic season finale in 2021."
TruTV
I'm Sorry
The comedy series starring Andrea Savage as comedy writer, wife, and mom facing unexpected life situations was cancelled after two seasons. The show had been renewed for season 3, but production was unable to move forward due to COVID-19 complications.
A&E
Live PD
Similar to Cops, Live PD was cancelled in June 2020 in the wake of protests against police brutality and racism all over the world. "This is a critical time in our nation's history and we have made the decision to cease production on Live PD," A&E said in a statement. "Going forward, we will determine if there is a clear pathway to tell the stories of both the community and the police officers whose role it is to serve them. And with that, we will be meeting with community and civil rights leaders as well as police departments."
Starz
The Rook
The sci-fi series that followed a young woman (Emma Greenwell) with extraordinary abilities who is chased by dangerous paranormal enemies was cancelled after just one season. The show was based on Daniel O'Malley's 2012 novel and ranked in the lower half of STARZ's drama series when it came to ratings.
Vida
The critically-acclaimed Latinx series, which centered around two sisters (Melissa Barrera and Mishel Prada) coming together after the death of their mother to run her bar, was cancelled after 3 seasons. The cast and staff had been "long aware" of the cancellation, Deadline reported. However, showrunner Tanya Saracho said in a statement that the show ending was "too bittersweet for words."
Pop TV
One Day At A Time
The beloved comedy series, a remake of the legendary Norman Lear comedy that aired from 1975 to 1984, was cancelled for a second time in Nov. 2020. The critically-acclaimed series initially ran on Netflix for 3 seasons before it was cancelled in 2019. The show was then picked up by Pop TV and premiered its fourth season in March 2020. Production was halted after 6 episodes due to the COVID-19 pandemic, and the show's final episode was an animated episode that aired in June 2020. The series was shopped around again after the second cancellation, but the efforts were not successful.
Freeform
Siren
The mermaid drama was cancelled after three seasons in Aug. 2020, Deadline reported. The show was a major hit for Freeform when it premiered in 2018, and the show's second season was the network's most-watched series of the year. Despite still being a strong performer for the network, Siren did not get a fourth season.
Party of Five
The Party of Five reboot, from the original series creators Amy Lippman and Chris Keyser, was not renewed for a second season by Freeform. The timely reboot series followed the five Acosta children as they faced challenges after their parents were deported to Mexico.
Spectrum
LA's Finest
The female-led Bad Boys spinoff starring Gabrielle Union and Jessica Alba was cancelled by Spectrum Originals after 2 seasons, EW reported. The show, initially developed at NBC before the network passed on it, became Spectrum's first original series. Season 2 was delayed due to the protests calling for police reform. The show premiered season 2 in Sept. 2020 and was axed a month later.
AMC
NOS4A2
The supernatural horror series, based on Joe Hill's 2013 novel of the same name, was axed after two seasons on AMC. The series featured Vic McQueen discovering her supernatural abilities and going head-to-head with the villainous Charlie Manx. Jami O'Brien, the creator and showrunner, announced the show's cancellation in Aug. 2020 via Twitter.
USA Network
Briarpatch
The USA Network series, starring Rosario Dawson as an investigator who returned to her Texas hometown after her sister was murdered, got nixed after one season. The show's cancellation was announced by showrunner Andy Greenwald in July 2020 via social media. "Though I've known for months, it's still a bummer," he wrote. "We had an amazing story planned for [Season 2] and I was lucky enough to work with the most amazing writers and crew, all of whom were itching to get back to work."
Adult Swim
The Venture Bros.
The long-running animated series was cancelled in Oct. 2019 after 17 seasons. The creator, Jackson Publick, revealed the news via Twitter. "We got the highly disappointing news a few months ago, while we were writing what would have been season 8. We thank you, our amazing fans, for 17 years of your kind (and patient) attention," he wrote in Sept. 2020.
Paramount Network
68 Whiskey
The Paramount Network dramedy about Army medics deployed in Afghanistan was not renewed for a second season. Despite a strong debut, the Ron Howard-produced series slipped in ratings and was eventually cancelled by the network.
Cops
The long-running series was expected to air its 33rd season in June 2020 on Paramount Network, but Cops was cancelled ahead of its premiere amid the Black Lives Matter protests and calls for police reform. A spokeswoman for Paramount Network revealed in June 2020 that there were not "any current or future plans for it to return," according to The New York Times.