Johnny Depp is an Oscar-nominated actor
The star won a $10 million defamation suit against his ex Amber Heard in 2022
In May 2023, Johnny signed a three-year contract with Dior men's fragrance at upwards of $20 million
Johnny Depp is an internationally successful Hollywood actor, best known for roles in films like Pirates of the Caribbean, Finding Neverland, Charlie & the Chocolate Factory, and Sweeney Todd. The Oscar-nominated star is also a popular brand ambassador, as he signed biggest men's fragrance deal ever with Dior in May 2023: a three-year contract worth upwards of $20 million.
Johnny is also a proud dad to two children: daughter Lily-Rose Depp, 22, and son Jack Depp, 19. The actor shares both kids with ex-girlfriend Vanessa Paradis, 48, whom he dated from 1998 to 2012.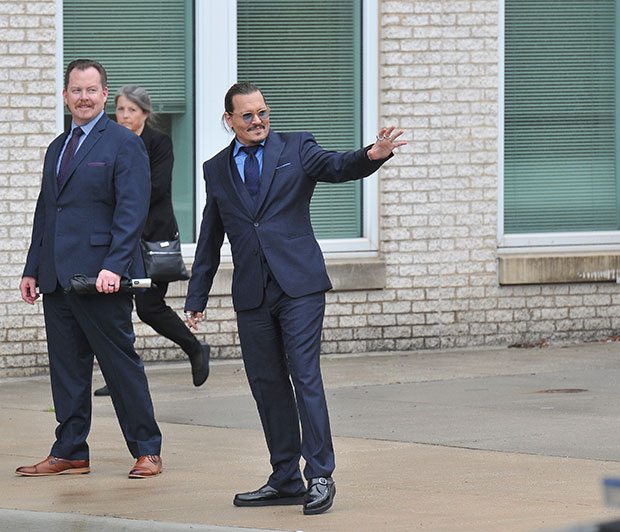 Johnny has spoken fondly about his children on numerous occasions. Way back in 2006, he told the Associated Press that having kids gave him "a real foundation, a real strong place to stand in life, in work, in everything." Six years later, the star went into detail about how fatherhood changed his life. "There is nothing on earth that could ever make me want to relive certain years of my life when I was young. You grow up a bit damaged or broken then you have some success, but you don't know how to feel good about the work you're doing or the life you're leading," he told The Sun. "You feel empty. I was angry and frustrated until I started my own family and my first child was born. Until then I didn't really appreciate life the way I should have, but fortunately, I woke up."
As Johnny has previously claimed he had a difficult childhood, the Oscar nominee makes sure to shower his children with affection. "With my kids, they're told 75 times a day that they're loved. One thing I know is they feel loved and secure and happy and needed and necessary and a part of something," he detailed to Rolling Stone in 2013. "It really was as if a veil was lifted, and things became clearer, and I went, 'Oh, I f**king get it now! That's what it's for! That's what it's for, this beautiful little creature that I took part in creating, making,'" he added of becoming a parent. "I didn't have a real handle on what life was supposed to mean or be or anything like that. And I still don't. And I'm not sure that life is supposed to mean anything or be anything at all. But as long as you have the opportunity to breathe, breathe. As long as you have the opportunity to make your kid smile and laugh, and move it forward."
Through the years, he's also been fiercely protective of his offspring. In fact, during his 2022 defamation case against ex Amber Heard, he told the court he had a "responsibility" to clear his name for his children's sake. "The news of her accusations had sort of permeated the industry and then made its way through media and social media became quite a global, let's say, 'fact,' if you will," he said during an Apr. 19 testimony. "Since I knew that there was no truth to it whatsoever, I felt it my responsibility to stand up, not only for myself in that instance, but stand up for my children. I wanted to clear my children of this horrid thing they had to read about their father, that was untrue." He went on to add, "I don't deserve this, neither my children nor the people who have loved me for all these years."
Here is everything you need to know about Johnny's two children.
Lily-Rose Depp
You may recognize Johnny's daughter and eldest child, Lily-Rose. She was born on May 27, 1999 in France, and as she's grown up she's followed in her father's footsteps by pursuing a career in acting. Lily-Rose got her start in Hollywood with a cameo role in Kevin Smith's 2014 comedy horror film Tusk, which Johnny also starred in. She reprised her role in the spinoff Yoga Hosers in 2016 and is set for a third sequel called Moose Jaws.
Since then, Lily-Rose has notably starred in the movies The Dancer, Planetarium, The King, Crisis, Voyagers, and Wolf. With the French film The Dancer, she won the Most Promising Actress Award at the 2017 Cesar Awards and Lumières Awards for her portrayal of the American dancer Isadora Duncan. In Planetarium, Natalie Portman reportedly handpicked Lily-Rose to play her younger sister. In The King, she shined as Catherine of Valois opposite Timothée Chalamet.
Other notable French films include Les Fauves (Savage), A Faithful Man and Quel Joli Temps Pour Jouer Ses Vingt-ans (My Last Lullaby) alongside aunt Allyson Paradis.
She has a few more projects in the work amidst her booming acting career, with one being the upcoming Christmas comedy Silent Night, which she'll star opposite her dad's former Pirates co-star, Keira Knightly. Another is the highly anticipated HBO series The Idol, created by The Weeknd.
Lily-Rose also bears similarities to her mom Vanessa. Not only does Lily-Rose look so much like her stunning mother, but she's also taken up modeling. Since 2015, Lily-Rose has been a brand ambassador for Chanel after Karl Lagerfeld chose her to be the face of the company. Meanwhile, her mother Vanessa has been a spokesmodel for the company since the 1990s.
In regard to her father, the starlet defended him in a since-deleted post back in 2016 when the abuse accusations by Amber began to make headlines. "My dad is the sweetest, most loving person I know, he's been nothing but a wonderful father to my little brother and I, and everyone who knows him would say the same," she wrote.
Later, in an interview with Elle, Lily-Rose said of the drama, "When it's something that's so private and so personal that all of a sudden becomes not so personal…I feel really entitled to my secret garden of thoughts." She added, "I also think that I'm not here to answer for anybody, and I feel like for a lot of my career, people have really wanted to define me by the men in my life, whether that's my family members or my boyfriends, whatever. And I'm really ready to be defined for the things that I put out there."
As far as her personal life goes, Lily-Rose has dated two fellow Hollywood stars. She started up a romantic relationship with Timothée, 25, after they met filming Netflix's The King in 2018, but they broke up by early 2020. Most recently, Lily-Rose went public with her new boyfriend, Austin Butler, 30, in Aug. 2021. Austin was previously in a longtime relationship with Vanessa Hudgens.
Lily-Rose is also very close with her brother Jack. She even posted an incredible birthday tribute to him on her Instagram (above),
Jack Depp
Jack Depp, the younger child of Johnny and Vanessa, was born on April 9, 2002. Jack, whose real name is John Christopher Depp III, has kept a much lower profile than his sister over the years, and is only seen on rare occasions. But when he is seen, Jack always strikes a remarkable resemblance to his famous father. Some of Jack's features also resemblance mom Vanessa, meaning Jack truly has the perfect combination of looks from his gorgeous parents.
Back in 2018, Vanessa had to miss a movie premiere because Jack as having "serious health problems." It was never confirmed what these health issues were, but it appears that Jack seems to have recovered.
Around the same time, Johnny opened up about the abuse allegations and how he saw it affecting Jack. "I'm sure it wasn't easy for my 14-year-old boy to go to school; you know what I mean? With people going, 'Hey, look at this magazine, man. What, your dad beats up chicks or something?'" he told GQ. "Why did he have to go through that? Why did my daughter have to go through that?"
As far as his love life goes, Jack was last linked to French model Camille Jansen. She wished her boyfriend a Happy 18th Birthday on Apr. 9, 2020, sharing an Instagram photo holding on to Jack around his chest from behind, as he laid against her. Johnny's son had a black bucket cap pulled down to obscure half of his face in the photo, as Camille wrote, "happy birthday my love" as the caption.
Johnny has gone on record to say before that unlike Lily-Rose, Jack won't be pursuing a career in acting. However, Jack does have passions in other fields. "My boy Jack, has always been a very talented draftsman," Johnny told the Philippine Daily Inquirer in 2014. "He draws really super well. He also plays music very well. He's got a good feel for that. Aside from school plays and things, he hasn't shown any desire to become an actor. Whew."