Jennifer Lopez, 53, just flaunted the matching tattoo she and her husband Ben Affleck got to honor their "commitment" to each other. The singer took to Instagram on Tuesday to share a Valentine's Day post for the actor and included photos of the new ink, which showed two arrows and a J and B (the initials of their first names), as well as both throwback and recent photos of them being cozy with each other. Her tattoo is on the upper side of her body but it's unclear where Ben's is since the photo was too close up.
"Happy Valentine's Day my love 🤍 (Look for more deets on VDay coming #OnTheJLo soon…) #CommitmentIsSexy #ThisIsUsThen #ThisIsUsNow #ThisIsMeNow," Jennifer captioned the post, which also showed her wearing Fernando Jorge's High Brilliant Disco Ring on her right hand.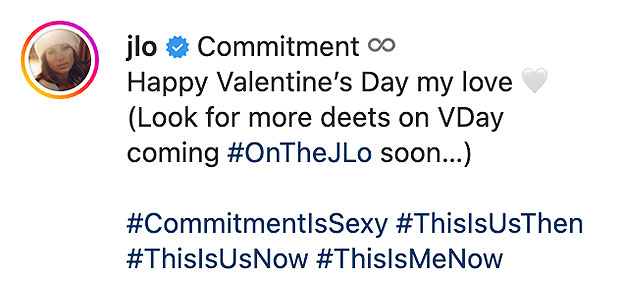 The tattoo debuts and other cute photos received a lot of compliments from fans. "The heart wants what the heart wants," one fan wrote, while another wrote, "My heartttttt🥹 you two I'm soo happy you found each other again." A third called them "beautiful" together and a fourth shared, "I have been waiting for u to get a tattoo and this is the perfect one 😍."
Jennifer and Ben's new tattoos come after Ben was spotted taking photos of some of his family members, including his wife, mom Chris, daughter Seraphina, and son Samuel, in Los Angeles, CA three days ago. The photo shoot appeared to be casual and laid back and they looked comfortable and happy around each other. They were all dressed in casual outfits and some of them held skateboards as they posed outside.
When Jennifer and Ben aren't spending time with their family, they're working hard in their careers. The two recently teamed up to film a hilarious Dunkin' commercial for the 2023 Super Bowl, which aired on Sunday. In the funny clip, Ben is working the drive thru of a Dunkin' and Jennifer catches him by driving up to the window. He asks her to not embarrass him in front of her friends before he tells them he has to go and she tells him to get her a glazed donut. The commercial was a big hit during the game and trended right away.
Click to Subscribe to Get Our Free HollywoodLife Daily Newsletter

to get the hottest celeb news.