Lil Wayne's fans might not be getting any new albums from the rapper for awhile, because he could be doing up to 10 years in prison after pleading guilty to a federal weapons charge. In paperwork obtained by HollywoodLife.com, he entered the plea on Dec. 11 in Miami, and sentencing is scheduled for next month, in Jan. 2021. The 38-year-old already has a conviction on another felony gun charge to his name, which occurred in NY in 2009. HollywoodLife.com has reached out to Wayne's reps for comment about the plea.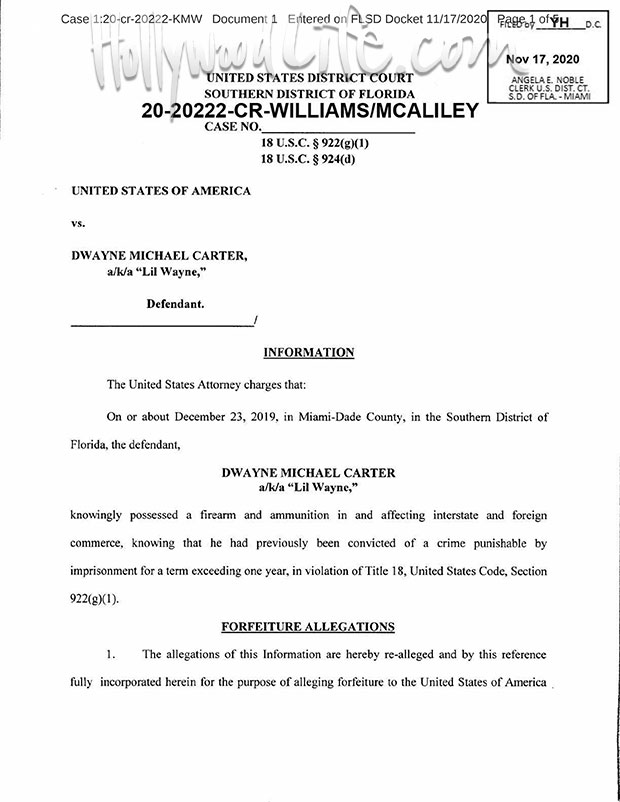 Wayne — full name Dwayne Michael Carter Jr. — was busted after flying in on a private jet to Miami-Opa Locka Executive Airport on December 23, 2019, after someone called in an anonymous tip to authorities. Wayne fessed up to police to having a gold-plated Remington 1911, .45-caliber handgun loaded with six rounds of ammunition in one of his bags. He also allegedly had a "bag containing personal use amounts of cocaine, ecstasy, and oxycodone," according to TMZ, but he wasn't brought up on any drug charges.
Wayne may not be doing a whole decade in prison, even though that is the maximum sentence. Since the rapper cooperated and pled guilty in the case, TMZ's sources say that "the government agreed to recommend a lighter sentence because he's accepting responsibility," but it will be up to a judge to make the final call.
The "Sucker for Pain" rapper wasn't brought up on the firearm charges until Nov. 18, 2020, almost a year after he was found carrying the weapon in his luggage. He was charged in the Southern District of Miami Federal Court with criminal possession of a firearm and ammunition, as a prior felony offender.
After the charge, rapper turned mogul 50 Cent trolled Wayne hard about his controversial Oct. 29 endorsement of President Donald Trump, less than a week before the Nov. 3, 2020 presidential election. Wayne even met with Trump, and the two men posed together for a photo with bright smiles.
Fiddy wrote, "Wait a minute. Trump still got 63 days left. Call him, Wayne. Get that fool on the phone. [facepalm emoji]. They gonna try to put you in jail for supporting trump." Even though Trump lost the election to Joe Biden and is now a lame duck, the 74-year-old could still give Wayne a presidential pardon following his guilty plea, where he would never have to see the the inside of a jail cell as a result. So in the next 40 days until Biden's Jan. 20, 2021 swearing in, Wayne could still catch a break if his pal Trump comes to his rescue.