Paul Mescal is an actor best known for starring in the television series, Normal People.
He was nominated for Best Actor In a Leading Role in 2023.
In late 2022, Paul was spotted getting coffee with Angelina Jolie and her daughter Shiloh Jolie-Pitt.
From Normal to phenomenal, Paul Mescal has risen to be one of the brightest new stars in Hollywood. Normal People became one of the big TV hits of 2020, with Paul and Daisy Edgar-Jones charming audiences and critics alike. Paul would score his first Emmy nominee for Connell in Normal People in 2020, and three years later – he's now nominated for an Academy Award! Paul, 26, was nominated for Best Actor in a Leading Role at the 95th Academy Awards for his role in Aftersun,
Aftersun sees Frankie Corio play Sophie, who "reflects on the shared joy and private melancholy of a holiday she took with her father (Mesca) twenty years earlier," per IMDB. "Memories real and imagined fill the gaps between as she tries to reconcile the father she knew with the man she didn't."
The competition for this year's Best Actor award is fierce. Paul is nominated alongside Austin Butler (Elvis), Brendan Fraser (The Whale), Colin Farrell (The Banshees of Inisherin), and Bill Nighy (Living).
Whether or not Paul brings Angelina Jolie as a date remains to be seen. In late Dec. 2022, Paul was seen getting coffee with Angie and her daughter, Shiloh Jolie-Pitt, in London, England. The outing, which can be seen here, took place after the actress and the teen saw Paul's performance in A Streetcar Named Desire at London's Almeida Theatre. Afterward, Angie and Paul reportedly engaged in conversation with no one else around.
As Paul prepares for his big night at the 95th Academy Awards, taking place on March 12 at L.A.'s Dolby Theatre, here's what you need to know about this young star.
Normal People was Paul's first television role.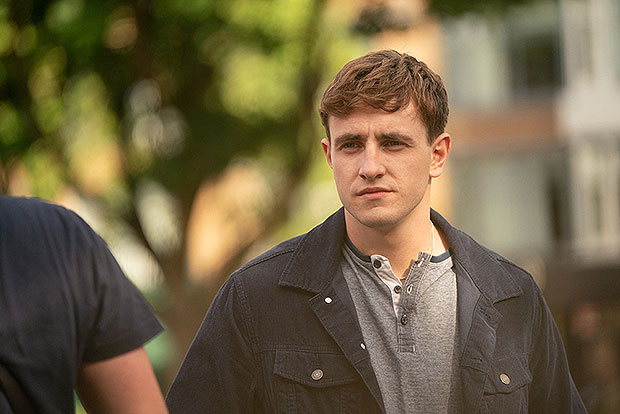 Needless to say, the role changed Paul's life forever. Paul and Daisy garnered rave reviews as Connell and Marianne in Hulu's adaptation of Sally Rooney's bestselling novel. Prior to Normal People, Paul had only appeared in the short film Drifting.
He started dating singer Phoebe Bridgers in 2020.
The lovebirds were seen together quite a bit up until around the end of 2022. They sparked split speculation when there was a lack of social media photos of them together, and Phoebe sang about a breakup in her verse of SZA's Dec. 2022 song "Ghost in the Machine."
Paul starred in a Rolling Stones music video.
In the music video, which was released in Aug. 2020, Paul dances and lip-syncs in an empty hotel room to "Scarlet." The song was recorded by the Stones in 1974 with Led Zeppelin's Jimmy Page playing the guitar.
He's a notable stage actor.
After graduating from The Lir Academy at Trinity College Dublin in 2017, Paul starred as Jay Gatsby in the theater production of The Great Gatsby at the Gate Theatre in Dublin. He also starred in Irish theater productions of The Red Shoes, A Midsummer Night's Dream, and more before his big break in Normal People.
He was a football player before he got into acting.
He was a competitive Gaelic football player for years and thought he was going to pursue that as a career. "I'd been chasing that to some degree. But I never saw it as a valid career choice," he told GQ. "When it came to applying for colleges, I was putting down law and arts and things that would support playing Gaelic football." However, everything changed when he participated in The Phantom of the Opera at school. He fell in love with acting.