Barbie was released on July 21, 2023.
Margot Robbie and Ryan Gosling play Barbie and Ken.
Greta Gerwig is the director of Barbie.
Barbie has gotten the live-action treatment, and she's already the queen of summer. Suicide Squad star Margot Robbie has taken on the titular role of Barbie in the Greta Gerwig film alongside Ryan Gosling and many other hit Hollywood actors. After teasers and trailers, as well as a global press tour, Barbie is finally here. (For those who are celebrating Barbenheimer, the phenomenon surrounding Barbie and Oppenheimer, your time is now.)
So, who all is in the Barbie movie? What is the movie about? Here are all the key things you need to know about the Barbie movie.
The Cast
Greta's latest project is filled with many A-list actors! Aside from Margot taking on the role of Barbie, many others will join her, including Ryan Gosling as Ken. Other cast members include Sex Education's Emma Mackey, Shang-Chi's Simu Liu, Ugly Betty's America Ferrera, SNL alum Kate McKinnon, Insecure's Issa Rae, Hari Nef, Michael Cera, Will Ferrell, Alexandra Shipp, Ariana Greenblatt, and more. America spoke to PEOPLE about the movie and shared that audiences should let go of any expectations. "People don't have any idea what to expect [with the film], and I think that that's the right vibe," she said. "Whatever you think it is, it's not that. It's something else." Don't believe her? Just check out some of the character posters!
Margot Robbie
Ryan Gosling
Kate McKinnon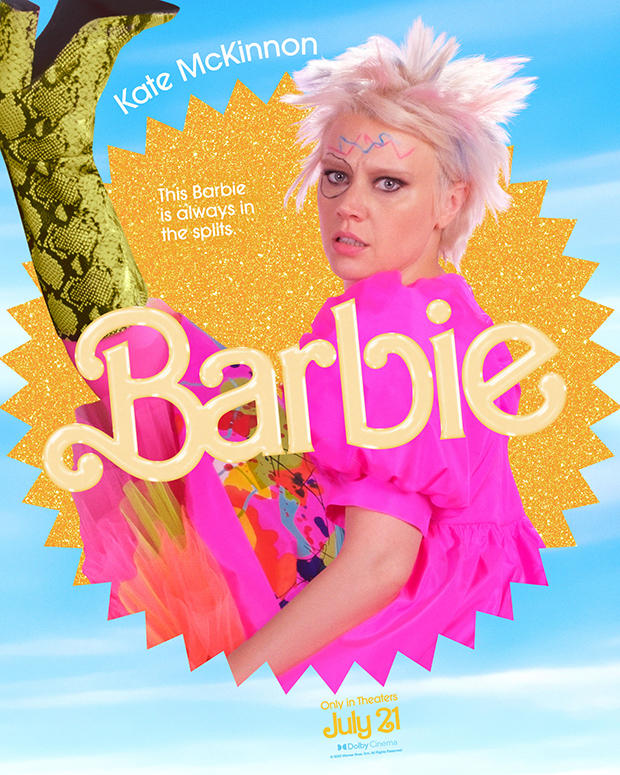 America Ferrara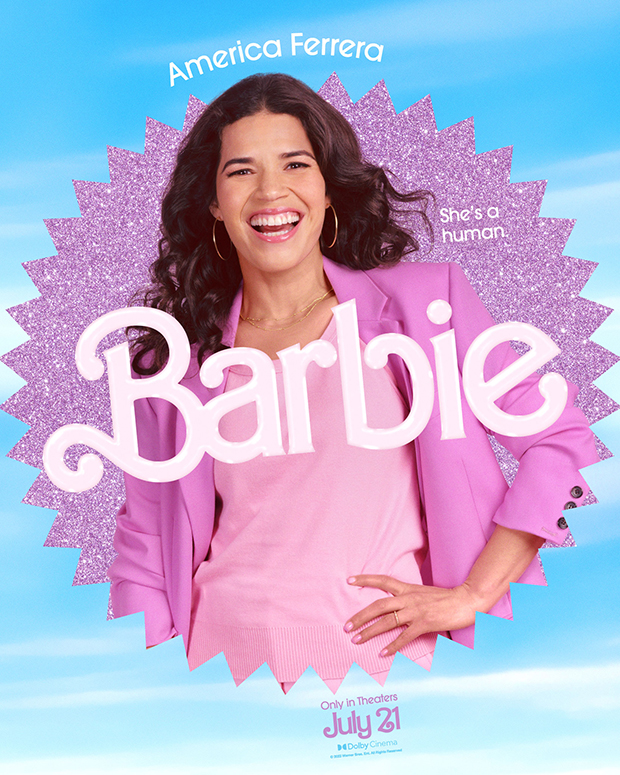 Dua Lipa
Alexandra Shipp
Simu Liu
Issa Rae
Ana Cruz Kayne plays one of the Barbies in Barbie Land, specifically the Supreme Court Justice Barbie. "What's cool about this version of Barbie is there's so much representation," Anna told HollywoodLife EXCLUSIVELY. "I was just thinking if I had seen this growing up, I think I would have absolutely played with Barbies and kind of projected my hopes and dreams onto them," Ana admitted. "There is so much diversity and so much representation that it's extremely moving. Even watching the trailer and seeing a bunch of us up there together was so moving. It's so special. I feel like for young girls, boys, everything in between, it's remarkable. There's a Barbie for everyone, and they really did an incredible job. I remember being on the set and someone's saying, we don't have a Barbie in a hijab. The next day you looked up in one of the dream houses and you're like, 'There she is.'"
One person who isn't in the Barbie movie is Amy Schumer. Amy was originally attached to the project as the lead star before she dropped out in 2017, and then Greta and Noah Baumbach took over writing the screenplay. Amy explained why she quit the film when she appeared on Watch What Happens Live on June 8, 2023.
"I can't wait to see the movie. I think it looks awesome. I think we said it was scheduling conflicts," Amy said to Andy Cohen. "That's what we said. But it really was just like, creative differences. But there's a new team behind it and it looks like it's very feminist and cool, so I will be seeing this movie." When Andy asked Amy if the first version of the film "didn't feel feminist and cool," she responded, "Yes."
Barbie Release Date
The studio officially announced the release date for the highly anticipated film on April 26, via Instagram. In the announcement, Warner Bros. also shared a photo of Margot as the beloved character! They captioned the post with the release date, "#BARBIE July 21, 2023 Only in theaters."
Barbie's star even spoke about the project to British Vogue way back in June 2021. "Right, it comes with a lot of baggage [playing Barbie]!" Margot said. "And a lot of nostalgic connections. But with that come a lot of exciting ways to attack it. People generally hear 'Barbie' and think, 'I know what that movie is going to be,' and then they hear that Greta Gerwig is writing and directing it, and they're like, 'Oh, well, maybe I don't.'" Greta directed the 2017 indie film Lady Bird, as well as the 2019 movie Little Women starring Saoirse Ronan, Florence Pugh, and Timothée Chalamet.
First Look
The official teaser trailer for Barbie dropped on December 16. Aside from Margot, fans got a glimpse at Ryan as Ken, Issa Rae, Simu Liu, and more. They also got to see Margot wearing the iconic Barbie black and white swimsuit. The teaser initially played before Avatar: The Way of Water screenings before being released wide.
In addition, Margot and Ryan were spotted out and about during the filming of the movie. A source close to the production team told HollywoodLife that the actress even worked on her birthday. "Margot had to work her birthday week but it was so sweet because she was surprised when the cast and crew got her a giant Barbie cake to celebrate her birthday while working," the insider told us. Some of the first looks at the character included a hot pink cowgirl outfit and Ryan's black cowboy look. They were even spotted in a 1980s rollerblade look with hot pink ensembles embracing the iconic doll's famous color.
Warner Bros. released a teaser trailer for Barbie on April 3. Margot's Barbie wears fabulous all-pink outfits and drives the iconic Barbie pink convertible with Ken in the backseat. She also hangs out with other versions of Barbie. The main trailer dropped in May 2023 and has already amassed over 46 million views.
Plot
Barbie suffers an existential crisis about her purpose in life in Barbie Land despite having a perfect life. When she begins to have thoughts of death, flat feet, and more, Weird Barbie tells her that she has to go to the real world and find the girl who's playing with her. Barbie has to fix the rip between Barbie Land and the real world before it's too late. This sends Barbie on a journey with Ken. In the real world, nothing is as Barbie and Ken expected. However, Barbie does meet Gloria, the woman who's been playing with her. Barbie wants to take Gloria and her daughter back to Barbie Land to show them how the Barbies are in charge and everything is perfect.
Ken returns to Barbie Land and brings the patriarchy with him. He takes over Barbie Land with the rest of the Kens and turns it into Kendom. After some encouragement from Gloria, Barbie picks herself up and fights to save the other Barbies and Barbie Land. The Barbies succeed in taking down the Kens. However, when the fight is over, Barbie still doesn't feel like she's enough. She wants to be in charge of her own destiny, her own ending, so she decides that she wants to be turned into a human. The movie ends with Barbie returning to the real world with Gloria and Sasha.
In December 2020, Margot told The Hollywood Reporter, "We like the things that feel a little left of center. Something like Barbie where the IP, the name itself, people immediately have an idea of, 'Oh, Margot is playing Barbie, I know what that is,' but our goal is to be like, 'Whatever you're thinking, we're going to give you something totally different — the thing you didn't know you wanted.'"
To prepare for Barbie, Margot told Vogue that Greta told her to listen to an episode of the podcast This American Life about a woman who doesn't introspect. In that same interview, Margot weighed in on the debate that Barbie is being sexualized for the movie. "I'm like, 'Okay, she's a doll. She's a plastic doll.' She doesn't have organs. If she doesn't have organs, she doesn't have reproductive organs," Margot said. "I she doesn't have reproductive organs, would she even feel sexual desire? No, I don't think she could. She is sexualized. But she should never be sexy. People can project sex onto her. Yes, she can wear a short skirt, but because it's fun and pink. Not because she wanted you to see her butt."
The Wolf of Wall Street star co-produced the film along with her husband Tom Ackerley. Others producing include Robbie Brenner, Walter Parkes, David Heyman, real-life Mattel CEO Ynon Kreiz, and Josey McNamara.
Barbie Soundtrack
There are so many artists featured on the highly-anticipated Barbie soundtrack. Barbie: The Album features Ava Max, Charli XCX, Dominic Fike, Dua Lipa, Fifty Fifty, Gayle, Haim, Ice Spice, Kali, Karol G, Khalid, Lizzo, Nicki Minaj, PinkPantheress, Ryan Gosling, Tame Impala, and the Kid Laroi. There are at least 17 songs on the track list. The soundtrack will be released the same day the movie comes out.