Prince George, 9, and Princess Charlotte, 8, were seen showing off their curtsy skills to grandfather King Charles and Queen Camilla! Prince William and Kate Middleton's two eldest kids quickly did the traditional bow at the coronation concert in celebration of the King's coronation which took place a day prior to the May 7 extravaganza. Prince Louis, 5, was not present at the event.
i cant even fathom having to curtsey to my dad/grandad pic.twitter.com/Q0QSlxXzJJ

— freya 15 (@pleasinghslot) May 7, 2023
In addition to the royal kids making a lasting impression at the concert, American performers Lionel Richie and Katy Perry wowed with epic performances that got the crowd moving!
The coronation concert comes after King Charles was officially crowned King of the United Kingdom during the ceremony one day before. The event was a memorable one with many of the royal family members attending and being a part of it. George, Charlotte, and Louis' parents, Prince William and Kate Middleton were a big part of the ceremony, and King Charles' second-born son Prince Harry also made an appearance while his wife Meghan Markle and their two kids, Prince Archie and Princess Lilibet stayed home in California to celebrate Archie's birthday.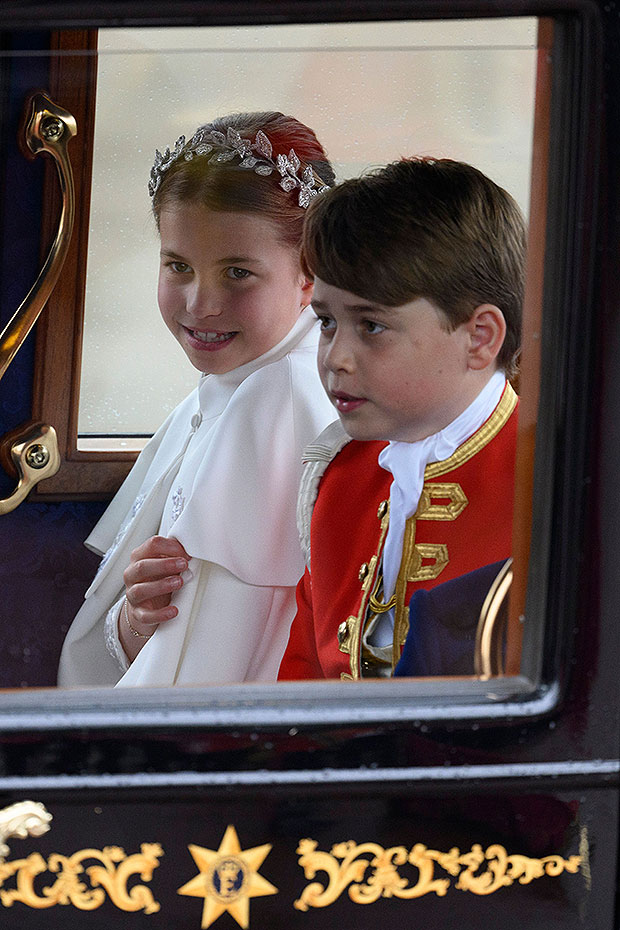 Just days before the coronation, Charlotte also turned eight. A new portrait of her, taken by mom Kate, was released on the Prince and Princess of Wales' Instagram page on May 1 and got a lot of compliments. She was laying down and laughing while wearing a white dress with a pastel floral design on it, in the cute photo, and had her hair down. "Wishing Princess Charlotte a very happy birthday! 8 tomorrow 🎈🎂," the caption for the post read.
Just one day after the birthday portrait was released, another smiling photo of Charlotte posing with a black dog was shared to the same account. She wore a blue and white striped comfortable-looking sweater and had her hair down once again. "Thank you for all the birthday wishes," the caption read.
The Coronation Service of Their Majesties The King Charles III and The Queen Consort was attended by a congregation of more than 2,200 guests, including Members of the Royal Family, international representatives from over 200 countries, and approximately 100 Heads of State. The hand painted invitation, which was shared via the Royal's Instagram, was sent to all guests. Notably absent among the guests were US President Joe Biden, though his wife, First Lady Dr. Jill Biden, attended, and Duchess of Sussex, Meghan Markle, who stayed in America with Prince Archie and Princess Lilibet.
In the official announcement for the King's coronation made back in October 2022, Buckingham Palace promised that the coronation would "reflect the monarch's role today and look towards the future, while being rooted in longstanding traditions and pageantry." The Archbishop of Canterbury performed the official crowning of Charles with St Edward's Crown and the crowning of Camila with Queen Mary's Crown at Westminster Abbey on Saturday, May 6.