Katy Perry, 36, had fans thinking they were actually watching Adele, 32, perform at the virtual Tmall Double 11 Gala! The event, sponsored by the Chinese e-commerce giant Alibaba, kicked off Alibaba's annual shopping festival known as "Double 11" that falls on Nov. 11. Nine days later, Katy shared a portrait and video of herself from the performance — and many fans thought they were looking at Adele.
Come with me to the edge of the world…✨ my first offering of #NotTheEndOfTheWorld for #Tmall's Double 11 Gala ♥️ https://t.co/bq4QNIfVVB pic.twitter.com/FIlfYNHt5m

— KATY PERRY (@katyperry) November 20, 2020
"Is that Adele??," one fan asked in Katy's comments section, sparking a whole thread of comments to agree. "I thought this was Adele too!," a fan wrote in response, with another commenting, "thought I am the only one who thinks that way. What happened to her? Her style looks more like Adele now."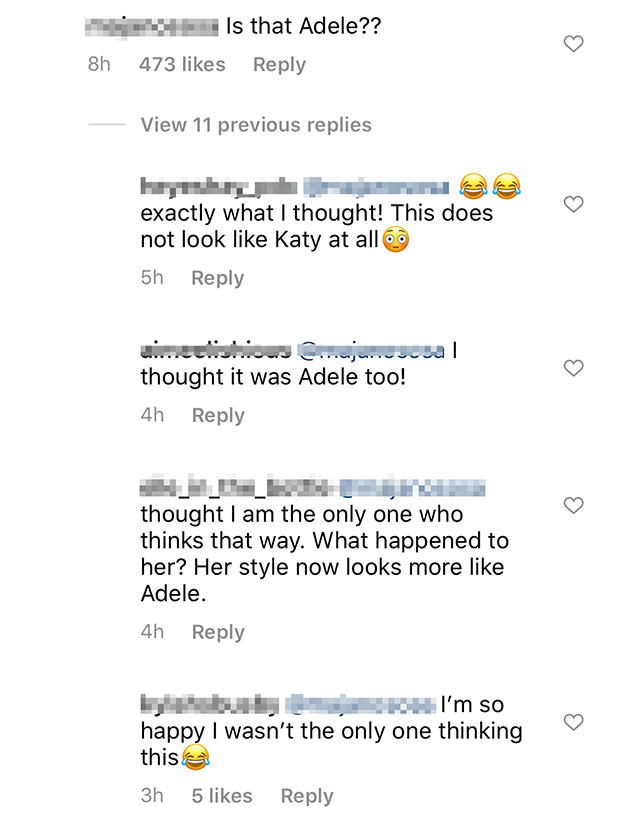 Katy was wearing her hair in long, strawberry blonde waves, similar to Adele's own hairstyle. Fans have been accustomed to seeing Katy's hair resting above her shoulders in a bright platinum shade, so this hair switch-up certainly increased the resemblance between Katy and Adele.
Katy and Adele share another thing in common: a strong strange presence! While wearing an iridescent, holographic dress, Katy looked like she was literally performing in space (with the aid of graphic stage effects) while performing a medley of her songs "Roar," "Never Really Over" and a new song, "Not The End Of The World."
"Never Really Over" and "Not The End Of The World" are both from Katy's new album, Smile, which she dropped in Aug. 2020. The album was released just two days after the pop star welcomed her first child with fiancé Orlando Bloom! It's been a busy time for Katy, and Adele can say the same thing. Adele kicked off 2020 with a trip to Anguilla with Harry Styles (and other friends), and broke the Internet with a full-body photo of herself revealing her fitness transformation in May of 2020. She even hosted an episode of Saturday Night Live in October! Katy and Adele are both rocking the world — no wonder people are confusing the two.