Clouds is the beautiful and powerful true story of Zach Sobiech, a teenage singer-songwriter who battled osteosarcoma, a form of bone cancer. Justin Baldoni directs the Disney+ film, out Oct. 16, that's based on Zach's mom Laura Sobiech's memoir, Fly A Little Higher. Fin Argus stars as Zach in the film, along with Neve Campbell as Laura Sobiech,
Sabrina Carpenter as Sammy Brown, Madison Iseman as Amy Adamle, and more. HollywoodLife has 5 facts to know about Zach and his amazing story.
1. Zach was diagnosed with osteosarcoma at 14 years old. After his diagnosis in 2009, he began chemotherapy. In June 2012, doctors discovered that Zach's cancer had spread to his lungs and pelvis. Doctors told Zach he had 6 months to a year to live.
2. His song "Clouds" is about his battle with cancer. The song was played on the radio in Dec. 2012. He also released it as a YouTube video and it went viral. "Clouds" was Zach's only single as a solo artist. After Zach's death, "Clouds" reached #1 on iTunes.
3. He died in 2013. He passed away with family and friends by his side in May 2013. Zach was just 18 years old. The Zach Sobiech Osteosarcoma fund was created in his name. Donations to the fund go to research for better treatments for osteosarcoma. The current total raised is over $2 million.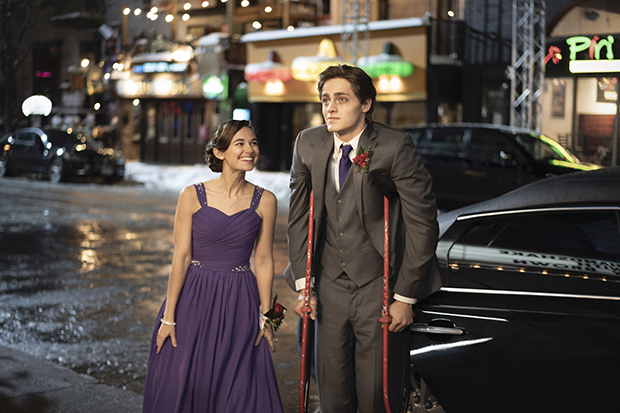 4. Zach was a member of a band. The band, A Firm Handshake, consisted of Zach and his friends, Sammy and Reed Redmond. Their first EP, Fix Me Up, was released in 2013.
5. He fell in love the year before his death. Zach and Amy Adamle met during their junior year of high school. They started dating by the end of the year, and that's when Zach found out he was terminally ill. "Our senior year was the last of so many things, but it was amplified with Zach," Amy told ChildrensCancer.org. "This was our last high school football season, but it's also the last football season Zach will ever get to see. He taught me a lot about how to go deeper in relationships, because a lot of times high school relationships can be kind of surface-level, but when you're in the situation we were in, you need people around you who can handle it when things get really tough."