With financial resources at their disposal, these stars are doing their part to make a major difference during the current COVID-19 pandemic. Whether it's donating directly to organizations or providing information and resources for their social media followers, a number of stars have made an effort to make a difference. Here, we're taking a look at what a few celebs have done to alleviate the financial burdens and stresses of a number of medical professionals and citizens.
Beyoncé is offering immense financial relief to people in danger of losing their homes or apartments after the holiday season. The singer is "giving $5k grants to individuals and families facing foreclosures or evictions," which her BeyGOOD Foundation's Twitter account announced on Dec. 22. Applications will open online on the NAACP's website on Jan. 7, 2021, and 100 applicants will be selected — a second round will open in Feb. 2021.
Beyoncé is giving $5k grants to individuals and families facing foreclosures or evictions. Online Applications open January 7, 2021 @ https://t.co/TlsgbU3ves pic.twitter.com/Q0cb5g7YpC

— BeyGOOD (@BeyGood) December 22, 2020
Kim Kardashian stepped up to the plate on Dec. 21, when she revealed that she'd be sending 1,000 lucky people $500 in honor of the holiday season. "Hey guys! It's the most wonderful time of the year. I know 2020 has been really hard and people are struggling, worried about how they're going to pay rent, put food on the table, or a gift under the tree for their kids. I want to spread the love by sending $500 to 1000 people," Kim wrote in a message that she tweeted. As for how to qualify for this $500, the Keeping Up with the Kardashians star explained, "Send me your $cashtag below with #KKWHoliday." You can see also Kim's message below: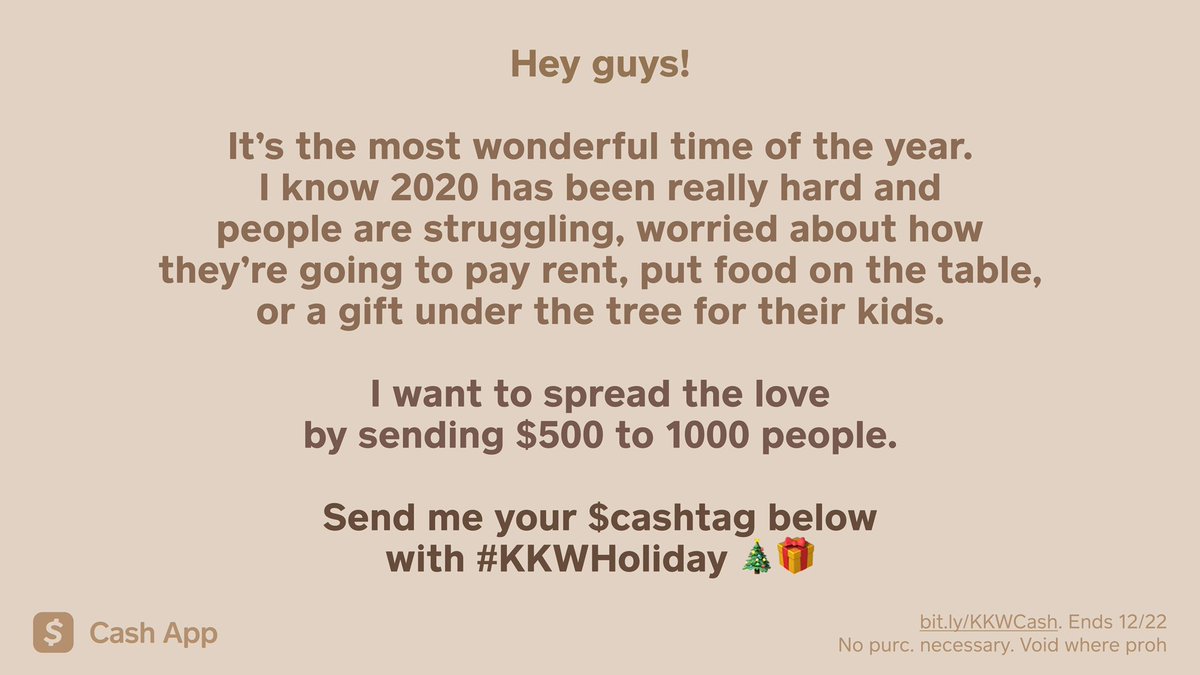 (Message Courtesy of Twitter/@KimKardashian)
Earlier this year, in April, it was announced that celebrities like Tiger Woods, Joy Behar, and more are participating in a virtual charity poker tournament to raise over $1 million to benefit the Mount Sinai COVID-19 Response Fund. The event is organized by David Zaslav, President and CEO of Discovery Inc. and a Board Member of Mount Sinai. The event will benefit Mt. Sinai hospital in New York City, which has become the epicenter of the COVID-19 outbreak in the United States. The event will seek to raise over $1 million to benefit the hospital at this critical moment, with all proceeds going directly to Mount Sinai COVID-19 Response Fund. Fans can tune in on Saturday, April 25 at 2 pm ET on Twitch TV. This was a big week for NY and Mount Sinai's healthcare workers on the frontlines of the COVID-19 crisis are in critical need of support and equipment. Mount Sinai partnered with dtx to help drive awareness and donations for those on the front lines. DTX uses Flowcode technology to allow people to easily and directly donate to Mount Sinai.
On April 22, Billie Eilish's mother, Maggie Baird, created the give back initiative Support + Feed, where people can support vegan businesses like Beyond Sushi in NYC and Veggie Grill in LA during the coronavirus pandemic as well as key workers on the front lines. Billie has been showing her support on her social media channels and even put on a virtual Verizon Pay It Forward Live concert with her brother Finneas to raise awareness for the cause. Support + Feed's NYC team delivered meals from Beyond Sushi to front line workers at a downtown hotel turned into a COVID homeless shelter. People can donate here to help feed first responders, healthcare professionals, and senior centers across NYC affected by COVID-19.
Kylie Jenner, 23, has given back to the COVID-19 crisis yet again! After donating $1 million towards efforts on Mar. 25, it was announced that the makeup mogul donated 6000 pounds of hand sanitizer to hospitals and healthcare professionals in Southern California. "The custom hand sanitizer includes a special message for recipients: 'Dedicated to first responders working to support our communities'," the press release issued by Coty on April 11, read. Healthcare professionals immediately took to social media to thank the Keeping Up star, with one nurse writing "Thank you so much…been struggling to find any of this in stores or online."
On April 8, Halsey took to her Instagram account to share that she had "purchased 100,000 FDA certified 3 ply masks" to donate to to Cedars-Sinai Medical Center, Providence Saint Joseph, LAC+USC Medical Center, and Martin Luther King Jr. Community Hospital. The masks are intended "for the medical professionals and non medical hospital staff who are working to put a stop to this pandemic and help millions of strangers they will never meet. Please continue to stay home, if you can."
His "Airness" has gotten involved in the COVID-19 relief game. Michael Jordan helped launch the #ToastYourTeam initiative. First started by Los Angeles Lakers owner Jeanie Buss on Instagram (when she toasted MJ), the Cincoro #ToastYourTeam campaign aims to bring communities together and support the hospitality industry through the Restaurant Strong Fund and United States Bartenders' Guild Bartender Emergency Assistance Program. Participants who include @CincoroTequila and #ToastYourTeam in their social media posts can choose which charity they want Cincoro to donate $10 to on their behalf, with Cincoro pledging up to $100,000 of donations through this campaign. It's perfect to do through viewings of The Last Dance, and a perfect thing to do to help restaurants and bars, which have been hit hard during this time.
Paris Hilton and The Hilton Foundation announced they're donating $10 million towards COVID-19 efforts in Los Angeles and abroad. "As we enter the most critical time for COVID-19 in the United States and around the world, we know that philanthropy has a critical responsibility to leverage its flexible funding ability to protect the most vulnerable communities around the world," the Hilton Foundation's statement read. "Of the $10 million, about half will go toward protecting the homeless population in Los Angeles, with the other half focused on helping African countries prepare for a pending outbreak."
So proud that the @HiltonFoundation just donated $10Million in additional funding toward relief efforts & support for communities most impacted by #COVID19 here in #LosAngeles & abroad. It is our collective responsibility in philanthropy to work together during this time! ❤️🙏 pic.twitter.com/qU0NYCGLFS

— Paris Hilton (@ParisHilton) April 9, 2020
Twitter founder Jack Dorsey has announced the largest celebrity donation to date on April 8, totaling $1 billion. "I'm moving $1B of my Square equity (~28% of my wealth) to #startsmall LLC to fund global COVID-19 relief," he began his tweet. "After we disarm this pandemic, the focus will shift to girl's health and education, and UBI. It will operate transparently," he added, attaching a Google Doc with financial details.
JAY-Z and Meek Mill are the latest celebrities to give back during the COVID-19 crisis. The rappers leveraged their criminal justice reform organization REFORM Alliance to send 100,000 surgical masks to prisons and jails across the United States on Friday, April 3. "WE JUST DONATED 100k MASKS TO PEOPLE BEHIND BARS 🙌🏾 that includes 50k to #Rikers, 40k to @TNTDOC1, and 5k to #ParchmanPrison," the organization tweeted.
WE JUST DONATED 100k MASKS TO PEOPLE BEHIND BARS 🙌🏾 that includes 50k to #Rikers, 40k to @TNTDOC1, and 5k to #ParchmanPrison.

THANK YOU to our friend @ShakaSenghor for leading this charge. We need to protect vulnerable people behind bars & GET THEM OUT! https://t.co/xSutAIlnRD pic.twitter.com/FhyMfDfrXk

— REFORM Alliance (@REFORM) April 3, 2020
Jessica Alba revealed her Honest Company would give back to families in need during the coronavirus by donating three million diapers. The actress called into The Tonight Show's at-home edition on April 2, and revealed that the company which she co-founded had made a sizable donation because many "families who are out of work" are having "to choose between diapers and a meal and they shouldn't have to." The 38-year-old said, "We've donated 3 million diapers, 20,000 wipes, 20,000 personal care products. That is the No. 1 need for families right now who are living in poverty but also families who are out of work."
On April 2, Oprah Winfrey made a $10 million donation to COVID-19 relief efforts across the country. Her funds went to various individual organizations represented by each state, along with $1 million going to America's Food Fund. On the same day, the Chief Executive Officer of the New England Patriots, Robert Kraft, sent a Patriots plane all the way to China to receive protective gear and necessary equipment for the nurses and medical staff in Massachusetts working endlessly to take care of COVID-19 diagnosed patients. The plane is meant to land back in Boston some time on Thursday, April 2. On April 1, legendary country singer Dolly Parton took to her Instagram account to share that she made $1 million donation to Vanderbilt University as they continue to research the coronavirus in the hopes of finding a cure. "My longtime friend Dr. Naji Abumrad, who's been involved in research at Vanderbilt for many years, informed me that they were making some exciting advancements towards research of the coronavirus for a cure," Dolly said in a statement she shared on the social media platform. "I am making a donation of $1 million to Vanderbilt towards that research and to encourage people that can afford it to make donations."
.@chefjoseandres and Claire Babineaux-Fontenot have teamed up with @LeoDiCaprio, Laurene Powell Jobs and @Apple to launch America's Food Fund to help feed local communities. pic.twitter.com/O5hl9J8FDi

— Oprah Winfrey (@Oprah) April 2, 2020
Just one day before Dolly's donation, on March 31 Rihanna's Clara Lionel Foundation donated another $1 million to COVID-19 response efforts that will be matched by rapper JAY-Z's equally thoughtful donation from his Shawn Carter Foundation. The total $2 million will support undocumented workers, the children of frontline health workers and first responders, and incarcerated, elderly and homeless populations in New York City and Los Angeles. This is the second large donation that Rihanna has made amid the coronavirus pandemic. On March 23, the singer's foundation donated $5 million to various organizations to help combat the spread of COVID-19. The money went to a number of worthy groups, including Direct Relief, Feeding America, Partners in Health, The World Health Organization's COVID-19 Solidarity Response Fund and the International Rescue Committee, among others. Like Rihanna and Jay-Z, Amazon CEO gave a generous $100 million contribution to Feed America amid the crisis. "Feeding America will quickly distribute the funds to their national network of food banks and food pantries, getting food to those countless families who need it," he wrote in a statement.
Taylor Swift is one of many stars who is also making a difference for those struggling during the novel coronavirus pandemic. The "Lover" songstress, 30, has been quietly giving upwards of $3,000 away to complete strangers who need help either paying their rent, bills, or buying groceries and other necessities during the strenuous lockdowns and stand stills in various parts of the world. Although Taylor hasn't publicly commented on her philanthropy, fans have taken screenshots of Taylor's messages to them, thanking her for the tremendous support. Further more, Taylor has been keeping a Nashville record store afloat by giving its employees three months worth of healthcare. "Taylor generously offered some direct relief to my staff and to cover three months of our healthcare costs for our group insurance plan," a source shared with sister site Rolling Stone. "It's a huge deal to us and now I have some peace of mind as we apply for [Small Business Association] loans to pay rent, vendors, and other expenses. This assistance from Ms. Swift helps give us a real shot at coming back on the other side of this." Much Like Taylor, singer Ariana Grande has also been extending financial aid to her fans on the down low. The "Thank U, Next" singer, 26, used Venmo and other resources to send her fans anywhere between $500-$1,500 to help cover various needs during this time.
On March 25, Kylie Jenner made a $1 million donation to a Los Angeles physician in order for the money to be spent on face masks and other protective gear for those working on the front lines of this global crisis. Kylie's personal physician, Dr. Thais Aliabadi revealed in her emotional statement on Instagram, "I made a wish to the Universe to gather protective masks for our brave healthcare workers and today my dream came true." Because of Kylie's donation, "hundreds of thousands of masks, face shields, and other protective gear" would be made available to healthcare workers, and would be "delivered directly to our first responders, as too many masks at hospitals are disappearing before making their way onto the faces of our front line heroes."
Former Secret Service Special Agent Evy Poumpouras has partnered with Dunkin' to provide first responders in the New York and New Jersey areas with coffee and donuts as a way of showing support and giving thanks during this very trying time. The Becoming Bulletproof author (available on Amazon, now!) has already completed several drop offs to those on the front lines at Long Island Jewish Hospital, Mount Sinai Morning Side, Lawrence Hospital in the Bronx and several police stations.
Also on March 25, Oscar winner Angelina Jolie made a $1 million donation to No Kid Hungry, ensuring that not a single child from a low-income family will go without a meal. "As of this week, over a billion children are out of school worldwide because of closures linked to coronavirus," the actress, 44, said in a statement. "Many children depend on the care and nutrition they receive during school hours, including nearly 22 million children in America who rely on food support. No Kid Hungry is making resolute efforts to reach as many of those children as possible."
Former Real Housewives of New York star Bethenny Frankel also leaped into action. Bethenny, who was already making coronavirus kits, complete with hand sanitizer gel, immunity boosts, and cash cards for the impoverished, added face masks to the package as well upon coming to a vital realization. "Because the idea of a doctor or a nurse who is risking their life and not to mention firefighters, and police officers, and people working at Publix and Kroger and Whole Foods, and all those people that are interacting with people all day, they all don't have masks," Bethenny shared EXCLUSIVELY with HollywoodLife. "But on the forefront, the medical workers that are going in to intentionally interact with people with the worst crisis that we have ever seen in our lifetime, not having masks, being told to recycle masks, wash their masks, is a horror show."
While Hollywood has stepped up to do their part in providing support to medical professionals, the entertainment industry has already been hit hard by the novel coronavirus. Stars like Tom Hanks, Rita Wilson, and Idris Elba are just three of the many stars who have been diagnosed with the virus. Furthermore, TV productions, films, and concerts have been suspended or rescheduled do to the global pandemic. As of April 1, there are well over 186,00 confirmed cases in the United States with over 3,600 lives being claimed by the virus.