Kylie Jenner, 23, has seemingly cleaned out her "following" list on Instagram. Only 28 accounts survived this unfollowing spree as of Jan. 7, which fans began to notice two days prior. Now, Kylie is only following her family members, BFF Anastasia "Stassie" Karanikolau, Kris Jenner's boyfriend Corey Gamble, super fan Johnny Cyrus, and a handful of fan accounts dedicated to the makeup mogul.
Barely any close friends were spared in this timeline wipeout! Kylie most noticeably appeared to unfollow Sofia Richie, 22, who split with the father of Kylie's niece and nephews, Scott Disick, in 2020. It was a surprising move, considering that Sofia had been a close friend for years and even tagged along for Kylie's 22nd birthday trip in Europe in Aug. 2019 (Sofia was dating Scott at the time). Kylie is still following Scott on Instagram; meanwhile, Sofia has not unfollowed Kylie.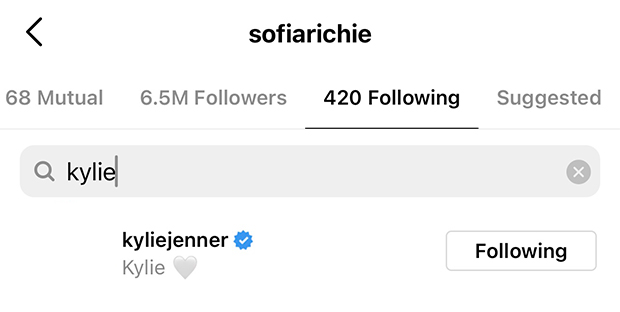 Sofia isn't the only friend whom Kylie is not following at the moment. The same applies to two very close friends of the Kardashian family, Fai Khadra and Harry Hudson, and her former assistant-turned-close pal Victoria Villarroel. Even Star Lash Extensions founder Yris Palmer lost a follow — who left a supportive emoji underneath Kylie's outfit post just three weeks prior — and Kylie's longtime makeup artist Ariel Tejada.
Fans especially freaked out after Kylie appeared to unfollow Latin superstar Rosalía, whom Kylie watched at a concert in Jan. 2020. The "Con Altura" singer also collaborated on the song "TKN" with the father of Kylie's daughter, Travis Scott, in May of that year. After seeing Kylie's much smaller "Following" list on Instagram, fans took to Twitter with their thoughts.
"Why did Kylie unfollow everybody on Instagram? Omg," one fan tweeted, and another wrote, "Omg no wtf kylie did a huge unfollow spree on Instagram." A third fan shared a theory, writing, "kylie cleaning her following list too good she knew better than to just unfollow oomf."
Why did Kylie unfollow everybody on Instagram? Omg

— t (@bieberalcohol) January 6, 2021
Although Kylie unfollowed Sofia, there has been no indication of a fallout between the two pals. Sofia even paid a trip to Kylie's new $36.5 million estate in Los Angeles in Aug. 2020, and a few days later a KarJenner family source EXCLUSIVELY told HollywoodLife, "Kylie makes it a point to stay out of Scott and Sofia's relationship because she loves both of them and doesn't want to get involved whatsoever."