There were some scary moments for music fans when new broke on Jan. 5, 2021 that Dr. Dre — real name Andre Young — had been rushed to the hospital and placed in the Intensive Care Unit at Cedars Sinai Medical Center in L.A. after suffering a brain aneurysm. While the condition can be deadly, apparently the doctors were able to stop the brain bleed, as the 55-year-old music mogul took to Instagram later in the evening to give fans his positive prognosis.
"Thanks to my family, friends and fans for their interest and well wishes. I'm doing great and getting excellent care from my medical team. I will be out of the hospital and back home soon. Shout out to all the great medical professionals at Cedars. One Love!!" the former Death Row Records co-founder wrote in the caption, next to a black and white photo of him in front of a studio soundboard.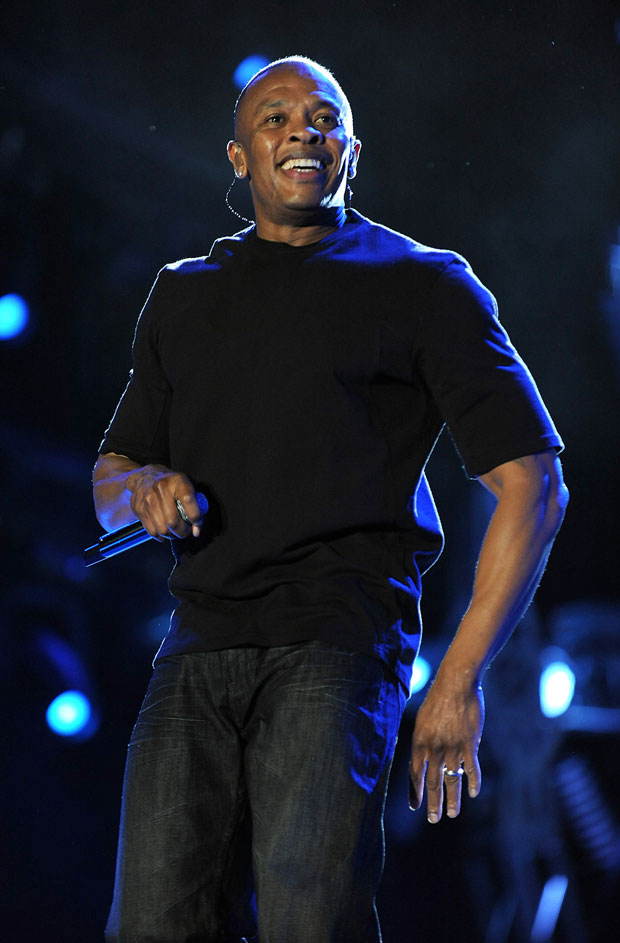 Dre was rushed to the hospital on Jan. 4 and placed in the ICU at the world renowned hospital. TMZ broke the story on Jan. 5 that the N.W.A. founder was "stable and lucid, but doctors don't know what caused the bleeding and they are doing a battery of tests." Andre's 1992 debut album The Chronic is one of the most legendary and influential hip hop albums in history, and he went on to produce classic albums for Snoop Dogg and other burgeoning artists who would change the course of rap music. Dre's always been there to support his pals, including Curtis "50 Cent" Jackson's Hollywood Walk of Fame ceremony on Jan. 30, 2020. Not only did Dre attend to show his love and respect, so did super reclusive mutual pal Eminem, 48.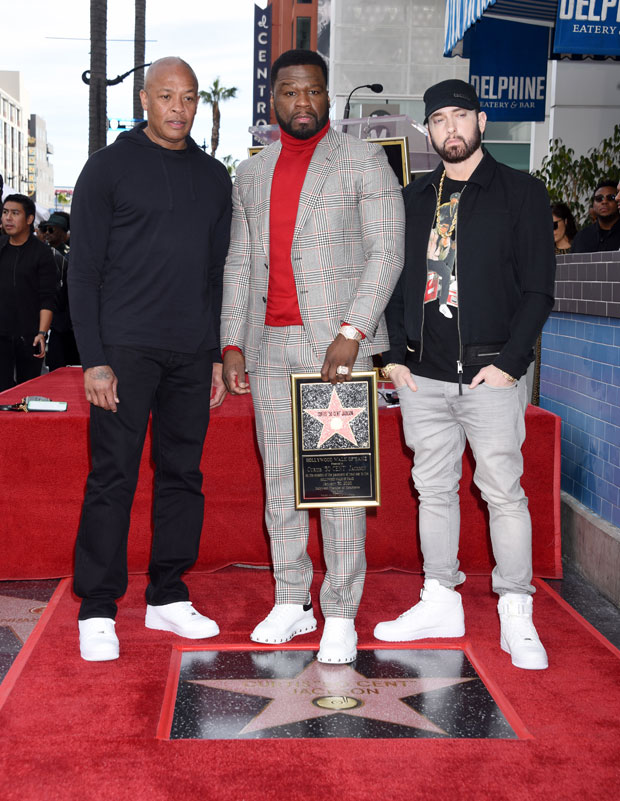 The loss of Dre would have been a major tragedy in the music world, as celebs from former N.W.A colleague Ice Cube to G-Eazy were sending prayers for his recovery. Even NBA superstar LeBron James shared a photo of the two business powerhouses together and wrote, "Praying for you my Brother!!" via Instagram. Dre's pal LL Cool J, seemed to be in the know about the billionaire's condition though, tweeting that "Dre is recovering nicely."
According to the Brain Aneurysm Foundation, "Ruptured brain aneurysms are fatal in about 50% of cases. Of those who survive, about 66% suffer some permanent neurological deficit. Approximately 15% of people with a ruptured aneurysm die before reaching the hospital," and that "Most of the deaths are due to rapid and massive brain injury from the initial bleeding." Fortunately the BAF notes that, "50-80% of all aneurysms do not rupture," so hopefully that was the case for Dre and that he'll make a full recovery. It sure sounds like he's doing well, if he's already going to be discharged from the hospital soon.