Wednesday Addams has taken over the world, and she's just getting started. Jenna Ortega, a.k.a. Wednesday Addams, will be back for season 2. Netflix announced on January 6, 2023, that the hit series has been renewed.
"It's been incredible to create a show that has connected with people across the world. Thrilled to continue Wednesday's tortuous journey into season two. We can't wait to dive headfirst into another season and explore the kooky spooky world of Nevermore. Just need to make sure Wednesday hasn't emptied the pool first," creators/showrunners/executive producers Alfred Gough and Miles Millar told Tudum.com.
While there have been so many depictions of the Addams Family, none have ever focused solely on Wednesday — until now. HollywoodLife has all the latest updates about Netflix's Wednesday.
Will There Be A Wednesday Season 2?
Wednesday will return for season 2, Netflix announced on January 6, 2023. The streaming service released a video (see above) that teased "more misery is coming" and the "global phenomenon will return" for season 2.
Wednesday showrunner Miles Millar revealed that he and co-showrunner Alfred Gough already have plans for multiple seasons. "For us, it's always looking at the future, and when we sit down to create a show, it's looking at multiple seasons, ideally," Miles told Variety. "That's never expected, but that's the anticipation that hopefully the show is successful. So you always lay out at least three or four seasons' worth of potential storylines for the characters. It can evolve and change. Often, you want to see which characters or cast pop and who you like to write for. So you want to keep it open and organic enough to change it and evolve, but we certainly have a pretty clear runway of what we want to do in future seasons."
Wednesday has become one of the most successful series ever on Netflix. It ranks #2 on the Most Popular (English) TV list with 1.237 billion hours viewed within its first 28 days. More than 182 million households have seen the series since its debut. The series crossed the 1 billion hour view mark only three weeks after debut – joining Stranger Things 4 and Squid Game as the third title to reach this milestone within its first 28 days.
The show has also broken the record for the most hours viewed in a week for an English-language TV series on Netflix twice. Wednesday debuted in the #1 spot with a record-breaking 341.23M hours viewed, and again in its second week with a staggering 411.29M hours viewed.
Peter Friedlander, head of Netflix's U.S. and Canada scripted series, spoke to Variety in December 2022 about season 2. "You may know what I'm going to say — but I have nothing to confirm at this time. I am optimistic about 'Wednesday.' We'll leave it at that," he said. Peter also called the series a "cultural phenomenon" and acknowledged how much it's blown up. "The resurgence, for me, it's something that's been in the culture for a long time — but never this pronounced," he said. "It's something that we want to study and understand why this is such a phenomenon."
HollywoodLife spoke EXCLUSIVELY with Hunter Doohan, who plays Tyler, about what he'd to see from his character. Tyler was last seen about to Hyde out while chained up in an armored car. "I just want to explore what's next for Tyler, and if he's going to come back after Wednesday," he told HL. "I guess the idea left at the end is that he's really pissed off enough to transform in that armed vehicle and I assume escape."
What Is Wednesday Based On?
Wednesday, like the rest of her frightening family members, was created by cartoonist Charles Addams for illustrations in The New Yorker, starting in the 1930s. The Addams Family consists of Gomez and Morticia Addams, their children Wednesday and Pugsley, other family members Uncle Fester and Grandmama, and their butler Lurch. They are depicted as a wealthy but odd aristocratic family who doesn't care that other people perceive them as frightening and scary. The Addams Family has been adapted over the years into countless media projects, including the '90s film franchise that featured Christina as Wednesday. For the 2019 animated film and its sequel, Wednesday was voiced by Chloë Grace Moretz. There was also a Broadway show based on the Addams family that starred Nathan Lane and Bebe Neuwirth and was nominated for two Tony Awards. The Addams family truly has had a massive impact on pop culture.
Wednesday Trailers & Footage
On November 8, Netflix released the opening credit sequence for Wednesday. Netflix noted that the credits were "guided by Tim Burton and set to Danny Elfman's haunting score."
Feast your eyes on Wednesday's killer opening credit sequence, which was creatively guided by Tim Burton and set to Danny Elfman's haunting score pic.twitter.com/VR3uunaXiM

— Netflix (@netflix) November 8, 2022
The official trailer debuted during the show's New York Comic Con panel on October 8. Wednesday heads to Nevermore Academy, and she couldn't be less thrilled. "I act as if I don't care if people dislike me. Deep down… I actually enjoy it," she says. The show's Uncle Fester, played by Fred Armisen, is revealed in the trailer.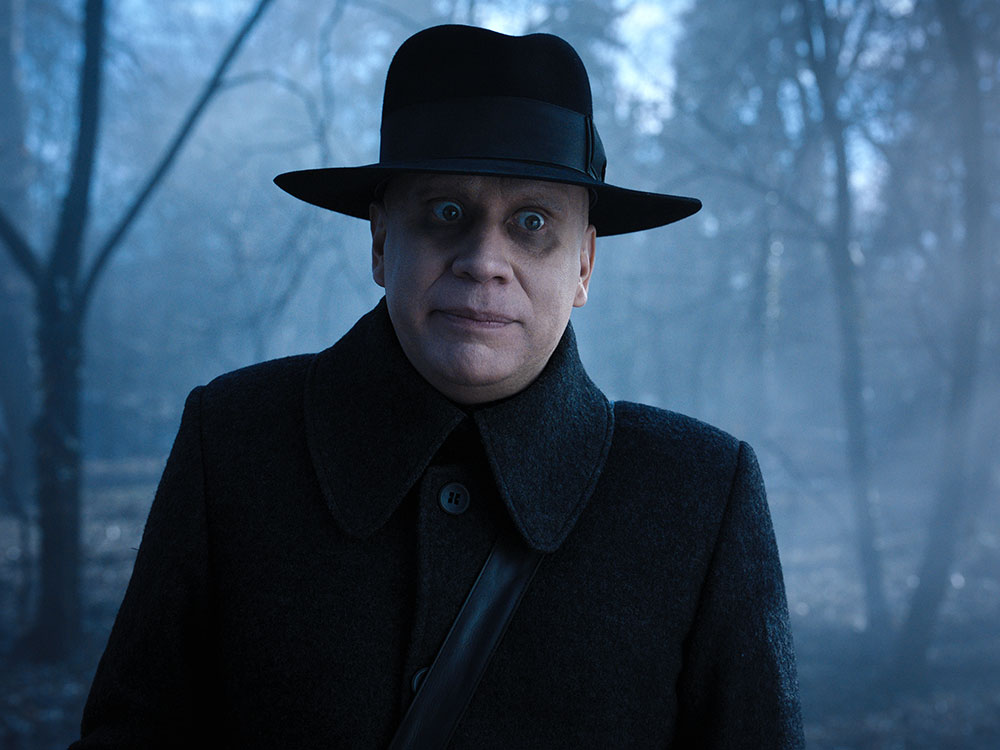 Wednesday has a gut feeling that there's "something wrong" with Nevermore. She vows that she won't "stop until I find the truth." Christina Ricci, who previously played Wednesday, pops up in the final moments of the trailer. She plays Ms. Thornhill, who works at Nevermore Academy.
Name a more dynamic duo than Wednesday Addams and Thing. I'll wait. #TUDUM pic.twitter.com/umruHWkHsP

— Netflix (@netflix) September 24, 2022
During Netflix's TUDUM event on September 24, new footage of Wednesday was revealed in a nearly two-minute clip. Wednesday is in her room and finds Thing being a little mischievous. She catches Thing and demands to know why he's here. Thing was sent by her parents to spy on her.
Wednesday gives Thing two options, one of which includes pledging his "undying loyalty" to her. Thing chooses loyalty. She wants to escape Nevermore Academy. "Our first order of business is to escape this teenage purgatory. Of course, I have a plan. And it begins now," Wednesday tells her partner in crime.
Netflix revealed the main teaser on August 17. When Pugsley gets bullied at school, Wednesday plots her revenge. "The only person who gets to torture my brother is me," Wednesday tells a group full of boys before dropping two bags of piranhas in the pool. Naturally, she gets expelled.
Wednesday is taken to Nevermore Academy, where her parents met. Her mother, Morticia Addams, tells Wednesday that she'll "finally" be among peers who "understand" her. She meets plenty of people along the way and ultimately thinks she'll like Nevermore.
The first official teaser trailer for Wednesday dropped on June 6 during Netflix's Geeked Week. The trailer and a newly-released photo gave fans a first look at Jenna as the titular character. Jenna embodies Wednesday with her signature braided pigtails and black polka dot dress with a white collar. Thing also makes a quick appearance on Wednesday's left shoulder.
The official Wednesday synopsis reads: "Wednesday is a sleuthing, supernaturally infused mystery charting 16-year-old Wednesday Addams' years as a student at Nevermore Academy. Season one will follow Wednesday as she attempts to master her emerging psychic ability, thwart a monstrous killing spree that has terrorized the local town, and solve the murder mystery that embroiled her parents 25 years ago — all while navigating her new and very tangled relationships at Nevermore."
Wednesday Release Date
Netflix has confirmed that Wednesday will premiere on November 23, 2022. The first season will consist of 8 episodes that will debut all on the same day. Wednesday will be available to stream only on Netflix.
Wednesday Cast & Crew
Wednesday will feature a very talented cast. Jenna Ortega, known for her roles in You, Yes Day, Scream, and The Fallout, will star as Wednesday. Jenna shared the news of her casting on Instagram in May 2021.
"New chapter. Hope I can do Wednesday Addams justice. *snaps twice*," she wrote, alongside a photo of her holding a script for the show. The photo has since been deleted.
In a featurette released by Netflix on August 24, Jenna revealed that the show begins with Wednesday getting expelled from school for attempted murder and sent to Nevermore, where she has to "navigate her way through this new school, new relationships. But then also, she's dealing with this serious investigation involving serial killers and murders and monsters."
Jenna also noted that it was important to her to do something "different" from past iterations of the character. "She's a bit more socially awkward. There's a confidence there, but it's more concealed," she said. "Wednesday is technically a Latina character and that's never been represented, so for me, any time that I have the opportunity to represent my community I want that to be seen."
Catherine Zeta-Jones will play Wednesday's mother, Morticia Addams. Luis Guzman has been cast as Wednesday's father, Gomez Addams, though only in a guest star role. Wednesday's brother, Pugsley Addams, will be played by Isaac Ordonez.
Uncle Fester will be played by Saturday Night Live alum Fred Armisen. The actor shaved his head to play the iconic character. "They really did such a great job with the makeup and everything. I had no eyebrows. It was prosthetics over my eyebrows to give me that look," Fred told Vanity Fair. "But I think that bald caps don't look great all the time, so I was hoping to just make it that much more convincing."
The main cast also includes Game of Thrones alum Gwendoline Christie as Larissa Weems, Ricki Lindhome as Dr. Valerie Kinbott, Jamie McShane as Sheriff Donovan Galpin, Hunter Doohan as Tyler Galpin, Georgie Farmer as Ajax Petropolus, Moosa Mostafa as Euge Otinger, Emma Myers as Enid Sinclair, Naomi J. Ogawa as Yoko Tanka, Joy Sunday as Bianca Barclay, Percy Hynes White as Xavier Thorpe, and Victor Dorobantu as Thing. Thora Birch (Hocus Pocus) was previously cast as Tamara Novak, Wednesday's dorm mother, but she had to exit the series in December 2021. "Thora has returned to the States to attend to a personal matter and will not be returning to the production," a rep for MGM Television, which is producing the show, told Deadline in a statement.
HollywoodLife spoke EXCLUSIVELY to Emma ahead of the show's premiere about Enid and Wednesday's friendship. "I think Enid and Wednesday both kind of take from each other. I think they both teach each other very important lessons like Enid teaches Wednesday that she can feel emotions and she can cry and still be a badass and still be strong. Wednesday teaches Enid how to stand up for herself and to just be okay with who she is. So I think they really bring out the best in each other, and I think it's great that they became roommates," Emma told HollywoodLife.
In March 2022, it was officially confirmed that Christina Ricci would return to The Addams Family franchise and appear in Wednesday. As reported by Deadline, Christina is playing a new character and not an older version of Wednesday. Christina teased more about her role in an August 2021 interview with Variety. "I was really flattered to be asked and to be asked by Tim," the Yellowjackets star said. "It's nice to be a part of this next iteration of that character. It's fun to watch and it's fun to see other people's takes on things and what they put of themselves into something like that."
HollywoodLife spoke EXCLUSIVELY with Christina about being a part of this new chapter and Jenna's performance. "It's really exciting, and it's really fun. From the moment I saw this sort of new interpretation of her look, I was like, oh my God, that's so smart and so cool," Christina said. "And then to see her performance… it's really great. It's a really great, modern take on it. It feels more timely and appropriate. She has that sort of self-respect and dignity that really is at the core of Wednesday. All of her choices are so smart. I have so much respect for Jenna, and I think people are going to love her as Wednesday."
Alfred Gough and Miles Millar (Smallville) are the creators of Wednesday. Tim Burton (Beetlejuice, Edward Scissorhands, Batman Returns) is directing the series in his TV directorial debut. Alfred, Miles and Tim are also executive producers, alongside Jon Glickman, Andrew Mittman, Gail Berman, Kayla Alpert and Steve Stark.
Development Details
Wednesday was initially announced in October 2020, as an unnamed The Addams Family project under Tim Burton. After the showrunners and executive producers came on board, Netflix officially gave the project a series order of eight episodes in February 2021. Filming began that September in Bucharest, Romania. The show wrapped in early 2022.
In the recent featurette, Tim pointed out that in the past incarnations of Wednesday Addams "it's been very cartoony. So in this longer form, we just tried to give it a reality which I loved."
The series has been described as a "coming-of-age comedy" with "a sleuthing, supernaturally infused mystery" focusing on Wednesday during her high school years at Nevermore Academy, according to Deadline. The show's official longline, previously released by Netflix, reads, "Wednesday's attempts to master her emerging psychic ability, thwart a monstrous killing spree that has terrorized the local town, and solve the supernatural mystery that embroiled her parents 25 years ago — all while navigating her new and very tangled relationships at Nevermore."
Miles Millar, co-showrunner and executive producer, noted: "It's very important to us that it wasn't a remake or a reboot, that this is a new chapter of Wednesday Addams' life." Alfred Gough, also a co-showrunner and executive producer, added that this show is really about "exploring" Wednesday's "journey into adulthood."