SZA, 33, looked like she was having the time of her life while celebrating her successful new album with her producer, ThankGod4Cody. The singer and music creator were photographed taking a dip in the water on a beach in Hawaii and rocked epic bathing suits. She wore a pink and white patterned bikini while her hair was down and he went shirtless while wearing black and gray shorts.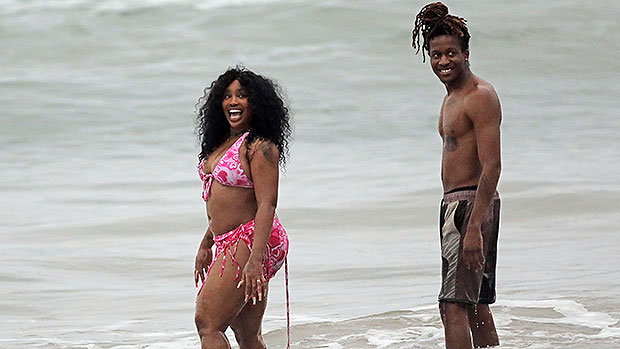 ThankGod4Cody is credited with producing seven songs on SZA's new record, SOS, which was released on Dec. 9 and has topped the Billboard 200 charts for three weeks so far, so it's only natural he'd want to mark the happy occasion with her. Although they have worked together for years, the latest sighting has caused some fans to speculate on whether or not there's more than a collaborative friendship going on. ThankGod4Cody also reportedly shared a now-deleted Instagram video of SZA taking a dip in the Pacific Ocean, so he's definitely enjoying their time together.
When SZA is not making headlines for the quality time she spends with those closest to her, she's doing so for other things, like seemingly confirming plastic surgery rumors in her lyrics. "I just got my body done, ain't got no guilt about it, I just heard your opinion, I could've did without it," she sang in her song "Conceited." She also seemingly admitted that her rear is not "natural" in the title track of the new album. "So classic, that a** so fat, it look natural, it's not," she sang.
When discussing the title track in a recent interview with Glamour, she admitted it was a song that "sets up the energy of the album" and is pretty personal. "I took a hiatus, and I'm back for blood now in an aggressive way," she explained. "I've been fed up with the world, relationships, gossip, and lack of respect. I've been screaming into a void by myself, and it feels very exhausting."
In addition to "SOS," her inspiring new record includes other personal hit tracks that people have been praising. They include "Kill Bill," "20 Something," "Nobody Gets Me," and "Good Days."
Click to Subscribe to Get Our Free HollywoodLife Daily Newsletter

to get the hottest celeb news.