Fans of actress Jane Krakowski were stunned by a report on Jan. 21, 2021 that the beloved former 30 Rock and Dickinson star had been engaged in a nine month romance with former President Donald Trump's close pal and supporter, MyPillow founder Mike Lindell. In a statement released to HollywoodLife.com, Jane's rep tells us "Jane has never met Mr. Lindell. She is not and has never been in any relationship with him, romantic or otherwise. She is, however, in full-fledged fantasy relationships with Brad Pitt, Rege-Jean Page and Kermit the Frog and welcomes any and all coverage on those."
Actress Jane Krakowski has denied any romance with MyPillow founder Mike Lindell, but says she's in a fantasy relationship with Brad Pitt. Photo credit: AP Images.
Earlier in the day, the Daily Mail reported that the two had an undercover romance. "It surprised many of Jane's friends because she's such an icon in the gay community, but here she is dating one of Trump's biggest business backers. I mean he was seen in the West Wing and at Trump rallies and he is probably responsible for half of the revenue of Fox News. We'd always joke that Jane had so much money, couldn't she afford her own My Pillow?" a source told the publication.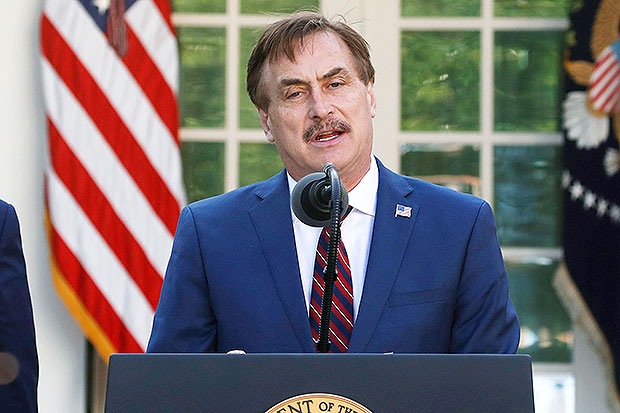 Bedding titan and ardent Trump supporter Mike Lindell was reportedly involved in a romance with actress Jane Krakowski. Photo credit: AP Images
According to the DM's report, a friend of Jane's said the romance was an "open secret" in New York's West Village. The publication reported that the lovefest between Lindell, 59, and Krakowski, 52, "came to an end after a weekend together at the actress's rented Hamptons beach house" during the summer of 2020.
A second source told the publication that the unlikely pair met in a studio while filming a show together. "He sent flowers to her almost every week and champagne and bottles of different liquor. She said she had known him for about eight years and that they had been friends but then they started a relationship about a year ago. I don't know exactly what she saw in him but she seemed happy and thought he was a good man," the inside told the Daily Mail.
As far as Jane's current love hopefuls, Brad is single but in the middle of a contentious divorce from ex Angelia Jolie. Rege-Jean — who plays Simon Basset, Duke of Hastings on Netflix's Bridgerton — is currently single and Kermit the Frog is in a tumultuous on and off romance with Miss Piggy.