Cheyenne Floyd, 28, is going to be a mother of two — something she has been praying for. The Teen Mom OG star revealed that she's pregnant with her second child, and her first with boyfriend Zach Davis, in two separate Instagram announcements on Dec. 17. The first was a video of Cheyenne, with her new baby bump in tow, strolling on a beautiful beach with Zach and her three-year-old daughter Ryder (whom Cheyenne shares with her ex, Cory Wharton). "Coming soon 2021," Cheyenne simply captioned the video.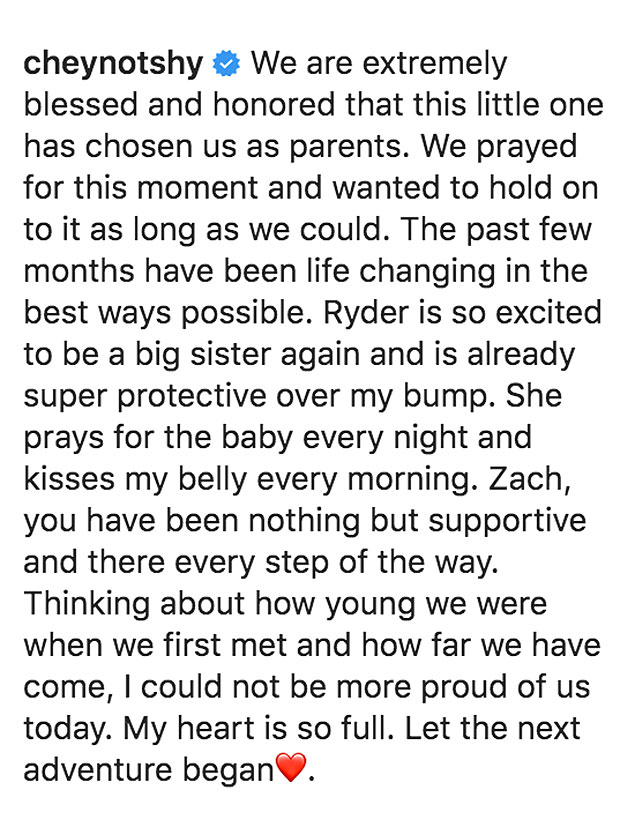 Cheyenne didn't wait to provide her 1.3 million Instagram followers with more details about her pregnancy, though. "We are extremely blessed and honored that this little one has chosen us as parents," Cheyenne wrote underneath another post, which included a photo of Ryder sweetly kissing her pregnant mom's belly as Zach cuddled Cheyenne from behind. The MTV star continued, "We prayed for this moment and wanted to hold on to it as long as we could. The past few months have been life changing in the best ways possible."
Cheyenne even revealed how Ryder's feeling about her future second sibling, after Cory welcomed a baby with his girlfriend Taylor Selfridge in April of 2020. "Ryder is so excited to be a big sister again and is already super protective over my bump," Cheyenne added underneath the pregnancy announcement. The expecting mother continued, "She prays for the baby every night and kisses my belly every morning. Zach, you have been nothing but supportive and there every step of the way. Thinking about how young we were when we first met and how far we have come, I could not be more proud of us today. My heart is so full. Let the next adventure began."
Zach also took to his Instagram to make his own baby announcement. "Cheyenne and I are excited to welcome our newest addition into our lives. This has been the biggest blessing in the smallest package," Zach wrote. He continued, "If you know me, you know my life revolves around family. I am beyond excited to start my own family with the woman I love. Chey, I love watching you with Ryder… you are nothing but an amazing mother. Ryder is the best little girl anyone can ask for and I look forward to seeing her become a big sister (again). I love you both…. I'm a f–king father!!"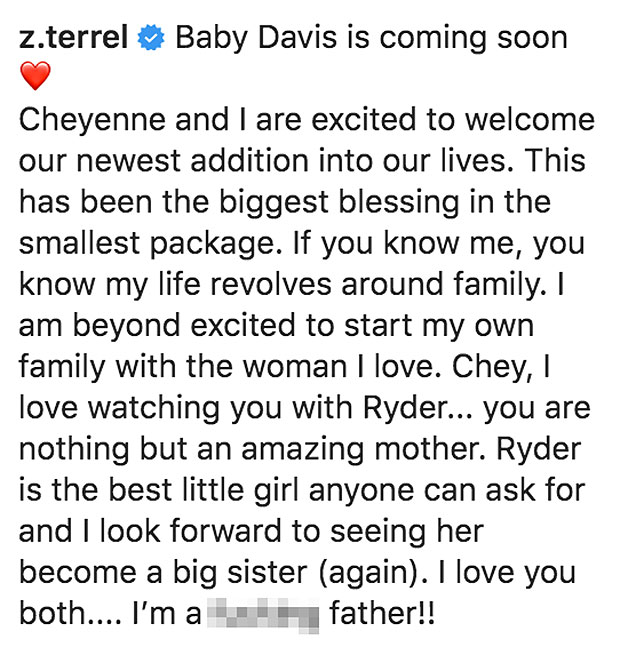 The Teen Mom cast rushed to Cheyenne's comments section to drop their congratulatory remarks. "Omg yesssss," Jade Cline wrote, while Kailyn Lowry commented, "These pictures and the videos are [crying emoji and heart-eyes emoji]."
Cheyenne revealed this happy news after reuniting with Zach, who made a surprise cameo in a photo slideshow from her 28th birthday celebration in October. The couple happily kissed in one of the pictures while posing with Ryder, thus confirming that they were officially back on. Two years ago, Zach had made an appearance on Teen Mom OG shortly after Cheyenne made her debut on the MTV show in Oct. 2018. At the time, Cheyenne and Zach couldn't see eye-to-eye after getting in an argument over Cory. As you can see, such drama is long gone in the past. Congratulations to Cheyenne and Zach!