'The Bachelorette': David Returns & Reveals Brutal Facial Injuries After Falling Off Bed
Deputy Editor of New York City
David returned to the mansion on 'The Bachelorette' and showed the guys his face for the first time after falling off the top bunk bed — and it was NOT pretty!
After spending a bit of time recovering in the hospital, David came back to vie for Becca Kufrin's heart on the June 18 episode of The Bachelorette. He didn't quite look the same, though: He returned with a huge bruise under his left eye, with his nose completely swollen. Yep, he BROKE his nose when he fell off the top bunk of a bunk bed during last week's episode. YIKES!
His change in appearance didn't frighten Becca, though. She gave him a rose at the cocktail party before the rose ceremony even began! Becca was completely understanding of what David went through and understood that it was imperative for him to get some rest. Naturally, David's nemesis in the house, Jordan, was not happy to see David return, much less receive a rose before him!
It seems the guys on this season of the show are quite accident prone. Another contestant, Clay, even left the show last week after breaking his wrist in a friendly football game! However, since Clay is a pro footballer in real life, he knew it was important to get home and get surgery on his arm so he could be healthy for his career, which he uses to support his family.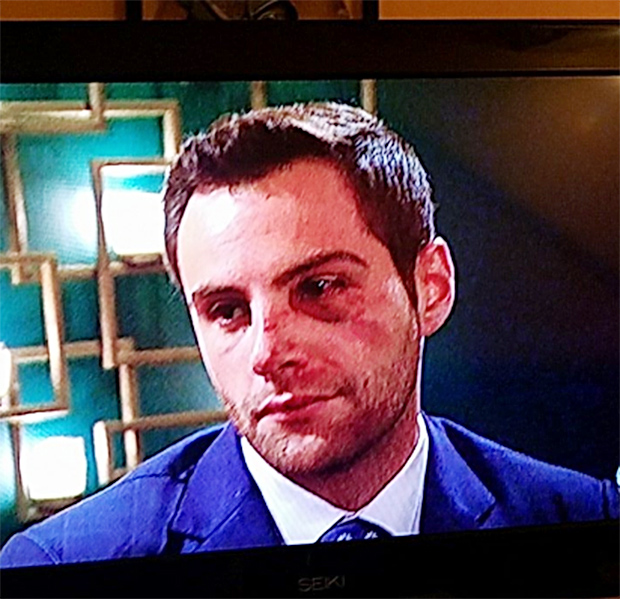 David's hospitalization was much more drastic. Cameras weren't filming when he fell out of the bed, but we saw him getting wheeled away on a stretcher in the aftermath of the accident. Plus, there was blood all over the room, and from the way the guys described the scene, it sounded pretty brutal. Thank goodness he's okay!