If you purchase an independently reviewed product or service through a link on our website, we may receive an affiliate commission.
We're guessing a "healthier diet" is on your list of New Year's resolutions. Since you're most likely working or studying from home, you have more time on your hands to spend in the kitchen, too — which calls for a juicer! No longer will you have to take a drive to grab a green juice or smoothie, and we've found the best juicer, too, to help you make these healthy beverages from the comfort of your kitchen: the Oster Easy-to-Clean Professional Juicer, which you can currently buy for $123 on Amazon.
Get the Oster Easy-to-Clean Professional Juicer here for $123.
This particular juicer actually features "auto-clean technology," making it stand out from the many other juicers on Amazon. "Unlike other juicers, the patented auto-clean technology rinses and scrubs hard-to-clean pulp and fiber from the filter in just seconds," the juicer's company, Oster, explains on its product's Amazon page. And this self-cleaning process only takes 25 seconds! So, you won't have to deal with an explosion of carrot and celery pulp all over your machine every time you simply just want to pump out a quick drink.
This juicer really was designed with cleanliness in mind. It's also equipped with an "extra-large-capacity pulp collector," as an extra assurance that you won't be dealing with a pulpy mess. The juicer also features a drip-stopper nozzle, meaning that your kitchen counter won't be covered in juice puddles.
This juicer can handle a lot, too. The food chute is three inches wide and advertises that it "fits most whole fruits and vegetables"; as you can see in the photo below, multiple celery stalks and carrots can be inserted into the chute all at once. To guarantee that your juicer won't become overwhelmed with all the fruits and vegetables you throw at it, it is built with a 1,000-watt motor with two speeds to accommodate hard and soft ingredients. Basically, we're saying this isn't some cheap blender!
Not only do you get the juicer, but a pitcher cup that all your juiced veggies and fruits will pour into. It holds five cups of liquid (AKA, a lot of juice), and comes with a lid and froth catcher. Yet again, this juicer is minimizing any potential messes for you. And when you're done juicing, you can throw the juicer's parts into the dishwasher, since they are BPA-free.
Since this juicer's self-cleaning option is its biggest selling point, we wanted to further break down how exactly it works so that you get a clear idea of how easy it really is: step-by-step. First, you'll want to remove the food pusher located at the top of the device. You're going to take this food pusher, unscrew the lid and fill it with water, and then reinsert it into the chute of the juicer. Next, you'll spin the control knob to the "auto-clean" option, and then "press and hold down on the food pusher for 25 seconds" as the juicer activates its cleaning mode, according to the informational video on Amazon. Once those 25 seconds are up, you're done! To further clean the juicer, just unlock the arm of the juicer, take off the lid and take out the pulp collector to self-wash that compartment yourself.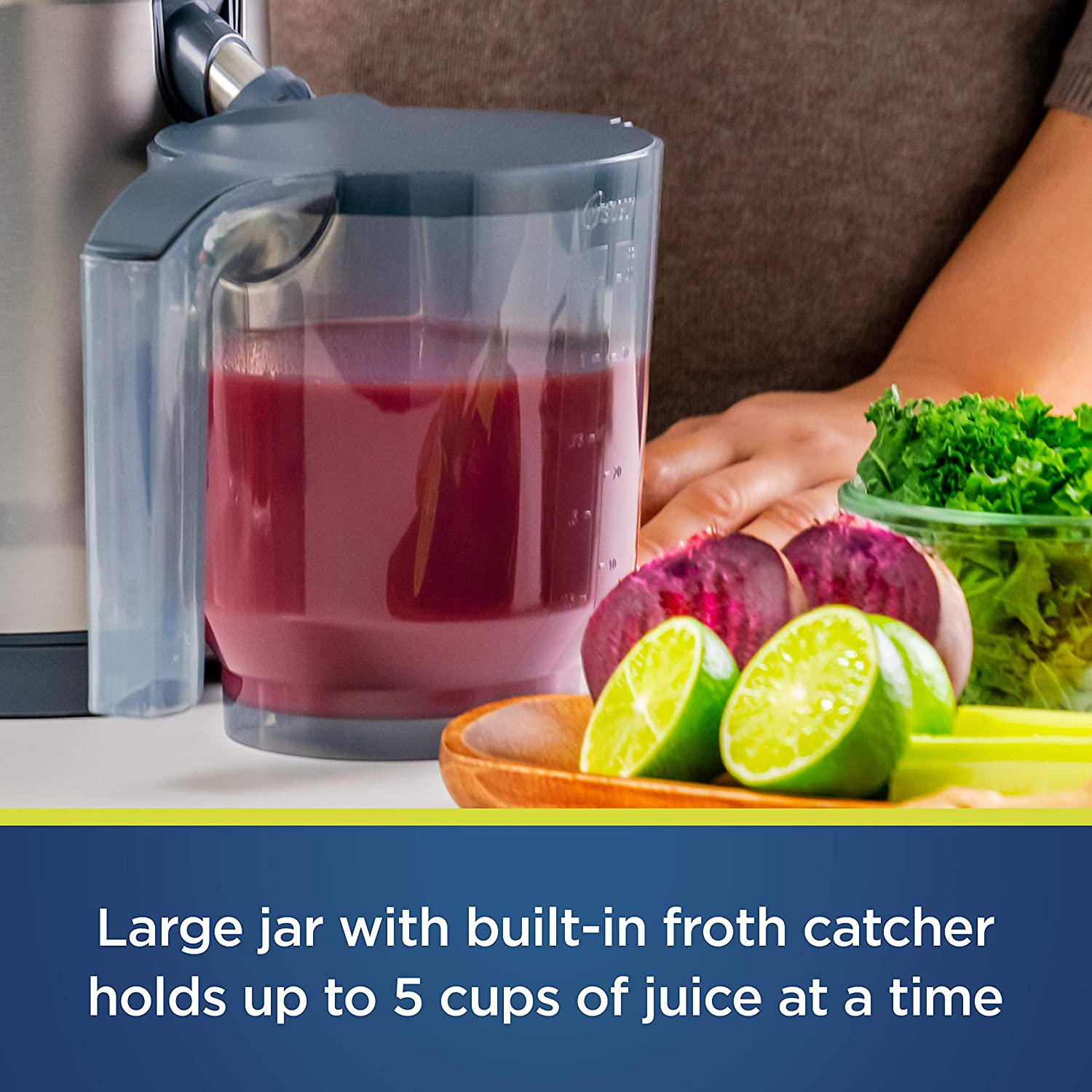 If you can do without the self-cleaning mode, Oster also offers two different juicer options: a juicer with five speeds instead of two for $130, and a cheaper option with the same dual-speed feature (but no auto-cleaning option) for $100.
And now, the Amazon reviews! This juicer has a 4.4 out of 5 star average rating, based on over 400 reviews (it's also an "Amazon's Choice" product). Happy customers especially raved about Oster's juicer's self-cleaning abilities and TK. "The cleaning capability for this juicer is outstanding. That is one of my biggest concerns with juicing is all the effort it takes to clean; however, the filter is some patented design that works like a charm," one customer gushed in the reviews section, while another wrote, "Absolutely the best purchase I've ever made! The self cleaning function is amazing and really cleans the blade and filter! The very wide food shoot is amazing! All in all I have been using this juicer every day and it helped me turn over a healthy leaf! Highly highly recommend and it's amazing quality!"
All cool features aside, this juicer will make a pretty addition to whatever other kitchen you may have: toasters, coffee-making machines, and so forth. The juicer is made of stainless steel that will make your kitchen look extra modern! Now, stop daydreaming of the healthy diet you'll treat yourself to in 2021, and make it a reality (and an easy one, too) with this efficient juicer that'll save you the drama other juices often bring into the kitchen.