If you purchase an independently reviewed product or service through a link on our website, we may receive an affiliate commission.
Whether you're trying to bring out your natural curls or you have a serious knot you need to get out, it's always essential to have a good hair detangler on-hand. Using a non-efficient detangler can cause serious damage to your hair! Improperly brushing out tangles can create breakage and unnecessary friction that damages your hair and can even lead to hair loss. In the summer, when your tresses are battling the elements, it's more important than ever to treat it well and use a good detangler. Luckily, we've rounded up 6 of the best on the market that won't break the bank — or your hair!
1.
Sun Bum Revitalizing 3 in 1 Leave-In Conditioner Spray
The Sun Bum Revitalizing 3 in 1 Leave-In Conditioner Spray is, in my opinion, the best detangler on the market, and especially for summer. The product is lightweight and smells like the beach while infiltrating every knot in your hair and allowing any brush to go through it smoothly. Plus, it leaves an undeniable shine on your hair that lasts all day long. This detangler enhances and restores your hair while also protecting it from future damage and frizz. The vegan blend helps restore moisture, repair damage, reduce tangles, and slow color fading with sunflower seed oil and quinoa protein. $14, amazon.com
2.
Pantene Pro-V Moisture Mist Detangler
You can never go wrong with a Pantene product! The Pantene Pro-V Moisture Mist Detangler provides a boost of hydration and helps eliminate tangles with every spritz. Simply spray on wet hair and let the infused product do the rest. This detangler also aids in reducing split ends and kicks dryness to the curb! Plus, you can't beat the price! $6, amazon.com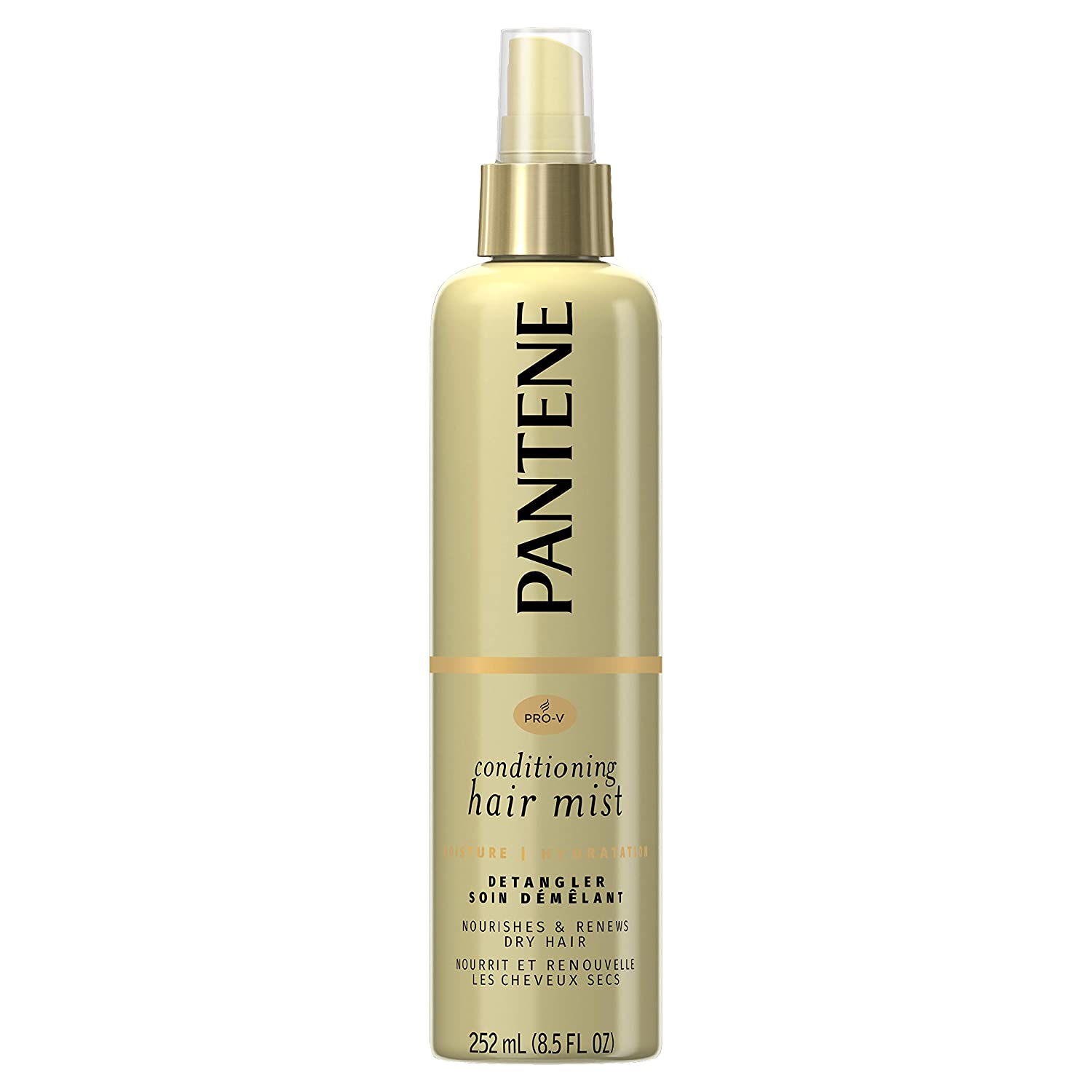 3.
NEXXUS Humectress Luxe Replenishing System Lightweight Conditioning Mist (2 count)
If you're looking for a lightweight product that won't weigh your hair down but still detangle your knots, the Nexxus Conditioning Mist is the way to go. The salon-grade product frees up knots while moisturizing your hair for all-day smoothness. However, you won't get the oily, sticky feel that you might get with other intense products! This mist-like spray allows your tresses to retain their flexibility while penetrating the roots to provide moisture and resiliency. $34, amazon.com
4.
Wet Brush Original Detangler
No spray, no problem. The Wet Brush Original Detangler can battle any knot in any condition. Unlike ordinary hair brushes, our brilliantly crafted Detangler does not rip or pull out the knotted hair. It glides through the hair to gently untangle even the toughest tangles with ease. Featuring ultra-soft IntelliFlex bristles, this special brush is designed brilliantly to minimize pain and to protect hair against split ends and breakage. It lets you brush with less force so you can detangle with less damage to your hair. Plus, the brush comes in several different bright and fun colors — you can get several for your summer travels and beyond! $9, amazon.com
5.
The Honest Company Sweet Orange Vanilla Conditioning Detangler
The Honest Company's Sweet Orange Vanilla Conditioning Detangler is a blend of argan oil, shea butter, jojoba protein, and quinoa extract that naturally softens and nourishes hair, separates strands, and eliminates fly away hair. The Jessica alba-led company prides itself on its plant-based yet efficient products, and this detangler is no exception. Use on yourself or on your kiddos, this product is safe for the whole family! $6, amazon.com