New Cross Connection host Tiffany Cross, 41, wishes that her 22-year-old self could see her now, as she is about to debut her 2-hour news conversation show on December 12 on MSNBC. Twenty years ago, Cross had landed a coveted job as a $22,000 a year entry level video journalist at CNN in Atlanta, after having to drop out of Clark Atlanta University because she couldn't afford the tuition.
When she was assigned to work the 5 am shift, she'd have to get to the office the night before and search for a quiet spot to sleep for a few hours in order to be on time, because public transportation didn't run that early in the morning. But now Cross will command the Saturday morning time slot as host at MSNBC which formerly had been occupied by the highly popular AM Joy show, helmed by Joy Reid, who was promoted to anchor the week night Reid Out at 7 pm.
Cross, who triumphed in tryouts for the Sat morning spot, will take advantage of her new show to speak to and give a voice to the "rising majority of America," she tells HollywoodLife in an EXCLUSIVE interview. What she means by the "rising majority" is the fact that in 2020, there are now more minority young people in America, than those who are white.
And she wants these young people to feel understood and represented on The Cross Connection. "I want people of color to be in the conversation. The majority of people under the age of 18 in this country right now are African American, Hispanic, Latino, Asian American, Pacific Islander Native American, Alaskan Native. And so with the rapidly changing demographics in this country, we cannot continue to have whiteness as the center of the political discussion. In this space, I will not do that."
She is determined to create a news show where younger viewers can participate in democracy and will feel welcomed and informed. She believes that will have the payoff of getting them to vote and run for political office in greater numbers. "When you see yourself reflected and you have a better understanding of government, it's something you want to participate in", she says. She certainly knows what it's like to feel like an outsider. She recalls in her 2020 best-selling book, Say It Louder, how she felt "left out of office conversations" at CNN. She rarely got the "inside jokes" of colleagues, who had covered Washington D.C. politics for years and she was made to feel "like an imbecile by my superiors and colleagues", if she didn't know certain subject matter.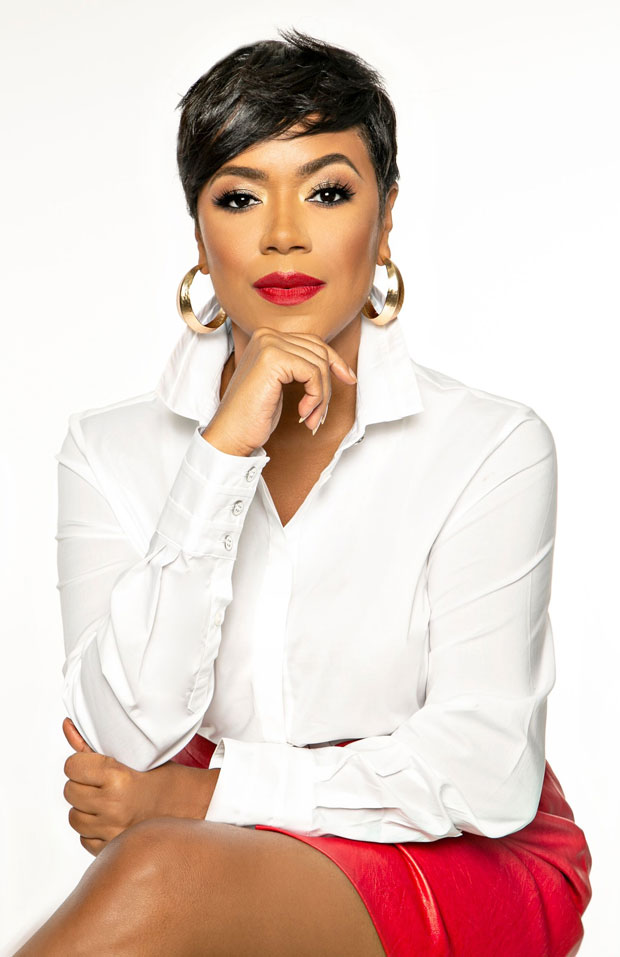 The daughter of two addicts who never married, she didn't have "the right pedigree" for the CNN D.C bureau, which she was promoted to join. She wore 'bargain basement suits' and had to wear them with sneakers because she couldn't afford even a pair of cheap heels. And she was also one of the very few Black faces in the newsroom. Like any young person new on the job, she made mistakes. "Other people made mistakes as well. But to me, young white girls in the newsroom (and pretty much everywhere) seem to always be forgiven and guided in a way that I never was," she wrote.
Because of Cross's experiences, the launch of Cross Connection is especially rewarding. "I wish I could go back and talk to my 22 year-old self crying in an 'edit bay', and tell her that 20 years from now, this will be a reality. And I hope that young people will never feel denied by the power structure that still exists in so many places, no matter the career path. That disappointment and sadness and anger and just ultra humiliation sometimes drove me."
Now, she will be giving a voice to diverse young people in national news conversations, even if those conversations are sometimes uncomfortable. "The rising majority of the country is pressing the Biden administration for diversity in his cabinet and you can witness some horizontal competition", she points out. "By that, I mean the Black community feels like there are not enough Black people and the Latino community feels like there's not enough Latino people represented in his cabinet… and so that horizontal infighting can be detrimental to us all. I want to bring people together in that conversation. How do we move forward in a way where everybody wins, and nobody feels like they are losing?"
Cross believes that while there has been a cultural shift in American society with more diverse Black and Brown voices being heard, there hasn't yet been a "power shift", and "when we are not unified, we lose".
Top guests on her show wish list are – no surprise – Vice President elect Kamala Harris, Michelle Obama ("she remains the most popular Obama in the country"), Meghan Markle, and "the deity that is Oprah". "I would love to have 1,000 questions for her, specifically at such a historic time for Black women, because she paved the way for so many… from Oprah starting out in local news to running her own network."
Then closer to home, or her current office, she'll be working to book "trailblazer" Rashida Jones, the new female Black president of MSNBC. "She was very instrumental in the hiring process (hers for 'Cross Connection'), and she's been nothing but encouraging about me being my authentic self." Cross relates that she first met Jones when she stopped by her office at MSNBC headquarters, 30 Rockefeller Center, when Cross happened to be in the building on a Saturday.
"I literally went into her corner office on one of the higher floors and she was sitting there on her off day in jeans and I immediately thought – 'I love this woman'. How often are we able to interface with someone at that level who has a commonality and shared experience with us? That meant so much to me… there was a familiarity there that I had never experienced in my career, because most of the people who I sat across from were white."
Cross promises that as much as she will be bringing young people of color and progressives into the conversations on her show, she has an open door to Republicans as well. "I invited Senator Kelly Loeffler (of Georgia) on the show – she said she was interested in reaching out to communities of color but we have not heard back. Everyone is welcome on the show" she says. "Donald Trump could appear on the show if he is so bold. There is no rule that you have to be of certain political affiliation to appear. I think viewers would be especially happy to witness that conversation."
But while Cross is putting out a welcome mat for Republicans, she is not willing to tolerate "bold-faced lies", or for guests to "elevate conspiracy theories or introduce something that is hateful or divisive or dishonest." Cross, who guest-hosted multiple times on AM Joy while trying out for her new position, has no patience for any kind of the above and she cuts off guests spouting falsehoods. "I think you have to interrupt [guests] sometimes because they will filibuster if they are allowed to filibuster, which not only is a disservice to the viewers, it's a disservice to democracy. I think a part of journalism is stopping and explaining things or pointing out when something is factually inaccurate. And we should not be presenting one asinine statement or idea next to a logical statement or idea as though these two things are the same, in order to be 'balanced'".
Well, that will be a relief to lots of viewers who have been yelling at the TV for the past 5 years. Some of those viewers and the new communities who will become her audience, will learn more about how Congress and government in Washington actually work. "We'll have a segment called 'Make It Make Sense', where people will literally be able to send in videos and ask questions like 'what exactly does the Surgeon General do?', and we'll answer those questions. If you're a political novice, you'll be able to walk away and say 'I learned something today and you'll also be entertained.'"
After Tiffany's premiere show tomorrow, let's hope her inner 22 year-old high fives her for her persistence in the face of the long odds. "There is a quote that I have had to drill in my head. That is – 'some people succeed because they are destined. I will succeed because I was determined.' And I was just defiant. There were ways I probably could have muted myself and made myself shrink in an effort to appease all the people around me who didn't look like me, and I'm so grateful I never did that. The best advice I can give to other people who are starting out is 'do better than the best you can.'"
Tune into The Cross Connection on Saturday, December 12 at 10 am on MSNBC.