Kim Kardashian, Larsa Pippen & More Celebs Who Suffered Swimsuit Malfunctions – Pics
Bathing suit malfunctions suck, but they're so common that pretty much all of us can recall a time our bikini top became untied by the waves. Even celebs like Kim Kardashian need to pick out a wedgie every once in a while!
No one goes to the beach and expects their bikini to untie in the water, but unfortunately that's what tends to happen every so often. Fortunately, the only people we're flashing are the actual people on the shore, but celebrities have to deal with accidental nip slips in front of awaiting paparazzi.
Everyone from Bella Thorne to Iggy Azalea has had the misfortune of a swimsuit malfunction because if there's one unifying factor between celebs and regular people, it's that no one is immune to ocean waves tugging off your bathing suit.
Thankfully, some celebs like Kim Kardashian and Larsa Pippen have embraced their swimwear issues with a sense of humor. While vacationing in Miami in late August, the pair sported silver metallic swimsuits – a bikini for Kim and a one-piece for Larsa. Regardless of how their suits were designed, both caused one incredibly relatable problem: wedgies.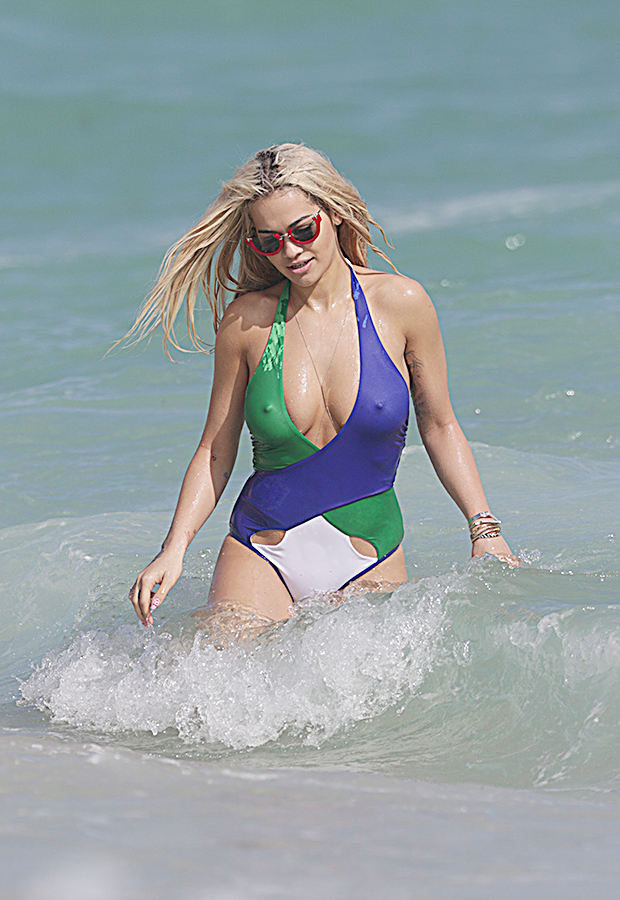 But instead of succumbing to embarrassment over digging their bottoms out of their butts, Kim shared a photo of her and her pal picking at the fabric while walking on the beach. "Best friends that pick wedgies together stay besties for life!" she captioned the post. How cheeky. To see even more celebrity swimsuit malfunctions, get clicking through the gallery above.