The mug shot from Vince Vaughn's arrest in Manhattan Beach, CA has finally surfaced showing the actor apparently not sweating the incident. In the image, Vince cracks a half-smile for the camera while wearing a grey t-shirt. The 48-year-old movie star also sports a serious tan during his processing in the early hours of Sunday, June 10. See loads more celebrity mug shots right here.
He was stopped at a checkpoint around 12:30 a.m. in the swanky beach community. Both he and his male passenger were apparently "uncooperative," according to TMZ. Initially both refused to exit the vehicle when instructed to do so. That's when he was arrested and cited with a misdemeanor DUI. Since, both Vince and his unnamed passenger have posted bail and been released. Vince was slapped with $10,000 bail for alleged obstruction and resisting, and $5,000 for the DUI charge, according to the Manhattan Beach Police Department.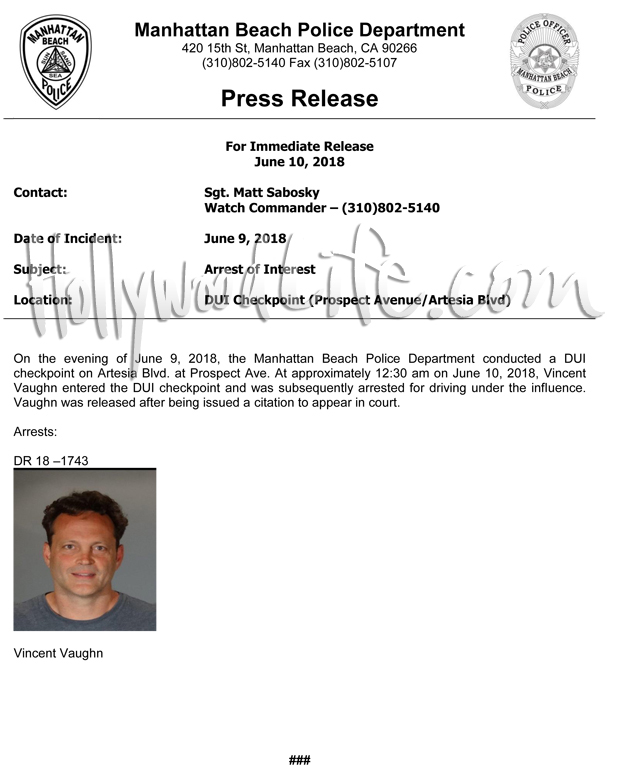 The Wedding Crashers star has been forthright about his love of throwing back drinks in past, along with smoking. "I like to drink, but drugs never appealed to me," he said in a Playboy interview. "If anything, my thing was cigarettes. I quit seven years ago, and it was the hardest thing to do. Part of it was just being on a movie set. You're bored and you just get used to it."
Fans will also remember that he although he's largely avoided unflattering headlines involving legal issues, he did get in a fight at a bar in Wilmington, NC in 2001 while filming Domestic Disturbances. A local allegedly tried to fight Vince after his girlfriend started talking to the actor. Fellow thespian Steve Buscemi, who was also in the film, was stabbed and injured in the incident. Nonetheless, if Vince is charged for his recent arrest, it will be his first DUI offense.