Zara Larsson Dishes On 'Symphony' & Dating A Hot Model After She Tweeted At Him Over A Year Ago
Zara Larsson is the queen of wishful thinking! The singer tweeted at British model Brian H. Whitaker over a year ago, and now they're together and in love, as she tells us. We also talked about 'Symphony' and more!
We caught up with Zara Larsson, 19, after her epic performance at OZY Fest in NYC on July 22. This interview has been edited and condensed for clarity, and you can click through the gallery to see more pics from the festival!
Thanks for stopping in New York! What are you most looking forward to the rest of this tour?
I'm super excited for Asia. I really can't wait for that, because I've never played there. Lollapalooza — I can't wait for that. Tomorrow we're flying to Australia, then back for Chicago, then Canada and Europe. It's like, "Ahhh!!"
Fair. Your passport is probably full of stamps at this point…
They don't stamp it anymore! It's kind of sad. I want the stamps but it's not a thing. They scan it. I'm thankful and happy that it's a lot of places.
That's lame. Well, Lollapalooza will be so cool. If you had a job at a festival other than artist, what would it be?
Ooh, I would probably like to work somehow with the stage. I think that would be great if I knew how to do that.
Which songs from your EP got a surprisingly awesome reaction live?
People really like "I Would Like." It's so fun to sing! I love to perform it so that's great.
Do you eventually want to reimagine the songs at all; maybe release acoustics?
Absolutely! Especially because if you watch someone live, at least I personally would like it to be a little different than the original one on the track. So absolutely, to make it interesting. I'll definitely work on the songs for the tour this fall to switch it up a bit.
Awesome. Are you working on new music yet?
A tiny bit! I have. I'm not planning to release an album next month [or anything] but my goal and dream is to release an album in a year.
How did "Symphony" with Clean Bandit come together?
They wanted to work with me, which I'm super happy about. They heard "Lush Life" in the U.K. and they sent the song to me. I said "yes" immediately because I thought it was so beautiful, then we recorded the song and video, and bam, it was out!
And you got to perform the song with them every night on tour when you opened for them.
It was such an amazing tour. I've never really been touring in America, and it taught me a lot. Those weeks were important and the song is phenomenal.
Switching gears a bit, you tweeted about model Brian H. Whittaker a while back and now you're dating — how did that happen?
It literally happened through Twitter. I wished it. I saw him on Twitter, and was like, "Oh, my God, who is this cute boy?" And then I tweeted the pictures and we started DMing. We met in London over a year ago and were talking. Now we're together and it's incredible! The power of Internet.
Too good. Did he come on tour at all?
Nah, I don't think it's really suitable for a love life on tour. At least not that tour, because it was really back-to-back. But it's quite cool, because he doesn't have a 9-to-5 job…it works out fine.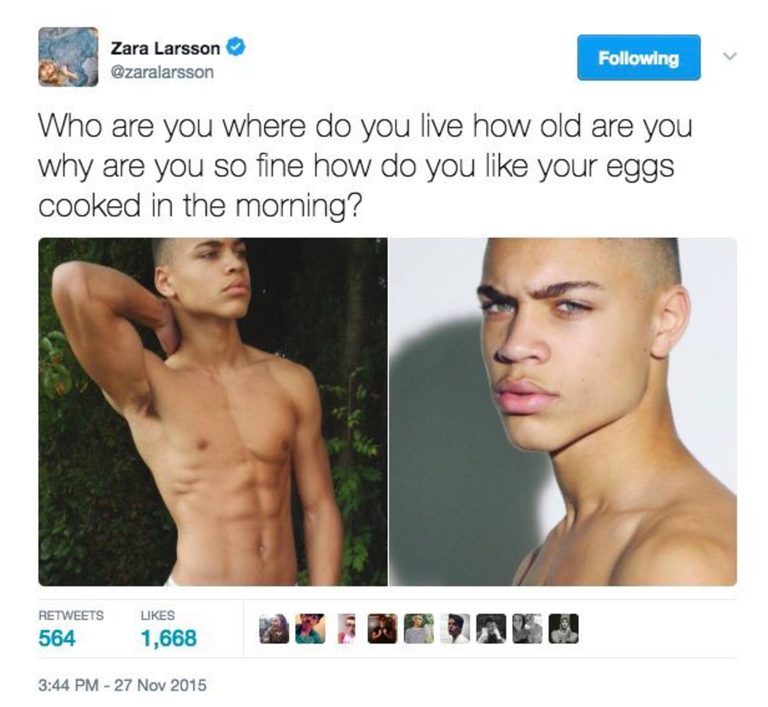 Hello everyone I just wanted to tell y'all than I'm in love so the next album will probably be cheesy

— Zara Larsson (@zaralarsson) June 17, 2017
Who do you want to collaborate with next?
I would love to work with Nicki Minaj, Charli XCX. More girls! I have a lot of guys on my album so I'd love to work with more women.
If you ever got to do a joint tour, who would you want to go out with?
Bruno Mars got the best opening acts — Camila Cabello and Dua Lipa. So if I were on that level, I'd bring Dua and Camila!