Cyber Monday Deal: 6 Reebok Sneakers Loved By Gigi Hadid Are Currently On Sale For Less Than $100
Reebok is having an epic Cyber Monday sale with deals on a ton of stylish sneakers! Stars like Gigi Hadid and Cardi B love stepping out in Reebok kicks and you can too for under $100!
If you purchase an independently reviewed product or service through a link on our website, we may receive an affiliate commission.
Cyber Monday is here and we can't let you miss the amazing deals on Reebok sneakers! The popular shoe brand, that's beloved by celebs including Gigi Hadid, Cardi B and more, is offering top training sneakers for as low as $40! — Keep in mind that this is a Cyber Monday deal, which means these amazing prices won't last long. Step out looking like the stars, or train like a pro athlete with our top Reebok sale picks, below!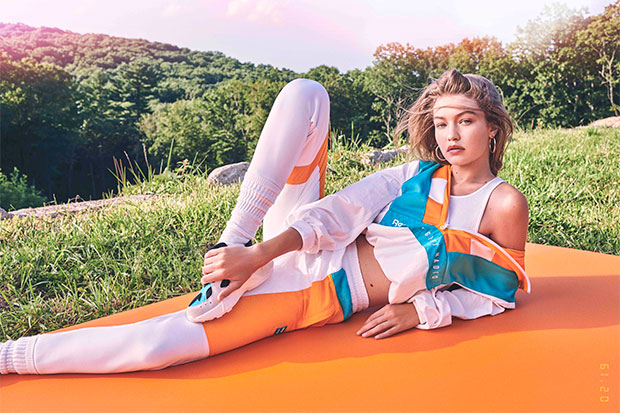 Gigi is a style icon, fitness advocate and trendsetter. — So, it was a no-brainer when Reebok joined forces with the supermodel in 2016 as the newest face of the brand's #PerfectNever movement; a powerful and inspirational call to action that asks women around the world to celebrate the beauty of imperfection and champions Reebok's intrinsic message of self-betterment. Since then, Gigi has been a leading force in Reebok's inspiring community of women. Most recently, Gigi and Reebok partnered for its Fall/Winter 2019 collab (released in October 2019), which featured apparel and footwear inspired by Gigi's love for the outdoors.
Founded in the 1950's, Reebok is a veteran name in sports and fitness apparel. In 2005, the company became a subsidiary of German sporting goods giant Adidas, which has celebrity partnerships with countless stars, such as Kanye West, Beyonce and more. Therefore, you're in great (fashionable) hands with our sneaker selections. Get ahead of your holiday shopping with these awesome Cyber Monday deals on Reebok sneakers:
1. Reebok Women's Fusium Run 20 Sock Shoe
The Reebok Women's Fusium Run 20 Sock Shoe is every runner's dream. Enjoy every mile in these elevated kicks that include a high-rebound midsole for stability and a textile upper that wraps the foot for a stable, sock-like feel. The rubber outsole provides targeted traction zones for multi-surface grip, so you can hit the pavement, track or treadmill with support and ease. $71, amazon
2. Reebok Women's Floatride Fuel Run Shoe
Take your runs to new heights in these Reebok Women's Floatride Fuel Run Shoes. They have a supportive and durable build with a mesh and TPU upper for the ultimate comfort around the ankles and heels. The soft, lightweight midsole cushions your stride to help you stay comfortable through your longest runs. These shoes come in a variety of colors (blue, black, grey and pink), which vary by price $69, amazon
3. Reebok Women's Flexagon Energy Tr 2.0 Cross Trainer
Train like your favorite pro athlete in these Reebok Women's Flexagon Energy Tr 2.0 Cross Trainer shoes. You'll be able to tackle your toughest cardio, strength and flexibility goals with the support of lightweight cushioning and a mesh upper that combines for an airy and breathable feel. The FuelFoam midsole provides the optimal balance of cushioning and response. These particular shoes have Origami-inspired details for a unique and stylish look. $41, amazon
4. Reebok Women's Fusium Run Lite Shoe
While these Reebok Women's Fusium Run Lite Shoes look similar to the Women's Fusium Run 20 Sock Shoe (No. 1), they're wildly different. Why? — Unlike the Run 20's (with the sock ankle), these kicks include a lace-up, classic upper and tongue. What sets these apart from the rest is that they're super lightweight. Your indoor or outdoor runs will feel like you're running on clouds due to its elevated FuelFoam bottom and comfort cushioning. $65, amazon
5. Reebok Women's Endless Road 2.0 Running Shoe
It's time to reach new milestones with the Reebok Women's Endless Road 2.0 Running Shoe. The breathable mesh upper keeps airflow circulating so every step you take is a comfortable one. The grippy rubber outsole offers stability to every take-off and landing, so you can stay focused on surpassing your fitness goals! Additionally, these shoes include a responsive injection-molded EVA foam midsole for lightweight cushioning. $49, amazon
6.
Reebok Women's Flashfilm 2.0 Running Shoe
Our top choice! The Reebok Women's Flashfilm 2.0 Running Shoe is ideal for those fitness fanatics who love running long distances. Not to mention, the ombre detail on the bottom will have heads turning during your next workout! $75, amazon