After an incredible first season, Ms. Marvel's final episode aired July 13. The finale is a game-changing episode that has a direct impact on what's coming up in the MCU. Ms. Marvel, which premiered June 8 on Disney+, is the seventh television series from Marvel Studios to debut on the streamer. It follows WandaVision, The Falcon and the Winter Soldier, Loki, What If…?, Hawkeye, and Moon Knight.
Ms. Marvel introduced us to Kamala Khan, a 16-year-old Pakistani/American high school student from New Jersey who gets superpowers. The official trailer was released in March and showed Kamala as an aspiring artist and avid gamer who writes superhero fan fiction, before becoming one herself. Kamala navigates a normal high school life, including bullies and romance, while also trying to save the world — no biggie!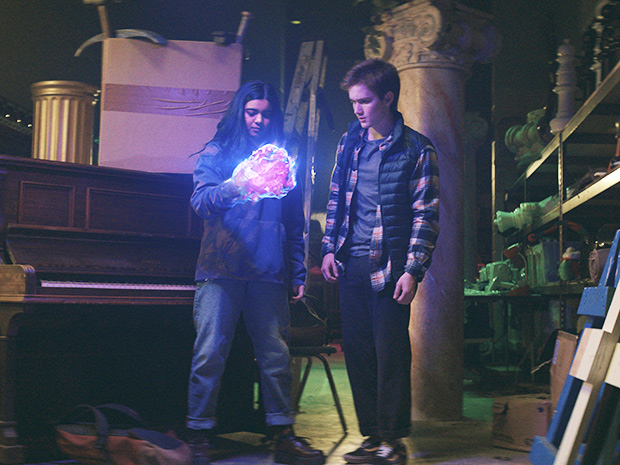 Ms. Marvel ties directly into the The Marvels, which comes out in theaters in July 2023. Kamala will appear in the movie alongside Brie Larson's Carol Danvers/Captain Marvel and Teyonah Parris' Monica Rambeau from WandaVision. Here's everything you need to know about Ms. Marvel, including that finale post-credits scene.
Ms. Marvel Finale: What It Means
The sixth and final episode of Ms. Marvel season 1, the show teased the next chapter of the MCU. Bruno made a startling discovery about Kamala. "We know why you have access to the Noor, and how you can wield it," Bruno says.
Aamir wanted to know if he could possibly have Djinn powers like Kamala, so Bruno took a look at his DNA. "When I compared you to the rest of your family, something still seemed off," Bruno tells Kamala. "Kamala, there's something different in your genes. Like… like a mutation."
The word "mutation" is key here. Mutants have now been officially introduced into the Marvel Cinematic Universe. The score appears to be sampling the X-Men: The Animated Series theme as Bruno is telling Kamala what he's discovered. This is another major hint that the X-Men will be introduced in the MCU very soon. (In Doctor Strange in the Multiverse of Madness, X-Men's Professor X makes a crucial cameo.)
The Ms. Marvel post-credits scene is also a direct lead-in to The Marvels. When Kamala takes a look at her bangle when it starts glowing, she appears to teleport before being thrown into her closet. However, the person who emerges is not Kamala, it's Captain Marvel. This is the Brie Larson cameo we've been waiting for!
Brie, a.k.a. Carol Danvers, looks confused at her purple, glowing fingers. Captain Marvel looks at Kamala's shrine to her. That's when she realizes where she is. "Oh no, no, no," she says before the post-credits scene ends.
Cast & Crew
Cast
Iman Vellani plays Kamala Khan/Ms. Marvel in the series. Iman, 19, is a Pakistani-Canadian actress who is a newcomer to acting. She only appeared in a few short films before being cast in Ms. Marvel in September 2020. Matt Lintz, 21, is playing Bruno Carrelli, Kamala's best friend. Matt is known for starring as Henry in The Walking Dead. Yasmeen Fletcher is playing Nakia Bahadir, Kamala's close friend; Zenobia Shroff is playing Muneeba Khan, Kamala's mother; Mohan Kapur is playing Yusuf Khan, Kamala's father; Saagar Shaikh is playing Amir Khan, Kamala's older brother; Travis Springer is playing Tyesha Hillman, Kamala's sister-in-law; Rish Shah is playing Kamran, Kamala's crush; and Laith Nakli is playing Sheikh Abdullah, Kamala's religious mentor.
Aramis Knight will star as the villain Kareem/Red Dagger, who wields throwing knives. Aramis, 22, previously starred in Ender's Game and appeared in episodes of Dexter, Lost, Parenthood, and Girl Meets World. Arian Moayed is expected to reprise his role as DODC agent Cleary from Spider-Man: No Way Home. Fawad Khan, Alysia Reiner, Azhar Usman, Alyy Khan, Farhan Akhtar, and Mehwish Hayat have also been cast in undisclosed roles.
Crew
Bisha K. Ali is the creator and head writer of Ms. Marvel, based on the titular character from the Marvel Comics. Bisha also worked as a writer on Loki. Adil El Arbi and Bilall Fallah are the directors of Ms. Marvel. They are all executive producers with Marvel Studios President Kevin Feige and Louis D'Esposito, Victoria Alonso, and Brad Winderbaum. Carmen Cabana and Jules O'Loughlin are the cinematographers, Laura Karpman is the composer, and Arjun Bhasin is the costume designer.
Co-executive producer Sanya Amanat has said that Kamala brings a "much more grounded perspective" to the MCU. Meanwhile, Bisha explained that as head writer and creator, she included "whimsical and magical" qualities from the comic books to the TV show, according to USA Today.
Where To Watch
Ms. Marvel will premiere its first episode on Wednesday, June 8. The show will feature six episodes each released weekly until July 13. That's the same episode count as Falcon & the Winter Soldier, Loki, Hawkeye, and Moon Knight. The show is only available to stream on Disney+. In Pakistan, the entirety of Ms. Marvel is getting a three-part theatrical release.
Premise
The official logline for Ms. Marvel reads, "Kamala Khan, a fangirl of the Avengers, particularly Carole Danvers/Captain Marvel, struggles to fit in until she gains her own powers." Fans have learned more about the show from the trailer. Plus, we also know from the comics that Kamala has the power to harness comic energy and create constructs from a magical bangle, which will be the case in the TV show.
Iman said in a previous interview that Kamala wants the "simplicity" of a life as a superhero. "Being 16 and dealing with high school and boys and relationships and family drama and culture and religion – it's so confusing and complicated," Iman explained. "Whereas being a superhero, you fight crime and you look cool doing it."
Production Trivia
Marvel Studios began development on Ms. Marvel back in August 2019, which is when the series was officially confirmed at the D23 conference. Iman was the first person cast for the show in September 2020. The rest of the cast was confirmed by Marvel/Disney over time. Ms. Marvel began filming in November 2020 in Atlanta, Georgia. Filming also took place in New Jersey in March and April 2021, before wrapping in Thailand in May 2021.
Click to Subscribe to Get Our Free HollywoodLife Daily Newsletter

to get the hottest celeb news.