Kylie Jenner stunned in a white skin-tight dress following her date with boyfriend Timothée Chalamet during Paris Fashion Week.
The 26-year-old shared a series of Instagram photos on Tuesday, September 26, of herself posing in the sleek ensemble, which she paired with matching heels. Kylie pulled her hair up in a ponytail and accessorized the look with a small white handbag and a bright red and orange shawl.
Though she didn't include Timothée, 27, in any of the shots, a few fans asked the Kardashians star about him, with one writing, "We need a pic with Timmy."
One day prior, Kylie was spotted arriving at Rosalía's birthday party in the City of Love with the Dune actor. As paparazzi swarmed their vehicle, Kylie grabbed hold of Timothée's index finger as they rushed into the venue. The couple wore black outfits for their low-key evening.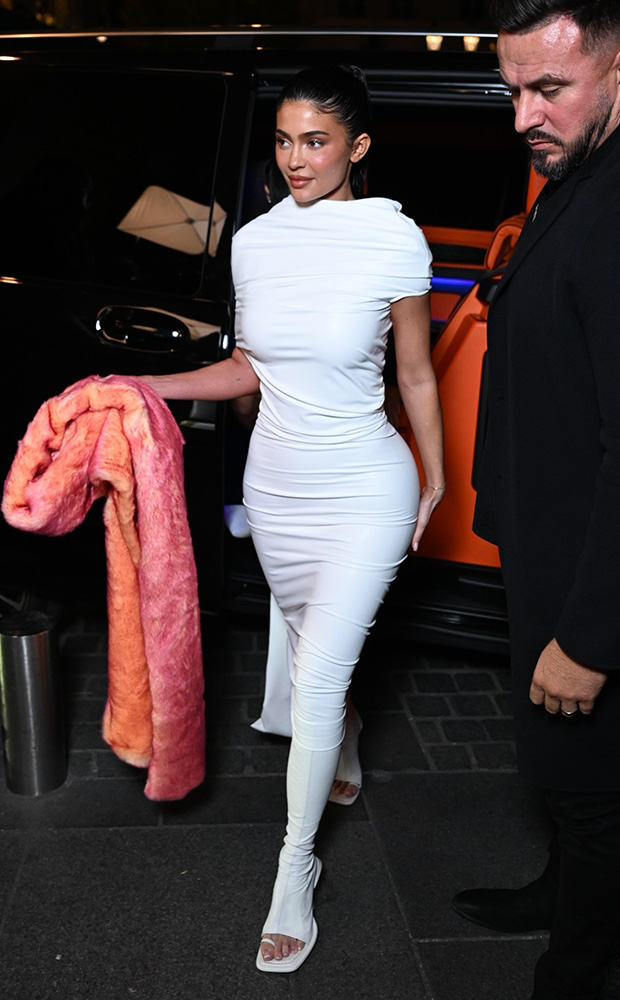 Kylie and Timothée's relationship continues to make headlines now that the pair has gone public with their romance. Earlier this month, they were spotted embracing and sharing a few kisses at a Beyoncé concert in Los Angeles. Clips of the duo's sweet date night went viral on social media. However, that didn't compare to Kylie and Timothée's PDA-filled outing at the U.S. Open later that week, which sent fans into a tizzy.
The A-list lovebirds sparked dating speculation earlier this year. However, it wasn't until April when fans were convinced they were together, as the Kylie Cosmetics mogul's vehicle was spotted parked at the Wonka actor's Beverly Hills estate. Nevertheless, the two have not publicly commented about their relationship. The only subtle acknowledgement that fans received was when Timothée was approached by a photographer in L.A. on September 19. After he was asked what it's like to date Kylie, the New York City native simply flashed a smile, put his headphones on and kept walking.
While they enjoy each other's company, Kylie and Timothée are still focused on their careers. Season 4 of the makeup entrepreneur's series, The Kardashians, will premiere on Hulu on Thursday, September 28, and the Don't Look Up actor has two films coming up: Wonka and Dune: Part Two.