Pamela Anderson, one of the new faces of Pandora, looked fabulous while stepping out at the jewelry giant's NYFW event on September 6. Speaking exclusively with HollywoodLife, the longtime model recalled her favorite moments from New York Fashion Week over the years, highlighting her special relationship with late designer Vivienne Westwood.
"I've been to a few Fashion Weeks, I can't even tell you how many, but any time I've spent with Vivienne doing her campaigns or walking with her in a show was really amazing," Pamela, who has appeared in countless Vivienne Westwood campaigns, told HollywoodLife. "She was a mentor to me, [and] is sorely missed."
Following Vivienne's death in December 2022, Pamela, 56, shared a heartwarming tribute on Instagram. "So many memories, conversations that inspired me and many others to do better," she wrote. "I have had the good fortune to have such a wild and wonderful, supportive friend in Vivienne. I love you Vivienne always, forever more. You are here. Your legacy, your passion for planet earth, your vision lives on."
In addition to speaking about Vivienne, Pamela opened up about how grateful she is to work with her two sons, Brandon Thomas and Dylan Jagger, whom she shares with ex-husband Tommy Lee. Brandon, 27, and Dylan, 25, also attended the event, as they appeared alongside their mother in the Pandora campaign.
Pamela loves the opportunity to "spend more time with them," she gushed. "They are very hard on me though, very picky about what I wear and what I do, but it's so much fun."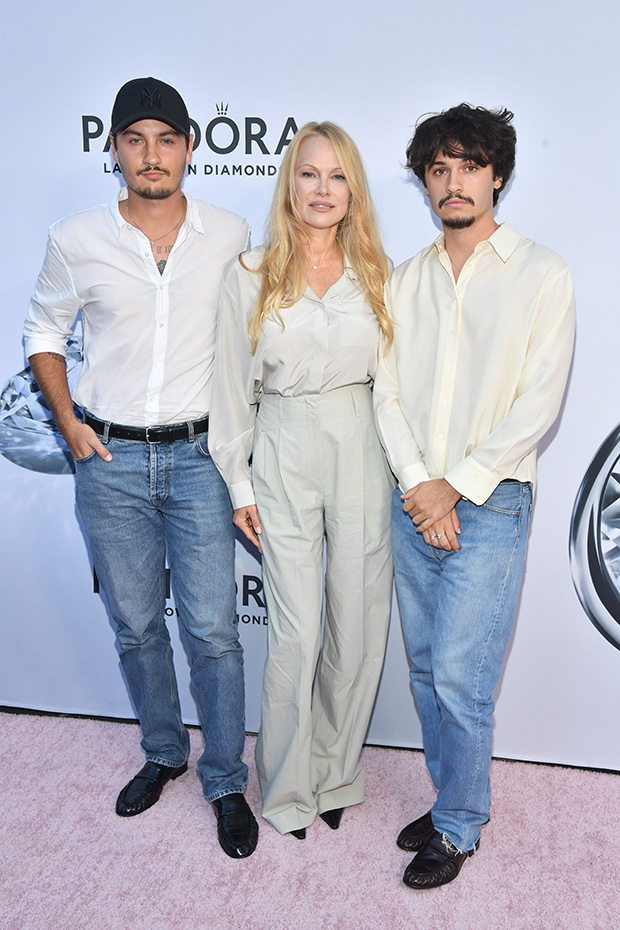 Pamela stunned on the red carpet in an elegant silk pants set — keeping it minimalist with a monochromatic top and high-waisted loose trousers, leaving the jewelry to be the star of the show — where she displayed Pandora's lab-grown diamonds with her dainty necklace, earrings, and ring.
When asked why she has partnered with Pandora, her main reason is because "sustainability is really important to me," she told HollywoodLife. "They walk their talk and make it accessible for everyone. I like approachable brands."
Other celebs joined Pamela on the red carpet, including Halle Bailey, Julia Fox, Ashley Park, Barbie Ferreira, and Arianna Greenblatt.