The first act to audition in the July 11 episode of America's Got Talent is 14-year-old Mariandrea, a 14-year-old dancer from Mexico. She wows the judges with her dancing and contortionist skills. "That was spectacular," Sofia Vergara raves. Simon Cowell adds, "You have a real presence about you… I think you're unbelievably talented." Mariandrea gets a "yes" from all 4 judges.
The 82nd Airborne Chorus from North Carolina takes the stage next. One of their fellow soldiers died the week prior, so they dedicate the performance to them. They sing a stunning rendition of "My Girl." Heidi Klum tells the group that they "sound great together. The harmonizing was amazing." Simon says that the performance was the "perfect tribute" to their friend.
Magician Artem Shchukin brings the Uncle Fester vibes with his audition to The Addams Family theme song. He combines cool card tricks and comedy. The judges love him and want to see more from him. "He looked like you a little bit," Heidi says to Howie Mandel.
The all-girl music group MOS performs "Bang Bang" with their instruments. Sofia tells the group that their performance was "magical." Simon is a bit taken aback by the audition. "It's just so unique. I don't think it sounded great the whole time…" He's then booed by the crowd, so he adds, "When it did sound great, it was amazing." MOS is moving on to the next round!
Trent Toney is a 30-year-old singer who is also a firefighter. He used to be married and wants to win his wife back. The audience chants that Trent should call his ex-wife, Faith. Heidi takes the lead on that and holds Trent's phone during the performance. He performs his touching original song "Always and Lately" for the judges.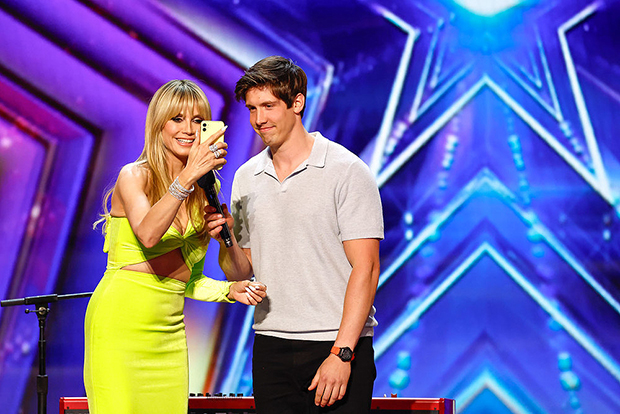 Sofia calls the performance a "perfect audition." Simon thinks that Trent is "very brave" and has a "really, really good voice." An update reveals that Faith enjoyed Trent's song, but they are still not together.
Singing puppets Cow Belles start singing "Toxic" by Britney Spears for their audition. Sofia presses her red X. There's also a Simon puppet, which adds a comedic element to the audition. The Simon puppet also sings "Somebody To Love." Sofia doesn't think this is an act that belongs on AGT, but they're still moving on!
Aerial gymnasts Duo Desire bring the heat with their "love story in the air." Their jaw-dropping performance is truly astounding. "It was sexy, it was perfection… I want to see more," Sofia raves. Howie thinks their audition was "one of the most impressive things I have seen in a long time."
Sisters Presley & Taylor are hoping to get their big break on AGT. They've been singing together their entire lives. They perform an original song, and it's a tad lackluster. Heidi has "mixed feelings" about the performance. Howie tells the duo that their performance "seemed like a bar show." Simon says they were "polite and polite isn't great." Presley & Taylor are not headed to the next round.
Sword-swallower Andrew Stanton has Heidi hiding under her desk. He swallows a sword and yanks it out himself. He later takes a spear and spins on top of it without being impaled. Sofia has "mixed feelings" about this performance, but calls it "very disturbing and fun at the same time." Simon admits that acts like this they've seen before are "tame" compared to Andrew. He gets a "yes" from all 4 judges.
The final act of the night is 27-year-old Lavender Darcangelo. She is blind and autistic. She performs a beautiful rendition of "Out Here On My Own" by Irena Cara. Everyone is on their feet after the performance. "That was sensational," Simon declares. Lavender begins to cry. "You have such a talent. You have such an amazing personality," he adds.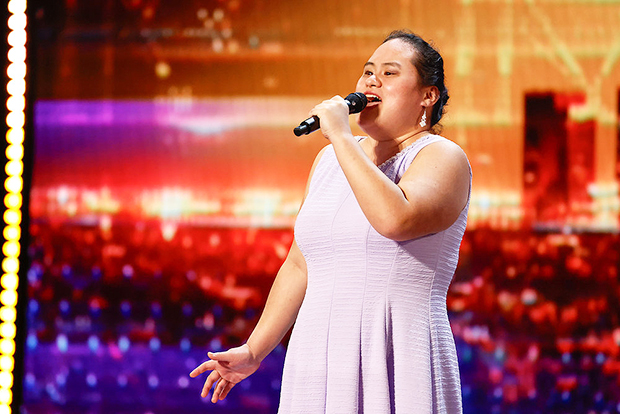 Heidi wants to make sure this is a moment Lavender and all of AGT will never forget. She gives Lavender her Golden Buzzer, sending the singer straight to the live shows. Lavender breaks down in tears and hugs her dad. Heidi runs up on stage to hug Lavender and promises to hold her hand "all the way to the finish line."