The third week of America's Got Talent season 18 auditions begins with 59-year-old John Wines. He's a music teacher and ready to step into the spotlight. He jams out on stage with his guitar to "We Will Rock You." He has the crowd on their feet and Heidi Klum singing along. "I was not expecting that," Simon Cowell says.
John begins to cry on stage. The crowd chants that they want more. "You did become a rock star," Heidi says, before adding that John is the "cutest!" He's moving on to the next round.
Brynn Cummings was inspired to become a ventriloquist watching Darci Lynne Farmer on AGT. The 12-year-old sets herself apart by incorporating magic into her act. Sofia Vergara thinks Brynn is "adorable," and Heidi adds that Brynn has carved out the "perfect little act." Simon tells Brynn that she is "so talented, so charming." She gets a "yes" from all four judges!
Roland Abante is a singer from the Phillippines. He tells the judges that being on AGT is his "big dream." He wows everyone with his performance of "When A Man Loves A Woman." Heidi declares, "I don't think you could have done it better." Simon admits that he was hesitant about whether or not Roland could do this, but Roland has really impressed him. Roland is elated over Simon's comments because Simon is his favorite judge. Simon gets up to give Roland a hug.
Riccardo Pace has traveled all the way from Italy to compete on AGT. He uses his hands to perform a song, and Simon quickly presses his red X. On the bright side, Heidi is impressed with his skill. "I think it's hard what you do," she says. Sofia quips, "But that doesn't make it good." Howie Mandel and Heidi give Riccardo a "yes." After being influenced by the audience, Sofia gives him the final "yes" he needs.
Mute comedian Ahren Belisle brings the laughs with his hilarious stand-up routine. He gets a standing ovation from all the judges. "This, I think, is going to change your life," Simon says. Sofia thinks Ahren has a chance at winning season 18! "You seem to have a grasp of timing and humor," Howie says. Howie is impressed at how good Ahren is at comedy, especially since he's only been doing this a year. Ahren is headed to the next round of season 18.
Grace Good showcases hula-hooping as you've never seen it before. AGT has always been a "personal goal" for her. She combines hula-hooping and amazing aerial work. She swallows flames to top off her routine. Howie tells Grace that was the "best hula-hooping" he's ever seen. Sofia calls the performance a "perfect audition."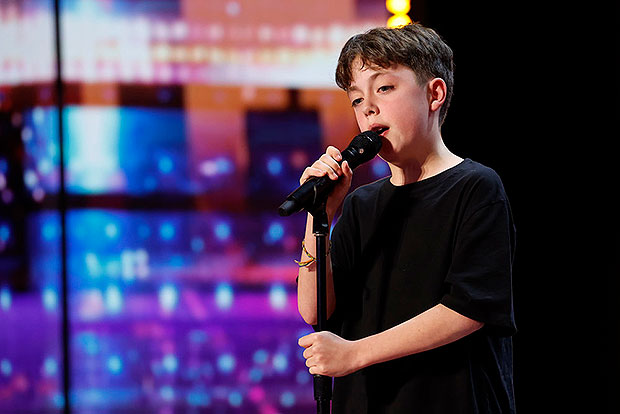 Alfie Andrew is just 12 years old and slays his rendition of Lady Gaga's "Hold My Hand." Heidi tells the youngster that he "nailed" his performance. Sofia adds, "I want to buy your record already right now." After Alfie gets his praise, Heidi and Sofia tell Simon that Alfie is going to be a "star."
David Rush returns to AGT to break a new record. He wants a "yes" from Howie this time around and asks him to be a part of his record-breaking task. David is aiming to break the record for most fist bumps in 30 seconds. They're able to break the record with 380 fist bumps. Despite his record, David is not moving forward in the competition.
Alexandr Leshchenko is joined by his wife on stage. They're both from Ukraine. The act incorporates dancing and incredible technology. Everyone is on their feet. "You are such a star," Simon says. Heidi tells the pair that the act had "so many amazing wow moments." The judges can't wait to see what's next from Alexandr.
Aerial sword swallower Herwan Legaillard slays his audition. The final part of his act features him sliding a glowing sword down his throat, and you can see it! Sofia raves over the "heart-stopping" routine. Simon tells Herwan that this was "one of the best auditions this year."
The last act of the night is 8-year-old Chioma and The Atlanta Drum Academy. The group brings energy and fun to the AGT stage. "It was fun. It was energy," Howie says. Sofia tells the group that they have a "big chance at winning" season 18. Simon says he "absolutely loved it" and prepares to vote. Terry Crews cuts in that there's no need for a vote. He's giving Chioma and The Atlanta Drum Academy his Golden Buzzer for the season!