Jennifer Lopez, Riley Keough, and more stars didn't let Mother's Day go by without sharing a public post on Instagram. As soon as the day started, many familiar faces shared memorable photos, videos, and loving messages dedicated to the special parent in their lives, and they certainly didn't go unnoticed. Whether they were honoring the mothers still in their lives or those who've passed on, there was no shortage of admiration and love from the children in the spotlight.
Check out the Mother's Day photos, videos, and messages from Jennifer, Riley, and more stars below!
Jennifer Lopez
Jennifer shared a cute video that showed her hanging out with her mom, Guadalupe Rodríguez, and mother-in-law, Chris Boldt, as they watched The Mother and drank what appeared to be wine. "I'm here with the moms," she said in the clip before lightheartedly saying, "Mother's always right." She also included a caption that read, "#TheMother with my beautiful mothers!!! @Delola watch party 🍷@netflix #DelolaLife #MotherIsAlwaysRight."
Riley Keough
Riley took to her Instagram to share a tribute to her late mom, Lisa Marie Presley, on her first Mother's Day since her passing. She posted a photo of a young Lisa Marie holding her as a baby alongside her dad, Danny Keough, and included a touching caption. "Lucky to have had the best and most deeply loving mama I could have asked for 💕," it read.
Kris Jenner
Kris Jenner took to Instagram to share a series of family photos, including a black and white one with her and all her kids, including Kourtney Kardashian, Kim Kardashian, Khloe Kardashian, Rob Kardashian, Kendall Jenner, and Kylie Jenner. She also shared a message that honored her mom, Mary Jo Campbell. "Happy Mother's Day to all of my babies and my mom MJ! You are my whole heart and soul and I thank God every single day that He blessed me with you!!!! I am such a lucky girl!! I love you so much my beautiful family ❤️😍🙏🏼🥰 Wishing all the moms out there a happy Mother's Day!" the message read.
Bindi Irwin
Bindi Irwin shared "then and now" photos of her daughter Grace Warrior, 2, and thanked her for making her a mom. "Exactly two years between these photos. My beautiful Grace Warrior, thank you for making me a mama. Being yours is the best part of my entire existence. I love you with my entire heart, forever," she wrote.
Courteney Cox
Courteney Cox shared two photos of her and her lookalike daughter Coco Arquette, 18, posing together. She thanked the photographer in the caption. "Happy Mother's Day! I'm so grateful to @jennikayne to have captured this moment," it read.
Tom Brady
Tom Brady posted photos of his mom, Galynn Brady, as well as ex Gisele Bundchen, who's the mother of his son Benjamin, 13, and daughter Vivian, 10, and ex Bridget Moynahan, who is the mother of his oldest son, Jack, 15. He also included a nice message thanking them all.
"Happy Mothers Day to all these amazing women who have given our family so much throughout their lives," he wrote. "Thank you all for your love, compassion and kindness, and for setting such an amazing example for all of our little ones. We are all so grateful for your support and helping us all achieve our dreams. I wish all the mothers in the world a special day with the people that love them the most."
Kate Hudson
Kate Hudson shared a throwback childhood photo of her and her brother Oliver Hudson along with their mom Goldie Hawn for the holiday. She also added a lengthy message. "Remember when we only had a couple tries to get a good pic? I really love those days," she wrote. "A perfect pic was so hard to achieve that a roll of 24 shots was a great reminder that life is profoundly imperfect. If you were lucky you'd get one with everyone looking."
"My Mama didn't wait around to get the perfect pic," she continued. "In fact she has few pics of all of us together because she let us run around and be in the moment. The ones she does are always a little silly, a little blurry, half smiles, half cries, chocolate faces and unbrushed hair. She gave us freedom, let us be wild, loved us endlessly and we got the pictures to prove it. I love you Mama. Happy Mothers Day!"
Shay Mitchell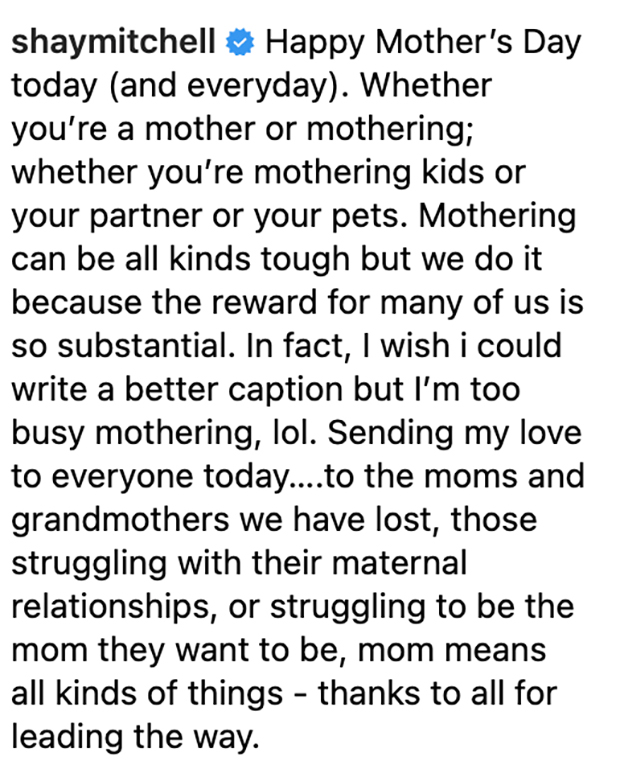 Shay Mitchell shared a series of photos and videos of her moments as a mom. The beauty is the mother daughters Atlas, 3, and Rome, 1. "Happy Mother's Day today (and everyday). Whether you're a mother or mothering; whether you're mothering kids or your partner or your pets. Mothering can be all kinds tough but we do it because the reward for many of us is so substantial," she wrote alongside the post.
"In fact, I wish i could write a better caption but I'm too busy mothering, lol," she continued. "Sending my love to everyone today….to the moms and grandmothers we have lost, those struggling with their maternal relationships, or struggling to be the mom they want to be, mom means all kinds of things – thanks to all for leading the way."
Reese Witherspoon
Reese Witherspoon shared a cute photo of her daughter Ava, 23, hugging her and her two sons, Deacon, 19, and Tennessee, 10, hanging out on a beach in the background. "Gosh I'm lucky to be their mama 💐💗," she wrote alongside it.
Pamela Anderson
Pamela Anderson shared two photos of her and her sons, Brandon, 26, and Dylan, 25, standing together in front of a table full of flowers. They were all smiles as they looked at the camera and posed for one of the snapshots. "Peace, love, joy…Bless all the Mothers in the world 🤍," she wrote in the caption.
Kylie Jenner
Kylie Jenner shared several photos of her and her two kids, Stormi, 5, and Aire, 1. One of them showed her standing in the mirror while wearing a light pink robe and holding her youngest child as her oldest stood beside her and snuggled. "Happy mother's day," she wrote along with a red heart in the caption.