Fans of NBC's beloved The Office have been clamoring for a reunion ever since the show left the air in 2013 after nine hilarious seasons. While nearly eight years later it might be hard to get the entire cast back together again, it is looking like a far greater possibility than it has in years. The Office is now on NBC's new streaming service, Peacock. It left Netflix after a long run on Jan. 1, 2021, officially moving "home" and creator-producer Greg Daniels says that is a plus in making a reunion move forward.
"I think it's more likely now that the show's on Peacock. But no plans right now," Greg tells E! News, but added, "People are more open to it now it seems like. I think the issue is what is left to say about the characters. I don't know, it's still pretty vague."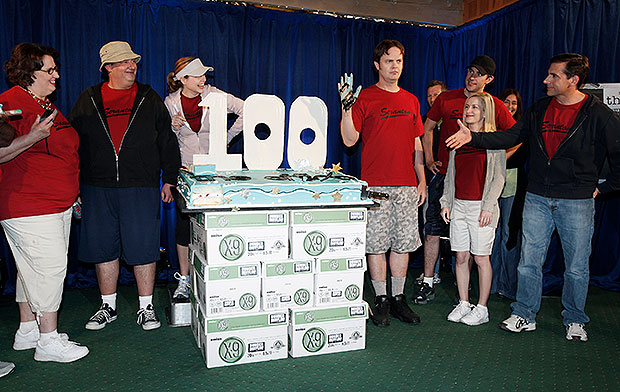 Greg noted that "The weird thing about that is when we ended it, we jumped forward a year and a lot of them aren't working anymore (at paper company Dunder Mifflin). Daniels joked that one way around it could be finding unused old material. "It would be fun to go find some lost episodes and shoot them as if they were back in 2010 or something," he told the outlet. The Office debuted on NBC in March 2005 and ran through May 2013.
While in the years since some of the cast members have been ambivalent about bringing the show back to life for a reunion, it seemed like the COVID-19 home lockdown made them miss each other. Michael Scott himself Steve Carell appeared on co-star John Krasinski's web series Some Good News in March 2020 and gushed, "Just to see your face is so great," while John told him, "I miss you a ton, man." The Quiet Place star/director then added, "Listen, I know everybody's talking about a reunion. I just hope one day we just get to reunite as people," referring to being in quarantine.
Two months later in May 2020, the cast did reunite — virtually — for the wedding of two The Office superfans. An engaged couple from Maryland tweeted to John, asking him to attend their wedding virtually (due to COVID-19). John (not Krasinski) was such a big fan that he proposed to fiancee Susan outside of a convenience store, just like Krasinski's Jim Halpert did with Jenna Fischer's Pam Beesly on the show, minus the pouring rain. So sweet!
When the couple appeared with John on the episode of Some Good News, he surprised them on his web series by letting them know he was ready to officiate if the wedding happened right then and there, and that he had become a registered officiant just for the couple's ceremony. Krasinski secretly got their parents and friends together via Zoom. Not only did John officiate, Jenna joined in on the video wedding, even getting dolled up in a pretty dress for the ceremony.
Then John blew everyone's minds by introducing the entire cast of The Office, who all appeared via Zoom. Steve Carell, Mindy Kaling, B.J. Novak, Angela Kinsey, Rainn Wilson, Ed Helms and more were on hand as John pronounced the super fans husband and wife. The cast also each did fun dances from their lockdown locations to celebrate the nuptials and provide a little touch of what could have been a wedding reception. It wasn't an official reunion in the Dunder Mifflin Scranton, PA office, but it was the next best thing for fans!