25 Hottest Mirror Selfies Of All-Time: Kim Kardashian, Demi Lovato & More
Kim Kardashian, Demi Lovato, & more celebs love sharing mirror selfies — and we love seeing them! Here's a roundup of the 25 best self-taken pics of all-time!
Thanks to social media, celebs don't need photographers to share intimate moments of their life with fans. Plenty of stars like Kim Kardashian, 37, Emily Ratajkowski, 26, and Demi Lovato, 25, all enjoy standing in front of a mirror and snapping a photo of their beautiful selves. With the help of Snapchat, Instagram and Twitter, a new celebrity selfie is only a click away, but unfortunately they tend to get buried quickly by more sexy snaps. So we've decided to round up 25 of the sexiest mirror selfies of all-time so that we can appreciate all the good #lewks celebs have blessed us with thus far.
One of the most recent pics to make our list is a snap courtesy of the "Sorry Not Sorry" singer. Demi took to Instagram to share a photo of her rocking a black and white striped one-piece bathing suit that featured a cute cherry design and a super plunging neckline. Even though it was only posted on Dec. 27, 2017, the photo of Demi's gorgeous reflection quickly became one of the hottest celeb selfies ever.
Kim is no stranger to feeling her reflection. She basically broke the Internet when she posted a nearly nude pic on March 7, 2016. The sexy snap showed her totally naked bod with just two black bars added in afterwards to censor what she didn't want people to see (which wasn't much). "When you're like I have nothing to wear LOL," she captioned the infamous post. The pic actually drew so much attention that she actually gave it a sequel — and enlisted Emily for the photo-op. The two women posed topless together in a pic Kim shared on Twitter. "When we're like…we both have nothing to wear LOL," the Keeping Up With The Kardashians star captioned the pic. Seriously, when your selfie garners enough attention to warrant a follow-up, you know you did something right.
Click through the gallery above to see all 25 of the hottest celebrity mirror selfies of all-time!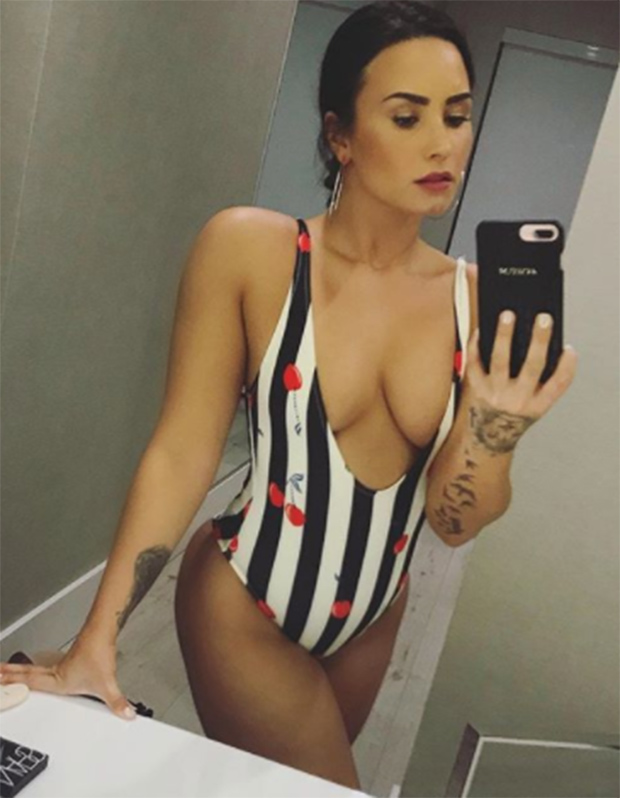 HollywoodLifers, whose mirror selfie is your favorite? Tell us in the comments!