If you purchase an independently reviewed product or service through a link on our website, we may receive an affiliate commission.
Rihanna announced her pregnancy with A$AP Rocky on January 30 and she celebrated the occasion with a stunning photoshoot. Rihanna posed in a gorgeous outfit with her baby bump sticking out of a gorgeous pink puffer coat and while RiRi's jacket is a splurge, we rounded up similar options that are chic and affordable.
In the photos, Rihanna rocked a vintage Fall 1996 Chanel by Karl Lagerfeld Pink Silk Puffer Coat with Gripoix Buttons and left the jacket unbuttoned around her belly. She styled the coat with a pair of baggy Vetements Distressed Wide-Leg Jeans, Amina Muaddi Ursina Pumps in Bordeaux, a Chanel Logo Leather and Gold Chain Belt, and a stunning colorful Christian Lacroix Vintage Heart Crystal Cross Pendant around her bump.
While Rihanna's jacket currently costs $10,702.81 on the retail site, 1st Dibs, we luckily found a few coats that are similar and won't break the bank.
1. UGG Catherina Puffer Jacket
This long pink coat is super cute and cozy and is the same length as Rihanna's. It has a rain repellent fabric that protects you from the rain and snow, plus, the cool cowl neck design keeps you warm and in the winter. $206, zappos.com
2. Sanctuary Hooded Puffer Coat
We are loving this hot pink puffer jacket that features an attached hood, a breast pocket and two side pockets. It's super flattering and the hot pink color stands out in the gloomy winter months. $133, bloomingdales.com
3. Shein Solid Belted Longline Quilted Coat
This super cute long, quilted jacket is perfect for any season and we love that it's long, just like Rihanna's. It has a detachable belt so you can cinch in your waist or keep the coat baggy, plus, it has a simple center button closure, no zippers. $43, shein.com
4. GUESS High-Shine Hooded Puffer Coat
How cool is this super shiny puffer jacket? We love the neon pink hue, which is a huge trend right now, plus, the fitted puffer has a hood for when you want to protect your hair from the rain or snow. $112, macys.com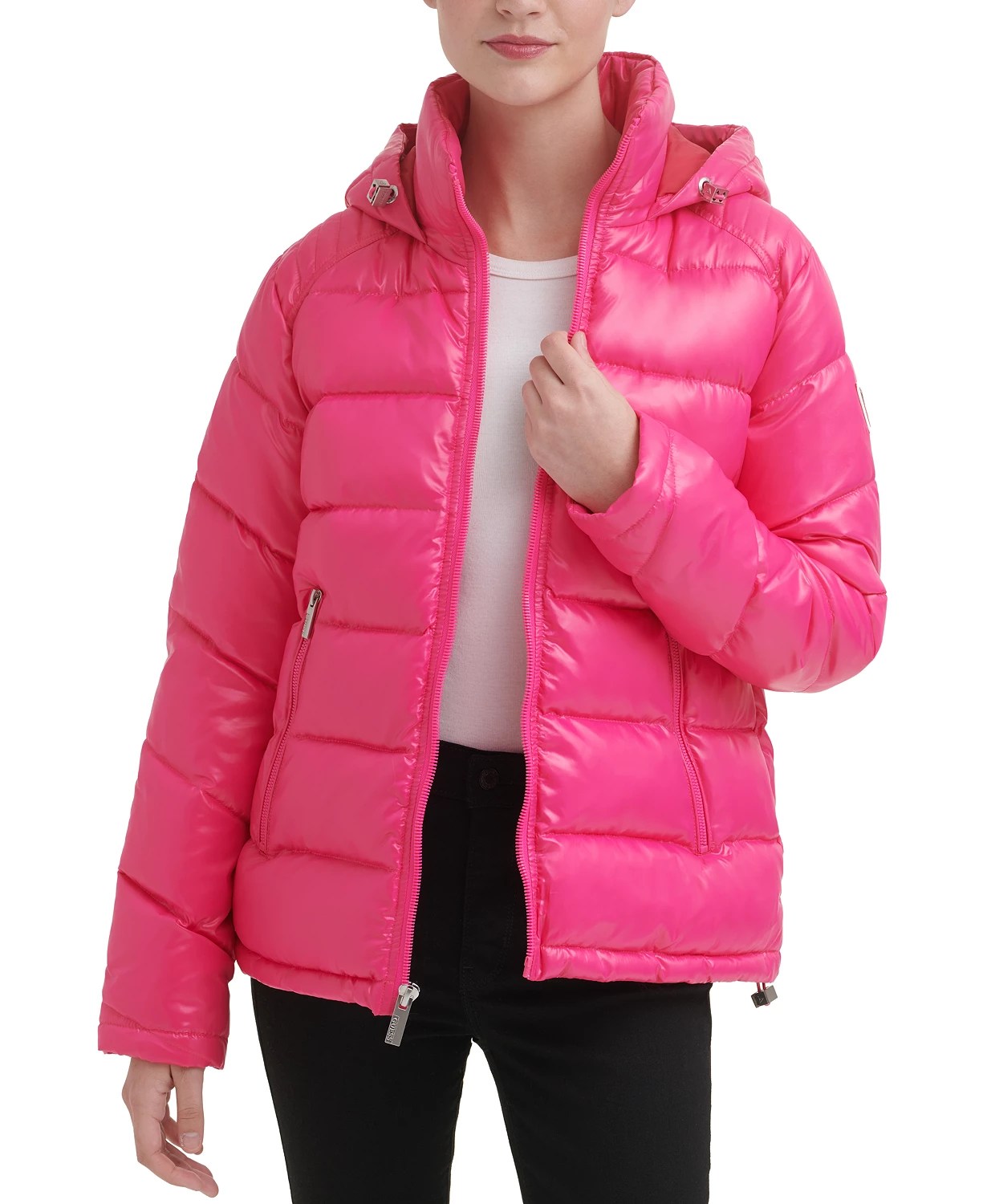 5. Worthington Wind Resistant Heavyweight Puffer Jacket
If you're looking for the perfect winter coat that not only keeps you warm but is super stylish, look no further than this wind and water resistant puffer. It has side buttons down the entire front of the coat and it has an extra fluffy hood, providing you with added warmth. $54, jcpenney.com