If you purchase an independently reviewed product or service through a link on our website, we may receive an affiliate commission.
For that effortless, I-woke-up-like-this look, makeup lovers often flock to Glossier's blushes and lip balms that require no fancy brushes. But a new brand for people who want a no-hassle experience at their vanity counters has entered the chat, offering great Glossier makeup alternatives: Alleyoop! Like Glossier, this cosmetics brand designs its products to save you time in the morning (or before you go out at night). In fact, Alleyoop claims to have saved its customers "a total of 2.3 [million] hours" thanks to the unique yet practical design of its makeup and tools — for example, a makeup brush that applies four types of makeup, which you've got to check out below. Founder Leila Kashani just launched Alleyoop in Aug. 2019, meaning that this is a very fresh and exciting brand — and you can say you were one of its pioneer customers!
Alleyoop's products help you achieve that truly guilty-free down-to-Earth look. All of the products are cruelty-free and vegan, and many are paraben-free, latex-free, aluminum-free and phthalate-free as well! Now, check out these amazing Glossier makeup alternatives from Alleyoop — each product listed below is under $40!
1. 11th Hour: Cream Eyeshadow Sticks
This is just as good an alternative to Glossier's Matte Lid Tints and Glistening Eye Glows. Like those products, Alleyoop's 11th Hour Cream Eyeshadow Sticks require only your fingers to blend the cream eyeshadow onto your lid after using the applicator that's practically shaped like a pencil. Once dry, the cream formula turns into a "soft matte" and won't smudge or create creases for "11+ hours," according to Alleyoop. What separates this cream eyeshadow stick from others is a sharpener on the other end, in case you want to transform the eyeshadow stick into an eyeliner. So, you're really getting a 2-in-1 tool! This eyeshadow stick comes in five fun colors: Baby Pearl, Gotta Guava, Coffee Break, Charcolit and Bronze Medal. $20, alleyoop.com
2.
Hold Tight: Makeup Setting Spray
This isn't any average makeup setting spray! Alleyoop's "Hold Tight" makeup extending mist is made with hyaluronic acid (a God-send for moisture), along with chamomile and cucumber extracts to not only hydrate but also "reduce inflammation and the appearance of fine lines," according to its description page. Alleyoop also says this mist will keep your makeup locked in for up to 12 hours! $16, alleyoop.com
3. Stack The Odds: Multi-Use Face Palette
If you love Glossier's Cloud Paint blushes, you're really going to love this palette: it's blush, contour and highlight all stacked together! These creams feel so velvety and rich as you first apply them, thanks to a formula made with jojoba and sunflower oils. However, they don't streak your foundation like some makeup creams do. The creams dry quickly so that it looks like a powder, minus the cakiness of an actual one. What we especially love about this face palette is its ergonomic design — the creams are all connected to one another, and even come with a mini mirror! Alleyoop's "Stack The Oods" palette comes in three colors: Sassy Pants (for light to medium skin, featuring rosy and soft brown colors), Sunkissed (also for light to medium skin, featuring warmer colors like coral), and Cocktail Hour (for tan to deep skin, featuring colors like berry and a deep brown). $34, alleyoop.com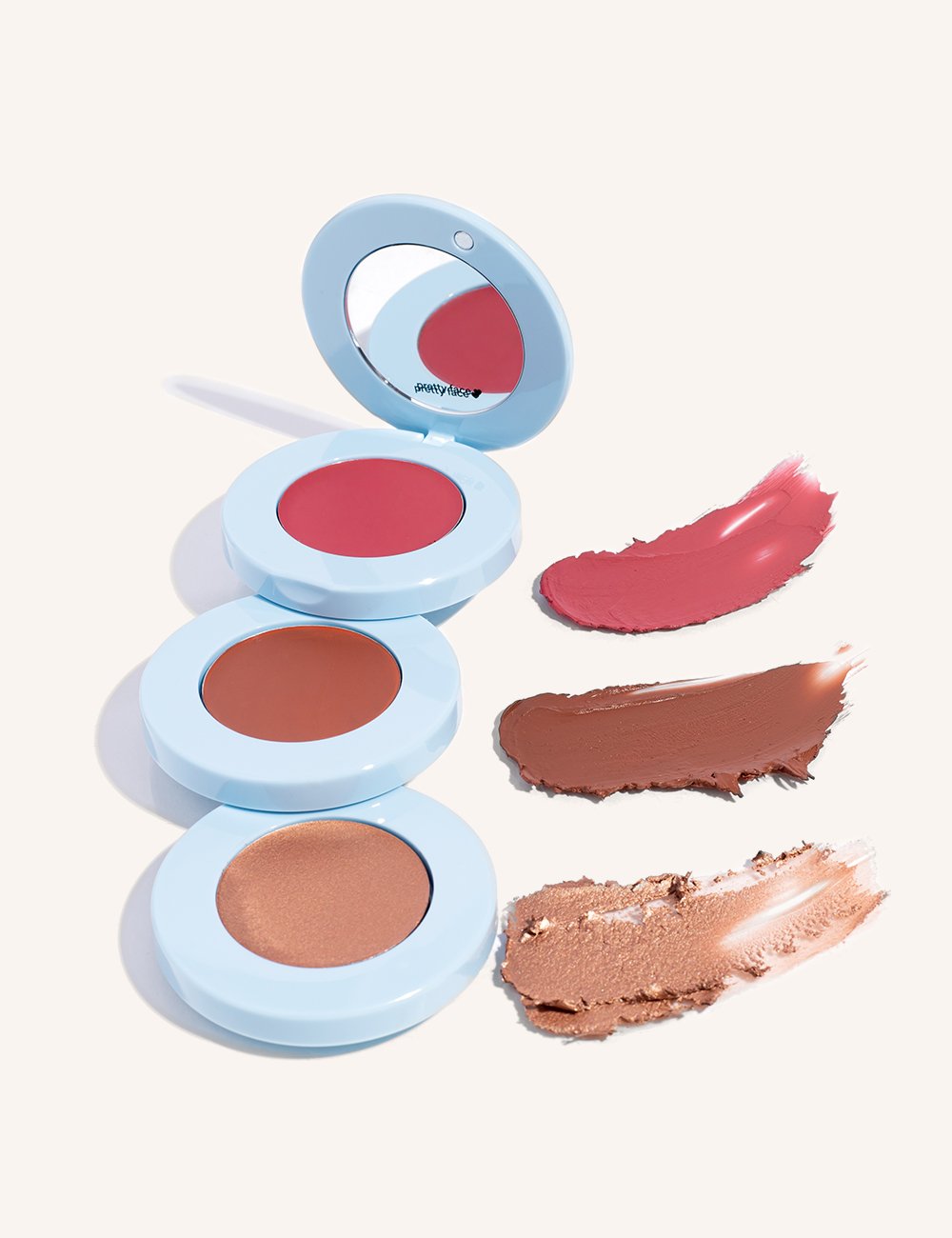 4.
Multi-Tasker: 4-In-1 Makeup Brush
This is truly a one-of-a-kind makeup brush, since it contains more than one kind of applicator! Alleyoop's Multi-Tasker brush is equipped with a beauty sponge to apply concealer, and three brushes to designed for blush, brow and eyeshadow. You'll be saving yourself significant space in your cosmetics bag (and on your bathroom counter). Or, you can use the free Alleyoop brush pouch that comes with this unique brush designed to keep bacteria away from your precious applicators. The brushes are cruelty-free and made of synthetic fibers, and even won a spot on Allure's list for "Best Beauty Tools of 2020." $26, alleyoop.com
5.
Multi-Mood: 1 Lip Color In 3 Finishes
This may just be the coolest product on the list — and that's coming after the four-in-one makeup brush! Imagine a lipstick that allows you to either apply it as gloss, cream or matte. Well, Alleyoop has a lipstick that does exactly that. Best of all, the three finishes come in three separate bottles that attach to one lid (Alleyoop really is the master of efficient application). The "Multi-Mood" lip stick comes in four colors: Brand Nude (a "peachy nude"), Mauve On ("deep pink with purple undertones"), Wear and Terra ("muted brownish-red"), and Red and Done (bright cool-toned red). $28, alleyoop.com