Spider-Man 4 has been confirmed.
Tom Holland and Zendaya are expected to return.
Spider-Man 4 doesn't have a release date yet.
Everyone stay calm! Spider-Man 4 is happening. Spider-Man 4 was almost a sure thing after the mega-success of Spider-Man: No Way Home. At the premiere of The Crowded Room in June 2023, Tom Holland revealed the current status of Spider-Man 4.
Spider-Man: No Way Home was released on December 17, 2021, and made over $1.9 billion at the worldwide box office. The movie is now the 7th highest-grossing movie of all time at the worldwide box office and the 3rd highest-grossing movie of all time at the domestic box office.
So, what do we know about Spider-Man 4? Who is returning? HollywodLife has rounded up all the news you need to know about Spider-Man 4.
What We Know About Spider-Man 4
Tom Holland gave an update about Spider-Man 4 at the June 1 premiere of this Apple TV+ series The Crowded Room and revealed that discussions are in the "very, very early stages."
He told Variety, "I can't talk about that, but I can say that we have been having meetings. We've put the meetings on pause in solidarity with the writers. There's been multiple conversations had, but at this point, it's very, very early stages."
Producer Amy Pascal revealed at the Spider-Man: Across the Spider-Verse premiere in May 2023 that a fourth Spider-Man movie is in the works with Tom and Zendaya, but it's been delayed due to the writers' strike. "Are we going to make another movie? Of course, we are," she told Variety. "We're in the process, but the writers' strike, nobody is working during the strike. We're all being supporters and whenever they get themselves together, we'll get started."
Marvel Studios president Kevin Feige confirmed Spider-Man 4 ahead of the release of Ant-Man and the Wasp: Quantumania. "All I will say is that we have the story. We have big ideas for that, and our writers are just putting pen to paper now," Kevin told EW about the fourth Spider-Man film in an interview that was published on February 14, 2023. Kevin didn't divulge any details about the plot for Spider-Man 4, but this is an exciting update nonetheless.
Amy had previously noted that more Spider-Man movies were in the works. "This is not the last movie that we are going to make with Marvel – [this is not] the last Spider-Man movie," Amy revealed to Fandango while promoting No Way Home. "We are getting ready to make the next Spider-Man movie with Tom Holland and Marvel. We're thinking of this as three films, and now we're going to go onto the next three. This is not the last of our MCU movies."
A few weeks after Amy's Fandango interview, Kevin revealed to the New York Times, "Amy and I and Disney and Sony are talking about — yes, we're actively beginning to develop where the story heads next, which I only say outright because I don't want fans to go through any separation trauma like what happened after Far From Home. That will not be occurring this time."
In November 2023, Tom explained to a group of reporters that nothing has been finalized yet, but there have been "conversations" about a fourth movie.
"All I can say is that we have been actively engaging in conversations about what it could potentially look like for a fourth rendition of my character," he said. "Whether or not we can find a way to do justice to the character is another thing. I feel very protective over Spider-Man. I feel very, very lucky that we were able to work on a franchise that got better with each movie, that got more successful with each movie, which I think is really rare, and I want to protect his legacy."
It's unclear where Spider-Man 4 will fit into the Marvel Cinematic Universe. Kevin did not reveal in his latest interview if the fourth film would be part of Phase 5 or Phase 6 of the MCU.
Spider-Man 4 Release Date
Marvel and Sony have not announced an official release date for Spider-Man 4 yet. The last Spider-Man film, Spider-Man: No Way Home, hit theaters in December 2021.
Spider-Man 4 has not started filming yet. With the writing portion of the film still underway, it's to be determined if the movie will begin filming in 2023. Production takes several months, so Spider-Man 4 could have a late 2024 release or more likely 2025.
Will Tom Holland Return As Spider-Man?
If Amy's interview is an indication, Tom will likely suit up again as Spidey.Back in February 2022, Tom didn't know much about Spider-Man 4 and beyond. "We've had conversations about the potential future of Spider-Man, but at the moment they are conversations," Tom told EW at the time. "We don't know what the future looks like."
Ahead of No Way Home's release, the actor was mulling over his future as the superhero. "Maybe it is time for me to move on," he told GQ. "Maybe what's best for Spider-Man is that they do a Miles Morales film. I have to take Peter Parker into account as well, because he is an important part of my life." He added, "If I'm playing Spider-Man after I'm 30, I've done something wrong."
Tom later backtracked on his words and said he had been "misconstrued." He told Extra, "I don't know what the future of Spider-Man looks like. I don't know whether I'm going to be a part of it. Spider-Man will always live on in me, and I know that [producer] Amy [Pascal] and the studio are keen to figure out what the next chapter of Spider-Man looks like. If that happens to be with me, then that's very exciting but, you know, if it's time for me to walk away then I'll do so proudly."
He continued, "What I was referring to, in that interview, it's because I would be taking up an opportunity for someone to come in and change what being Spider-Man means. Spider-Man could be more diverse, it could be a female character, it could be anything."
Amy made sure to make it clear that the future of Spider-Man definitely includes Tom. "As long as he wants to make Spider-Man movies, we will make Spider-Man movies," Amy told Variety at the No Way Home premiere. "But I'm a producer, and I always think everything is going to work out. If I have my way we will."
Spider-Man 4 Cast & Crew
In addition to Tom, you can expect Spider-Man fan favorites like Zendaya's MJ, Jacob Batalon's Ned, and Jon Favreau's Happy to return for Spider-Man 4. Sony chairman Tom Rothman told Deadline that it was his "hope" to have the "whole group" back for a fourth film, including director Jon Watts.
It hasn't been confirmed which villain Peter Parker/Spider-Man will battle next, but it could be Venom, played by Tom Hardy. In the post-credits scene for Venom: Let There Be Carnage, Eddie and Venom are in a hotel room when they are transported into the MCU. In the new room, Venom notices the television screen. It's J. Jonah Jameson revealing Peter Parker is Spider-Man. Venom is entranced by Peter and licks the screen.
"We'll have to see," Venom director Ruben Fleischer told CinemaBlend about a possible crossover film. "I mean, it would be honestly a dream come true to have those two worlds converge. It'll be a formidable battle between those two characters, so… whether or not I direct it, I'll certainly be excited to see it."
What Happened At the End Of Spider-Man: No Way Home?
Spider-Man: No Way Home started with Quentin Beck/Mysterio exposing Peter's identity as Spider-Man. Peter decided to go to Dr. Strange for help. Strange began to cast a spell that would make everyone forget Peter is Spider-Man, but Peter messed with the spell when wanted to make a last-minute adjustment with his loved ones keeping their memories.
Strange's corrupted spell brings people from the multiverse who know Spider-Man's identity into their universe. Villains from previous Spider-Man films like Willem Dafoe's Norman Osborn, Alfred Molina's Doc Ock, and Jamie Foxx's Electro all show up. Strange preps to reverse the corrupted spell and send the villains back to their original universes. Peter, always asking a bit too much, wants to cure the villains so they can possibly change their fates when they get back home.
Strange refuses to go along with Peter's plan, so Peter steals the spell and traps Strange in the Mirror Dimension. As Peter is working on the cure, the Green Goblin took back control of Norman and set off a chain of events that leads to Aunt May's death.
Ned and MJ use Strange's sling ring to try and find Peter after May's death. However, instead of finding their peter, they discover alternate versions of Peter from other universes. These Peters are Tobey Maguire and Andrew Garfield, who starred in their own Spider-Man films. The three Parkers ultimately work together to help cure the villains.
They devise a plan to lure the villains to the Statue of Liberty. Like always, the Green Goblin just has to stir up some chaos. When MJ falls from the Statue of Liberty, Andrew's Peter gets a chance at redemption. He saves MJ after not being able to save his love Gwen Stacy. With the contained spell, Goblin allows the barriers between universes to break apart, allowing others who know Peter's identity into his world.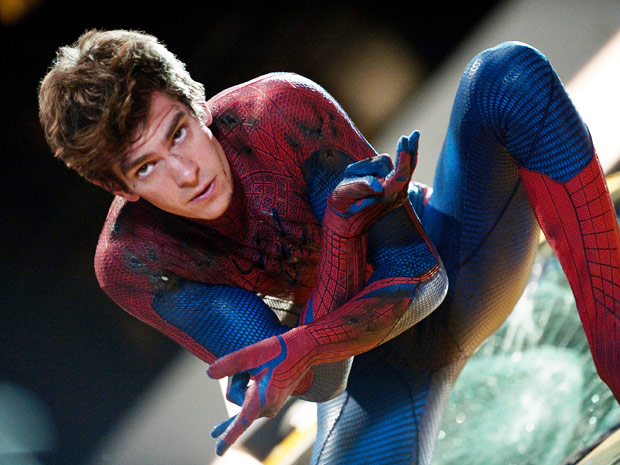 Peter comes to the conclusion that the only way to save the multiverse is to erase Peter Parker from everyone's memory, including his loved ones. Strange casts the spell, but Peter promises MJ and Ned that he will find them. After the spell is cast, everyone returns to their universes, with the elder Peters bidding farewell to the young Peter. On his way out, Eddie Brock/Sandman accidentally leaves behind a smidge of Venom symbiote.
The movie flashes forward two weeks later, Peter finds MJ working at a coffee shop. She doesn't recognize him. He's about to reintroduce himself but ultimately decides not to. Peter goes to visit May's grave and crosses paths with Happy, who also doesn't recognize Peter. Peter decides he can't give up his power, so he creates a new suit and continues to protect the streets of New York City.