Nick Jonas and wife Priyanka Chopra, Emma Watson, Lewis Capaldi, and many more celebrities were on hand to watch the 2023 Wimbledon Tennis Championships over the weekend. Many of them were photographed watching the intense action from their seats and some also posed for official photos before making their way into the event. Cheers and smiles were witnessed as the familiar faces took in some of the most memorable moments from the match, including when Czech tennis player Marketa Vondrousova was named the women's singles champion.
Nick and Priyanka sat close together during the event and even shared sweet PDA while enjoying their time there. He wore a tan and white plaid blazer over a white top and matching tie and matching pants while she wore a green, black, and white patterned dress with black boots. They also both wore sunglasses and were photographed while in their seats and while walking outside.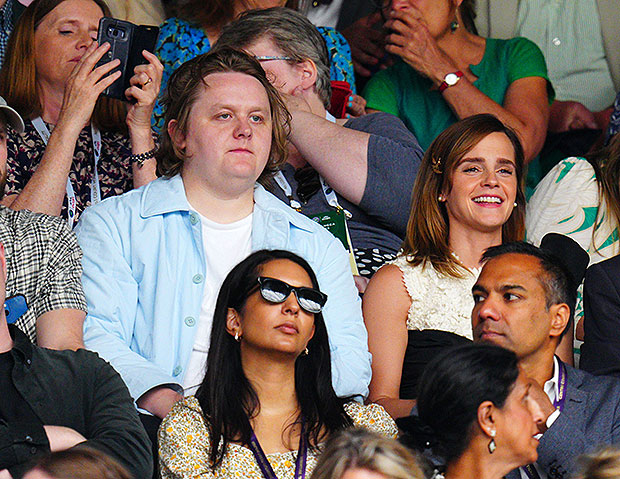 Emma and Lewis sat next to each other during the event, and appeared to have a good time as they shared laughs. She wore a white sleeveless lacy dress with a black wrap around it and black shoes, and posed for official photos on the carpet of the championships. He wore a light blue open top over a white shirt, black pants, and white sneakers, and also posed for carpet photos.
Other stars spotted included Kate Middleton, Lin-Manuel Miranda and his wife Vanessa Nadal, Sir Cliff Richard, Issa Rae, Andrew Garfield, and more. They also wore fashionable looks, including a dark blue blazer over a light blue buttoned shirt with a silver tie, tan pants, and white sneakers for Lin, a tan blazer over a white top, tan pants, and white heels for Vanessa, a dark blue suit and tie and black shoes for Sir Cliff, a long-sleeved pink dress and tan strappy heels for Issa, and a taupe suit and tie and dark brown shoes for Andrew.
Wimbledon is known for bringing out all kinds of celebrities, so the guest list at this year's event is not too surprising. Last year, celebs like Tom Cruise, David Beckham, and more attended the championships.