The love for the Scream franchise continues to grow, and it's not slowing down. Even after 25 years, fans of Scream still flock to the theater to rally around their favorite heroes and watch the epic Ghostface reveals. Scream 6 certainly didn't disappoint with Richie's family — Bailey, Ethan, and Quinn — hunting down Sam and the rest of Core Four in an act of revenge.
Scream 6 also brought back fan-favorite Kirby Reed, played by Hayden Panettiere, who was last seen near death in Scream 4. Kirby was a lovely bridge between legacy character Gale Weathers and the newbies. While there was a moment where Bailey tried to convince us she was Ghostface, she came in clutch when Sam and Tara needed her the most. HollywoodLife spoke EXCLUSIVELY with Scream 6 writers James Vanderbilt and Guy Busick, as well as producer William Sherak, about Hayden's return and so much more.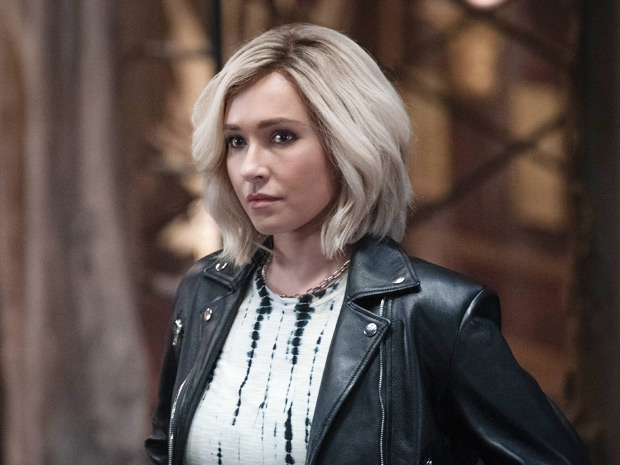 "I think we really love the idea of trying to fool you in the third act that she was the killer. We sort of love the idea of that heart-dropping to your butt [moment] going like, of course, it's her, and this is why they brought her back. And then giving her the hero moment which we think she so richly deserves with the TV," James said.
As for the possibility of Kirby returning in the future, James said, "We get superstitious about any future talks, but it was so exciting to bring her back."
William added that there were discussions about bringing Kirby back for Scream 5. "She made it clear that she would love to be Kirby again, and then when we realized that there was no way to make a meal out of it in [Scream] 5. We didn't want to do that to Kirby because you're not alone in people's love of that character and what we didn't want to do was put a version of Kirby in that movie and not deliver Kirby."
One of the most surprising moments of Scream 6 was the last-minute reveal that Chad somehow survived the brutal attacks from two Ghostfaces. Guy revealed if there were real discussions about really killing Chad, or if the intention all along was to make him the new Dewey.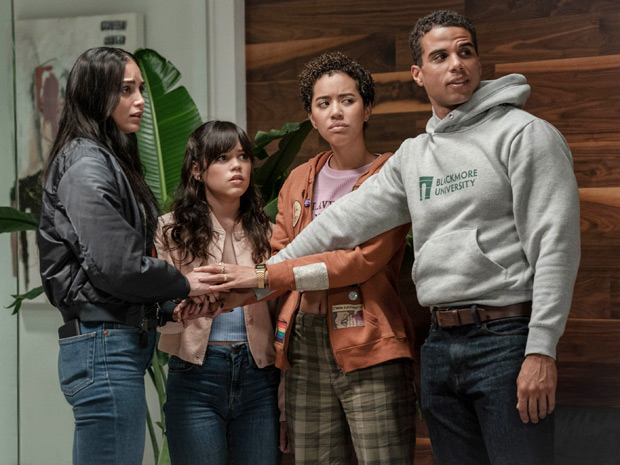 "I think both," Guy said. "We always talk about every character when we're first starting out. We're like, okay, who lives? Who dies? What works for the story? What makes sense? At one point, he was going to die in [Scream] 5, and then we fell in love with the character and then we met Mason [Gooding] when he was cast. And then we were like, we can't kill him in [Scream] 5. I think Chad and every other character is sort of on the table in terms of what their fate might be. You kind of hit the nail on the head. He's sort of the new Dewey. Dewey was supposed to die in [Scream] 1, and then he was supposed to die in [Scream] 2, and he didn't die until [Scream] 5."
In the midst of trying to stay alive and out of Ghostface's crosshairs, Tara and Chad found themselves catching feelings for one another. A romantic relationship between these two characters within the Core Four first came about when writing began.
"One of the things that I think is really wonderful about making a sequel is you know the actors you're writing for, so we knew Mason and we knew Jenna [Ortega], and we knew what they were capable of because we'd seen them do it. And the crazy thing is, you go back in Scream 5, they have one scene together and they don't talk to each other," James told HollywoodLife. "But it was like, they're so good we had the confidence to go we really need to put these two characters together. And the other thing I will say too… I love a romance in a Scream movie. I sort of feel like that each Scream movie has one. Our one for [Scream] 5 was Sam and Richie, which doesn't end well, but I think it's sort of part of the DNA of these movies. There's emotion and love and yearning and wanting, so it was really lovely to be able to do that with these characters."
Guy added, "The same thing with Sam and Danny, Josh Segarra's character. You're sure it's Danny. It's gotta be the boyfriend again, right? They're gonna do that. But no, he's just a really good guy."
There have been a plethora of theories about the Scream franchise, including that Sam may become Ghostface in the future. HollywoodLife asked the writers about that shocking theory and that final scene when she leaves her father's Ghostface mask behind.
"We never sort of talk about the future, and I think what I love with movies especially is I think evidence for whatever you want, you'll find in the movies. I think the movie answers your question," James said.
Scream VI is available on Digital & Paramount+ now. The film will be available on Blu-ray starting July 11.