Hey dolls! Just in time for the holidays, legendary rapper Lil Kim has arrived with a fierce fashion collaboration with brand PrettyLittleThing. Kim is known for her iconic style, and the label says that "This Brooklyn babe has released a collection of next level party looks that are bold, badass and unapologetically out-there," in a press release, while showing off Kim modeling some of the hottest outfits in the line. The 46-year-old poses in everything from curve hugging dresses and bodysuits, to faux fur jackets and black patent trench coats. You can shop her entire collection here, but we've got some of Kim's best looks.
"The thing I love is that it's a little bit of me mixed with PrettyLittleThing," Lil' Kim said of her collection in a press release. "You guys can get beautiful looks that are so affordable. I just wanted to stay true to the PLT aesthetic and show everyone that I'm a real stylist and visionary," she added. "This whole collection was designed by me and I'm super proud of that." Her line is all about "figure-worshiping fits," which are available in sizes 4-30.
Kim looks like the rap royalty she is while posing in a Black Diamante Mesh Bodycon Dress that retails for $190. While festive Christmas parties have been largely wiped out because of social gathering restrictions due to COVID-19, you can still look sexy for that special someone at the holidays in the frock. The glittery black mesh material with diamante detailing hugs curves of any size and allows one to flaunt their legs with the mini-skirt length.
Hisssss! Lil Kim's collection features numerous snakeskin print looks, including this one with $30 natural snake mesh leggings and a matching long sleeve top. The "Go Awff" rapper looks so sexy in the outfit, which could be something that she wears onstage, in addition to her own everyday killer street style.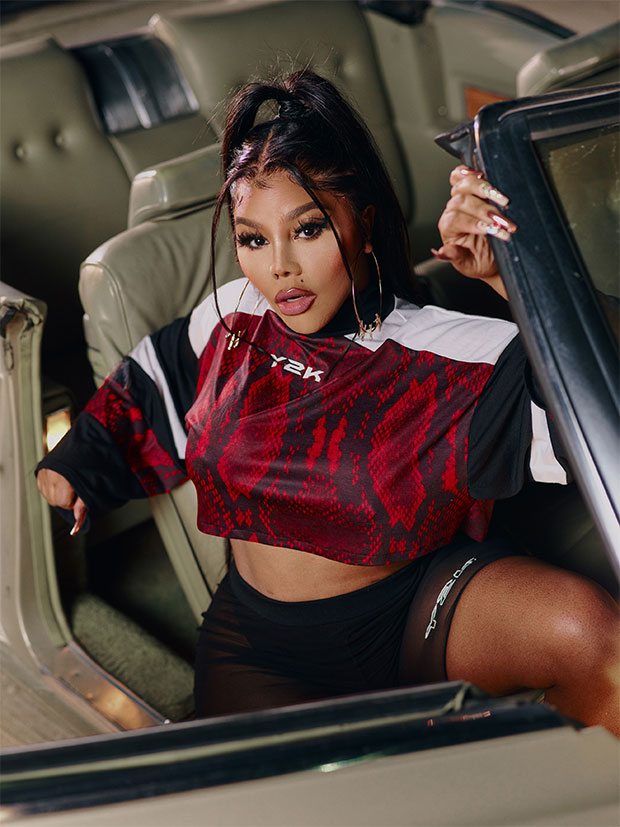 Kim's designs run the gamut, including sporty items. This Red Snake Motorcross Panel Top has a cropped fit and a "Y2K" slogan across the front sells for $38. It would look so killer with a pair of black leggings or a tight black miniskirt.
Kim's collection features a ton of incredible jumpsuits and bodysuits. Here she's seen in the Black Ruched Mesh Panel Plunge Jumpsuit. It fits the rapper like a glove as she models it, flaunting the plunging neckline. The design has sheer black ruched panels on both sides of the top, as well as the same look on the long sleeves. It's a steal for $55.
"To be working with one of the most iconic and legendary women in Hip Hop has been a dream come true for me," said PrettyLittleThing CEO Umar Kamani. "I've been a huge fan of Kim for years and after her performance at our New York Fashion Week show I knew she would be the perfect fit to launch our Partywear collection." He added, "She has worked so closely with our Design team bringing her version to life, recreating some of her most iconic looks which I know her fans will recognize."