Let it be known that 50 Cent is the hardest working rapper in the game – when it comes to trolling. As soon as the news broke that Lil Wayne was hit with a federal weapons charge, Fiddy, 45, hit up social media to seemingly mock Lil Wayne, 38, and his recent support for President Donald Trump. "[eyes emoji] Wait a minute. Trump still got 63 days left. Call him, Wayne. Get that fool on the phone. [facepalm emoji]. They gonna try to put you in jail for supporting trump."
Now, Lil Wayne wasn't charged for supporting the outgoing President of the United States. Instead, the U.S. Attorney for the Southern District of Florida – a state that went for Trump, btw – charged Lil Wayne with one count of possession of a firearm and ammunition by a convicted felon. Wayne, according to the legal documents obtained by HollywoodLife, allegedly "knowingly possessed a firearm and ammunition in and affecting interstate and foreign commerce, knowing that he had previously been convicted of a crime punishable by imprisonment for a term exceeding one year."
The charge stemmed from a December 2019 incident when authorities searched Wayne's plane at the Miami-Opa Locka Executive Airport, per the Tampa Bay Times. The federal agents discovered a gold-plated .45 caliber handgun in his Coach bag. Lil Wanye (Dwyane Carter Jr.) was convicted of a felony gun charge in 2009, and he faces up to 10 years in prison if convicted of this latest gun charge.
Lil Wayne "is charged with possessing a gold-plated handgun in his luggage on a private plane," says Howard Srebnick, Wayne's attorney, in a statement to HollywoodLife. "There is no allegation that he ever fired it, brandished it, used it or threatened to use it. There is no allegation that he is a dangerous person. The charge is that because he was convicted of a felony in the past, he is prohibited from possessing a firearm."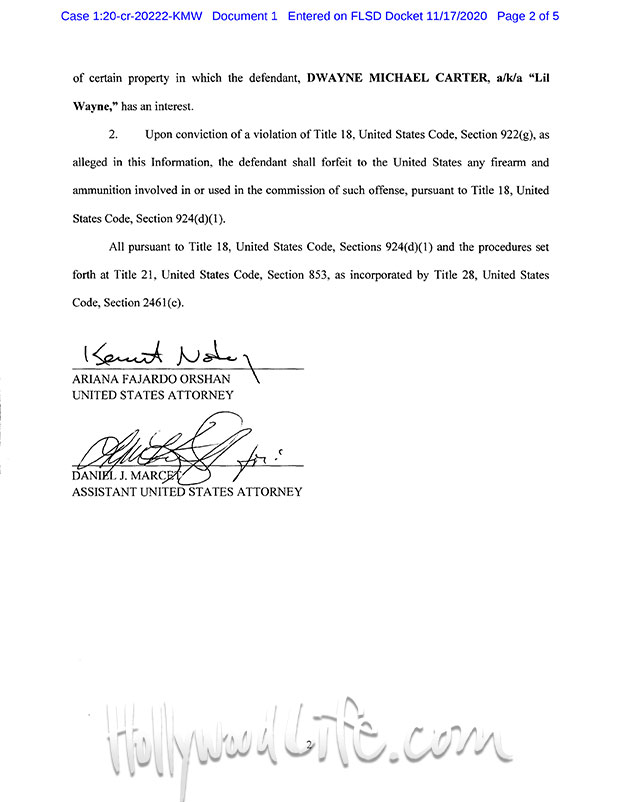 Considering the list of people Donald Trump has pardoned – former sheriff Joe Arpaio, Lewis "Scooter" Libby, Dinesh D'Souza, Conrad Black – and how he commuted the sentence of Roger Stone after he was convicted of witness tampering and making false statements to Congress, it's not beyond the realm of possibilities that Trump would pardon Wayne if convicted. However, Wayne may not want any more help from the outgoing president.
After voicing support for Trump, Wayne and girlfriend Denise Bidot unfollowed each other on Instagram, leading some to speculate him backing Trump resulted in a breakup. A day after the unfollowing, he posted a cryptic statement on Twitter. "I live the way I love and love the way I live. I'm a lover not a lighter bekuz they burn out. I am an eternal fire and burning love, either leave with a tan, a 3rd degree burn, or stay and die in love. You're sweating. Sincerely, the fireman."
Click to Subscribe to Get Our Free HollywoodLife Daily Newsletter

to get the hottest celeb news.