Ariana Grande and Mac Miller fans are furious! A rumor has gone viral on social media, alleging that Pete Davidson, 24, taunted the Pittsburgh rapper with intimate pics of his ex, Ariana. Even worse, according to the serious allegation, once the pop singer found out, she broke up with the Saturday Night Live star. The rumor is disturbing because it gives the appearance of being legit, as it boldly cites the showbiz news website TMZ as a source. There's one glaring inaccuracy that can easily be proven untrue though. TMZ wrote no such story and the whole thing seems to be a cruel internet hoax.
One tweet, which looks like a mock article, reads, "According to TMZ, Pete Davidson sent intimate photos with Ariana to Mac Miller as a way to end the rapper's hopes about her. Ariana discovered this this [sic] weekend from Mac's relatives and ended the relationship."
The backlash to the story on Twitter has been fierce, especially from fans still mourning the sudden Sept. 7 death of Mac. "I used to love Pete Davidson but knowing that he purposefully sent Mac Miller intimate pictures of him & Ariana to kill Mac's hope literally made me lose every ounce of respect for him. That's so unbelievably cruel," one fan tweeted on Oct. 17. "Pete Davidson is a literal f***ing a**hole," another fan wrote. "I just read he sent intimate pictures of him and Ariana to Mac to end Mac's hopes about her. I'm in shock someone would really be that dirty."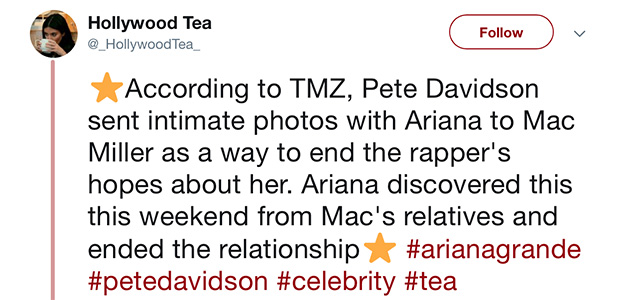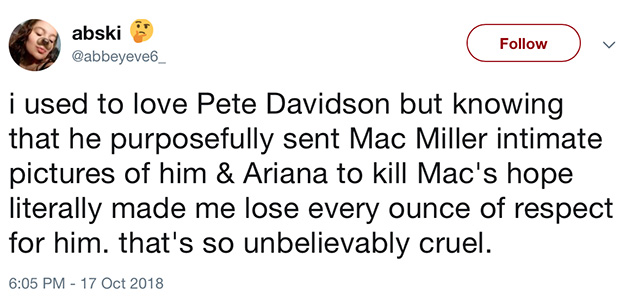 It's not clear who started this rumor, but it's obvious that every element of the story could potentially hurt two heartbroken people, going through an emotional breakup. News that Pete and Ariana had split, only broke on Oct. 14. He's been pictured looking glum and even pulled out of a comedy gig at Temple University in Pennsylvania on Oct. 17. Now strangers are calling for him to kill himself based on unsubstantiated claims circulating online. HollywoodLife reached out to Ariana and Pete's reps for comment.
For now, some savvy fans are questioning the story, especially given that outlets like BuzzFeed are shooting it down. In fact, a reliable source told HollywoodLife that it's not true at all. Poor Pete. Hopefully now people will stop slamming him.