Shop The Cutest Crop Tops Inspired By Celebrity Fashionistas Kendall Jenner & Hailey Baldwin
EXECUTIVE ASSISTANT/ WRITER
We love a good crop top whether it's a graphic tank or a fancy blouse, crop tops are always in style & our favorite celebrities can certainly vouch for that!
If you purchase an independently reviewed product or service through a link on our website, we may receive an affiliate commission.
Crop tops are all the rage in today's fashion scene and have pretty much been in style over the last few decades! They're comfortable, sexy, and most of all, flattering for all body types. Some of the biggest style icons in Hollywood rock the crop top effortlessly, like supermodels Kendall Jenner and Hailey Baldwin. Whether it's a graphic or sporty crop top to wear to a fitness class, or a dressy and sexier one to wear for a night out on the town, Kendall and Hailey certainly flaunt their stuff in crop tops often.
You can see one of our favorite and more dressed up versions of the crop top on Kendall and Hailey when the besties wore them out for dinner in Malibu, California on July 19. Hailey rocked a white, midriff-baring Christopher Esber dress, paired with a green Bottega Veneta shoulder bag for a pop of color. She sported jewelry, including short and medium Herringbone chain necklaces and strutted into Nobu wearing a pair of Femme Vignette tweed mules. Kendall, who looked equally stylish, stunned in a Steele cropped tank, a Mozh Mozh crochet mini skirt, and Staud 'Audrey' sandals. She slung a By Far Amber bag over her shoulder for the occasion.
For a more casual, daytime look, crop tops are the perfect go-to as well, especially in the summer and even early fall months. When you're out somewhere that the temperature isn't too chilly, a staple crop top is a must-have for everyone's wardrobe. Kendall Jenner is the queen of showing off her model-esque figure and does so often by showing a little midriff in a crop top. The supermodel rocked this cute day look consisting of red gingham pants, paired with a casual white crop top and white classic Converse sneakers on her feet to match, for a lunch outing with friends in Malibu. Could crop tops be any more versatile?
Think crop tops can mostly be worn when going out with friends? Think again! The crop top is a perfect staple to have in your workout wardrobe as well. Hailey, for example, always makes ath-leisure look chic and often incorporates crop tops into her fitness outfits. The model sported green Aritzia 'Atmosphere' biker shorts, paired with black Adidas Lxcon Dart Frog sneakers and a black cropped pullover. She appropriately covered her face with a Drew House face mask, courtesy of her multi-talented husband, Justin Bieber's fashion line. Talk about comfort meeting style!
From Hailey and Kendall to many more celebs, crop tops have become an essential wardrobe piece that they never get sick of! Want to rock the trend yourself? We've got you covered and pulled together eight adorable crop tops that are perfect for any occasion. Shop the pieces below!
1. Boao Basic Racerback Sport Crop Top
As seen on Hailey Baldwin, a crop top is the perfect basic to have in your "workout clothes" drawer. This adorable, racerback basic is the perfect look for any fitness class and comes in multiple colors to easily pair with yoga pants or leggings. It's comfy, breathable, and super flattering! $23, amazon.com
2. Urban Outfitters 'Out From Under Tuti Burnout' Cropped Tee
You're going to love, and NEED, this basic cropped tee from Urban Outfitters. It is available in various soft, neutral-toned colors, making it a perfect match for any pair of cutoff shorts or high waisted pants. It has a super flattering cut and longer sleeve hem, as well! $29, urbanoutfitters.com
3. Free People 'Turnin Heads' Cropped Eyelet Top
We love a cute, boho top for summer, and leave it to Free People to bring us just that! This gorgeous, stitched eyelet crop top is a stunning addition to any summer or vacation-mode outfit and comes in black or stone. Both colors truly match with just about anything! $98, freepeople.com
4. SweatyRocks Women's Graphic Cropped T-Shirt
Graphic tees will probably never go out of style, so why not stock up on some fun printed cropped ones? This cute, casual tie-dye cropped tee is perfect to add some urban flare to your every-day "running errands" outfit. The t-shirt comes in tons of fun colors and prints, too, including tie-dyes and fun slogans! $16, amazon.com
5. Bestisun Long Sleeve Athletic Crop To
You'll be stepping into yoga class in style wearing this long-sleeved crop top, which is available in over ten beautiful colors. Being comfortable in any fitness class is an absolute must, and this lightweight and form-fitting top hugs the body perfectly while it's in motion during a workout. $22, amazon.com
6. Anthropologie 'Jamilla' Cropped Pullover
Put your best foot forward in the fall and winter months in this unique, cropped sweater from Anthropologie. You'll be sure to stand out in this cool grey print, and the high neck flatters any body type. Everyone needs a solid cropped sweater in their wardrobe, and we are in love with this one! $88, anthropologie.com
7. H&M Fuzzy White Crop Top
You're going to be obsessed with (and won't want to take off) this ultra-soft, fuzzy white crop top. It's perfect to combine with sweats for just hanging around the house, or it could also be paired with a blazer and vintage jeans for a casual outing. It has a wide neckline too, allowing plenty of room for fun necklaces to accessorize with. $15, hm.com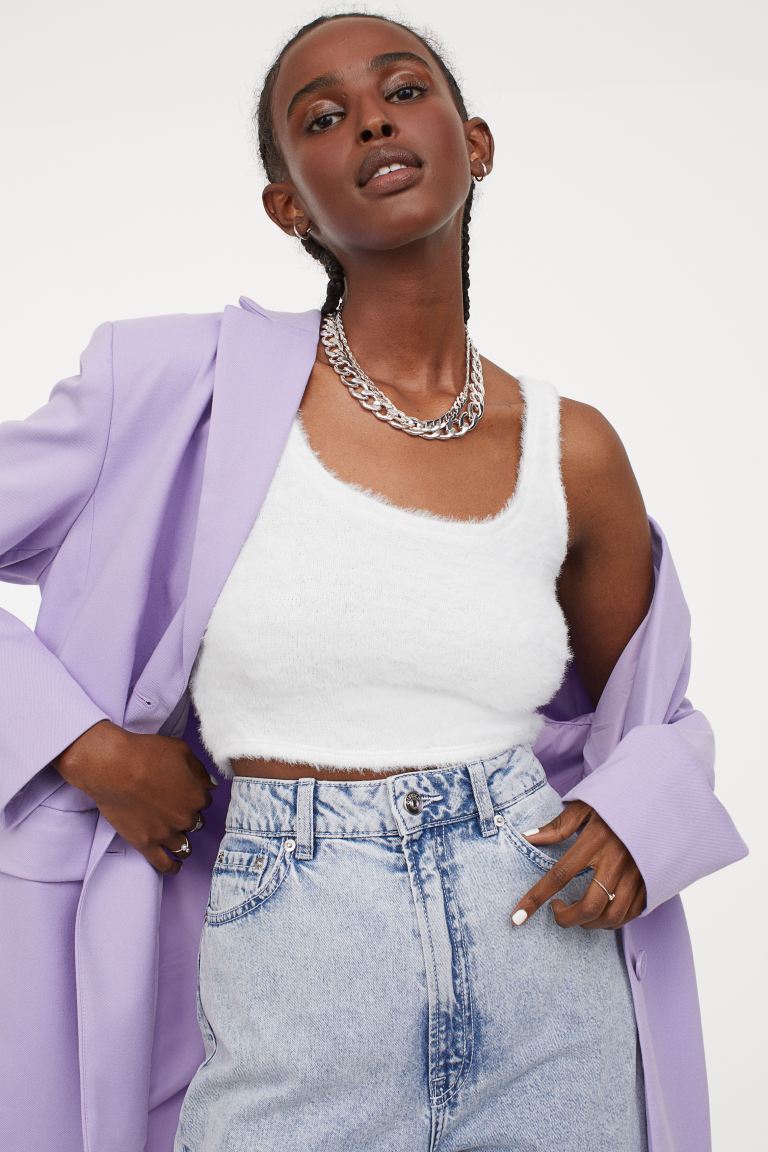 8. MAXIMGR Chiffon Cropped Tie-Front Top
Who doesn't just love summer styles? This gorgeous, cropped chiffon top is the perfect addition to any warm-weather affair: whether it's out for a night at the beach or socially-distanced hanging out with friends. It ties in the front which adds a cool crop effect, and you can never go wrong with some puffy sleeves, right? This piece comes in white, different shades of blues and black. $26, amazon.com
Shop these looks to add an array of versatile crop tops to your wardrobe! As shown by fashionistas Kendall Jenner and Hailey Baldwin, crop tops can be worn in many different ways, and can definitely be rocked by anybody!