The Masked Singer Season 5 returns March 10 at 8 p.m. on FOX. The brand-new season will feature a whole new set of masked celebrities dressed up in elaborate costumes, but before they make their debut tonight, we want to look back at the many costumes that wowed us in season 4! From vegetables to sea animals to food, the Season 4 contents on The Masked Singer really took the costume game to a whole new level.
First off, Season 4 brought out the show's very first two-headed duet costume. And let's not forget about the Whatchamacallit…literally, we do not know what to call this get-up, so you'll just have to see it below. Scroll through all the wild costumes that had host Nick Cannon and the celebrity panelists — Robin Thicke, Jenny McCarthy, Nicole Scherzinger, and Ken Jeong — guessing who was inside this past season:
Broccoli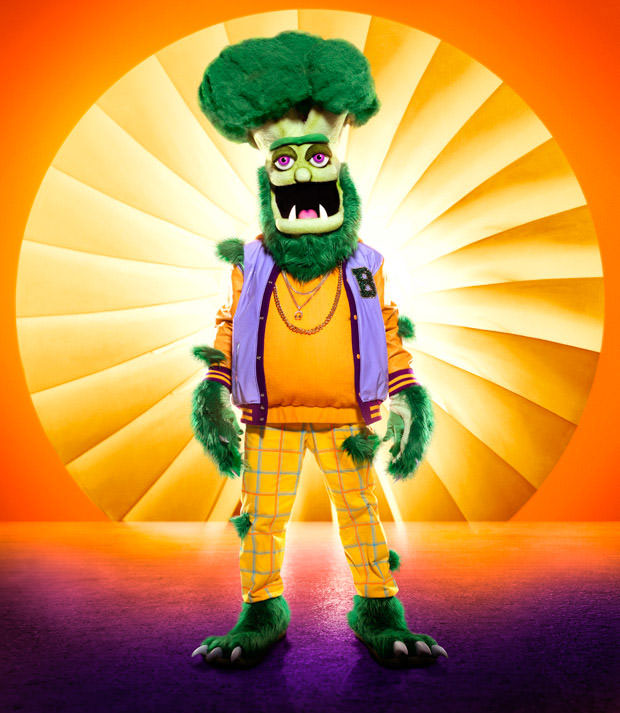 Vegetables arrived on The Masked Singer in Season 4. Broccoli was actually a very furry dude, with a bushy beard and lots of hair. Broccoli was green, of course, and has a super cool sense of style. Brocolli turned out to be 79-year-old Canadian singer Paul Anka, whose classic song "Put Your Head on my Shoulder" recently went viral on TikTok.
Seahorse
Seahorse certainly strut her stuff in Season 4. This gorgeous costume featured a multitude of colors. The Seahorse was a fashion icon in a fluffy skirt and colorful bodysuit. This masked singer turned out to be pop princess Tori Kelly!
Gremlin
There was a new fluffball in town after The Monster! The Gremlin, who clearly has a thing for the color purple, took the stage in season 4. From purple fur to purple eyes, this costume was a bright addition this past season. Also, who doesn't love a Gremlin?! And who doesn't love former actor-turned boxer Mickey Rourke, who turned out to be inside the gremlin costume.
Crocodile
Well, if this wasn't the fiercest and most fashionable crocodile you've ever seen! The Crocodile was pretty in pink with her colorful costume. The masked singer's massive cape, hat, and large bow took this costume to a whole new level. A former member of the Backstreet Boys — Nick Carter — turned out to be the person inside Crocodile, who came in third place in Season 4.
Mushroom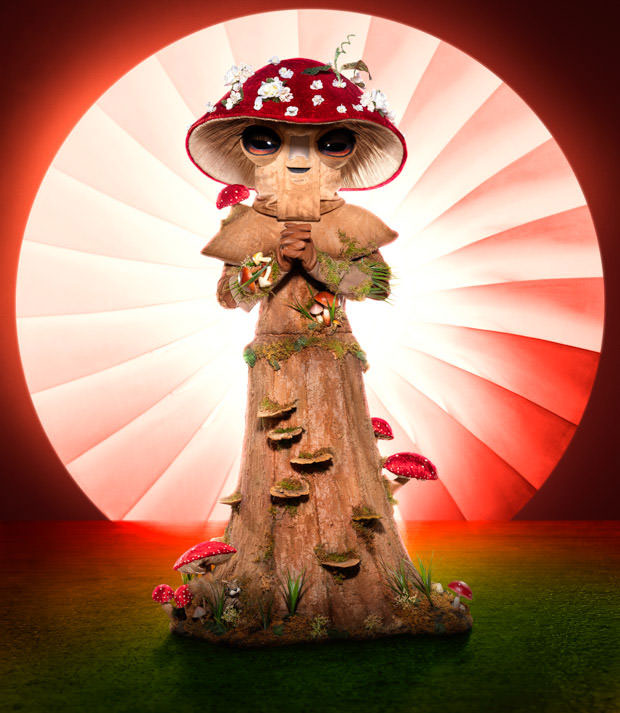 The Mushroom was one of the most intricate costumes we had seen yet. The head served as the Mushroom's hat and the rest of the costume was adorned with other smaller mushrooms and elaborate detailing. Grammy Award-winning musician, singer and songwriter Aloe Blacc turned out to be Mushroom, who was the runner-up of Season 4!
Baby Alien
Baby Alien's costume was out of this world. There was much to work with here! There was a little tiny alien sitting in the rocket, and the fire coming from beneath the rocket served as Baby Alien's skirt. It was eventually revealed that former NFL star Mark Sanchez was inside this intricate costume!
Serpent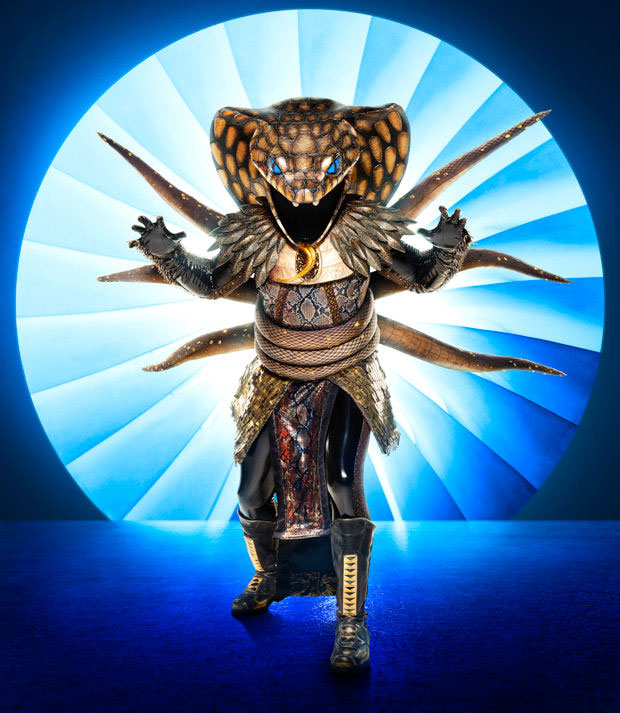 Don't mess with the Serpent! The Serpent's costume was super spiky and had snake tails sticking out from behind. The masked singer also wore a large snake head. This costume was the definition of fierce and was worn by a famous orthopedic surgeon/social media star, Dr. Elvis Francois.
Whatchamacallit
This contestant went by Whatchamacallit, because people didn't know what to call his unique costume! The masked singer was covered in red, white, and blue hair. The Whatchamacallit turned out to be New Orleans Pelicans' Lonzo Ball.
Jellyfish
We were green with envy after the Jellyfish arrived in Season 4! The body of the jellyfish sat atop of the celeb's head, who was surrounded by green tentacles. The Jellyfish wore a neon lime green trench coat as well as black and lime green leggings. The masked singer was just as cool in real life: Olympic snowboarder Chloe Kim.
Dragon
The Dragon heated up the stage in Season 4. The celeb was covered by a massive light blue dragon mask and wore a gold and red silk robe with armor underneath. The Dragon was revealed to be iconic rapper Busta Rhymes!
Giraffe
The Giraffe was very prim and proper, that's for sure. He looked like the ultimate baroque gentleman in his giraffe printed jacket, neck ruffle, stockings, heels. He even got a fancy wig, which was worn by Beverly Hills, 90210 star Brian Austin Green.
Lips
Lips kept it super sweet and simple. The masked celeb's entire costume was nothing but a huge pair of lips. Despite the simple costume, talk show host Wendy Williams (who was inside the costume) certainly grabbed fans' attention on the show. Her performance of Odyssey's "Native New Yorker" went viral on TikTok!
Popcorn
Popcorn buttered us up this past season! In a surprising move, Popcorn actually had a human-like face. However, her hair was one big popcorn kernel and her dress was inspired by a box of popcorn! "Tell It To My Heart" singer Taylor Dayne eventually popped out of this mysterious costume.
Snow Owls
Double the masked singers, double the fun. The Snow Owls were the show's first-ever two-person costume, and competed as one. The Snow Owls sat pretty in a gorgeous hatched egg and were covered in white feathers. Married couple Clint and Lisa Hartman Black turned out to be this mystery tag team!
Squiggly Monster
The Masked Singer always has at least one out-of-the-box costume. Season 4's wackiest costume consisted of eight arms, two legs, and seven eyes. Two of the Squiggly Monster's arms were on top of the celeb's massive mask, which was worn by Full House star Bob Saget!
Sun
The Sun shined extra bright, which was sort of foreshadowing since she did end up winning Season 4. The celeb, who was revealed at the very end to be singer LeAnn Rimes, dressed up in a gorgeous gold gown and was covered in a huge sun mask. She was also surrounded by rays. Talk about goddess vibes!