We've got another medical drama on our hands, but this time, the show is fully focused on nurses and their incredible impact in the lives of every patient they meet. Starring Tiera Skovbye, the NBC show Nurses, which premieres tonight, Dec. 7, at 10 PM ET, follows five R.N.s working on the frontlines of a busy downtown hospital, dedicating their lives to helping others, while also dealing with their personal dramas. Tiera called her character Grace the "heart of the show" in an EXCLUSIVE interview with HollywoodLife.com.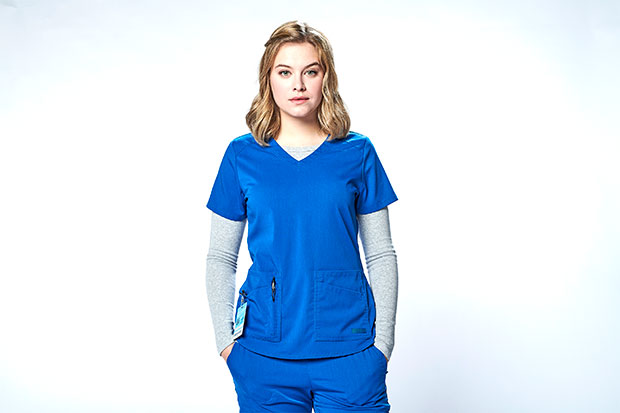 "She's one of those people that has a lot of stuff going on her own personal life, and it's very complicated. She's figuring things out and has got a lot baggage and demons and things that have followed her to this new job, where she was hoping to get a fresh new start and a clean slate," the actress explained. "I think throughout season one, Grace realizes that it's a lot more difficult to get through the day to day life as a nurse on your own than it is to rely on the people around you and get support from people who are going through what you're going, and what she's going through."
Tiera, who also recently starred as young Betty Broderick in season 2 of Dirty John, teased that more of Grace's background and those "demons" she referred to will come to light throughout the season. "Grace is the kind of nurse that no matter what's going on, she's always there for the patient, no matter how difficult the decision is, to provide them care," she said. "She will do anything she can to give the best care. She's no bullshit. Grace is very honest, she says exactly what's going on and I think she may have a bit of her guard up, but underneath that she has a really strong loving heart that just wants to do what's best and provide the best care."
Obviously, as Tiera mentioned, Grace is looking for a fresh start of her own, and promised we'd figure out what personal demons she's dealing with. "We definitely figure out kind of why everybody gets into nursing and where it stems from for them," she said. We can't wait!
Make sure to tune in to Nurses tonight, Dec. 7th at 10 PM ET on NBC!
Click to Subscribe to Get Our Free HollywoodLife Daily Newsletter

to get the hottest celeb news.