Jason Bateman, 51, kept the laughs coming on SNL! The actor hosted the long running sketch series for the second time, 15 years after his 2005 debut — and the highlight of the night was definitely his Santa sketch that included Pete Davidson and surprise guest Eminem, 48. In the sketch, Pete's character Stu wrote to Santa with multiple letters about the one gift he wanted most: a sold-out, impossible to buy PlayStation5.
Stu. pic.twitter.com/g2IH5swp9g

— Saturday Night Live – SNL (@nbcsnl) December 6, 2020
"Dear Santa…my girlfriend says I'm obsessed. I even got a tattoo of your name on my chest," Pete rapped to a tune inspired by Em's 2000 hit "Stan" feat. Dido. "Just bring that PS5 bro, if it's the only thing you do. Sincerely, Stu — yes we can live together, too," he begged, adding that he thought Santa's movie Elf starring SNL-alum Will Ferrell was "phat" (it is indeed a holiday classic).
Kate McKinnon, 36, took over the chorus á la Dido in the original song. "Stu is waiting for his surprise, he would love the PS5. He just really wants to play," she crooned, rocking a short wig in a dimly lit room reminiscent of the original music video. "But he can't buy it himself because he lost his job because he was stealing from his boss…I'd be worried as he's a scary guy, a scary guy," she warned Jolly Saint Nick.
"Dear Mr. Holly Jolly two-faced son of a b—-," Pete's Stu wrote to Jason's Santa once again. "I hope you end up face down in a ditch. I guess Saint Nick can't track down a PS5?…You ruined Christmas, I wish I never told you my wish list. Screw you, your Elves. Ladies and gentleman, Sir Elton John," he signed off as Bowen Yang hilariously belted out his take on events. Meanwhile, Jason's Santa has his own solution to diffuse the drama — a letter denying he was Santa at all. "Dear Stu — I think you had the wrong address, bro. I'm not Santa. Bye bye," he penned in a letter.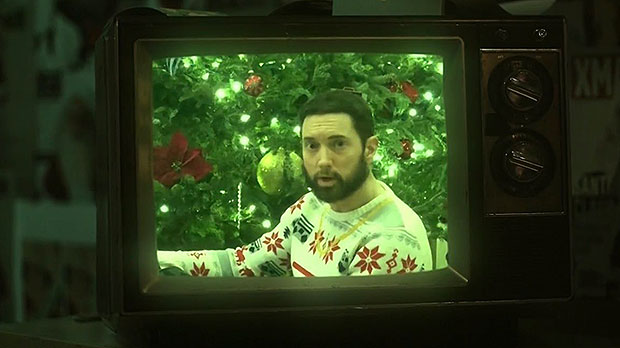 Just as the sketch was about to end, an old TV appeared with the words "Slim Shady" — and the real Eminem appeared for an epic surprise cameo! "Slim Shady, from Santa," he read off a card, opening a gift that turned out to be Sony's latest game console. "That's crazy! A PS5? I didn't even ask for this. Slim Shady must have been a good boy this year. I'm sorry Stu! You f—– up," he joked.
Jason was announced with a post from the SNL twitter account on Nov. 25, alongside rescheduled country musician Morgan Wallen. "We're back this Saturday with @batemanjason and music from @MorganWallen!" the tweet read, including their names on post-it notes. While fans are thrilled to see their favorite Saturday night show back in-studio, returning during COVID-19 hasn't been without challenges. For the first time ever in season 45, the show produced three special SNL At Home editions via Zoom.
❄️ December shows ❄️ pic.twitter.com/iEVoNkJv3g

— Saturday Night Live – SNL (@nbcsnl) November 25, 2020
"There's the sheer physical challenge of what we can do within protocols. We've been getting support from the governor's office, which is important because the audience is a huge part of it," show runner Lorne Michaels previously shared with Vulture. "So the physical problems of doing it — number of people who can be in the studio, number of people who can be in the control room, how you separate the band so that they're not in any jeopardy — all of those are part of the meetings we've been having," he explained. The series has been actively implementing quarantine rules for hosts and musical guests, which lead to Morgan's originally scheduled performance to be cancelled: the singer was seen maskless at a bar in a series of photos on social media just days before his SNL debut.
Morgan later apologized, revealing that Lorne gave him the opportunity to return at a later date. As for hosts, including Jason, they'll still be present with the SNL cast for the week. "[Rehearsals] will also be smaller. I don't think we'll go in 25 minutes or 30 minutes long at dress rehearsal. We'll be tighter," Lorne noted. "We'll try to mount fewer things, only because of the number of people who can be in the studio — the cast have to leave before stagehands can enter, those kinds of problems. Just the logistics alone will… It's going to be interesting. And you'll see the same people," he added.