It's a good time to be Lauren Ash. The Canadian superstar actress and comedian, best known for playing the no-nonsense assistant manager of Cloud 9 on Superstore, has a ton to celebrate. The NBC workplace comedy — and the strong lead to the network's return to a Must See TV Thursday lineup — was just renewed for a milestone fifth season. Meanwhile, the smash reboot of the 80's classic cartoon, She-Ra and the Princesses of Power, in which Lauren voices the good-hearted, Horde loyalist Scorpia, returns to Netflix for season two on April 26th, while it also celebrates being nominated for an Emmy.
With her two groundbreaking shows riding high, Lauren graciously stopped by HollywoodLife to chat EXCLUSIVELY about what's coming next for her two beloved characters. As a self-proclaimed superfan of the original She-Ra series, she had a ton to share on where the dynamic animated series is going next, thanks to show's fearless and almost entirely female leadership. But first, we dove into the what's coming up on Superstore, and perhaps, more importantly, who she wants to see pop up in season five.
In Superstore's current season, Dina has gone through quite a character progression. There's been several ups and downs, starting with the surrogacy of Glenn's baby and, more recently, her cherished birds flying away. Were you excited about these different storylines?
The problem with a character like Dina is it's very easy for her to be two dimensional, and I've always been very adamant that she's not a sociopath. She does have a heart and she does have feelings; she's just a very eccentric individual. I think what was really nice this season was we got to see a lot of those extra colors. We got to see her being vulnerable and scared about the pregnancy, about the c-section, and we got to see her going back to her old self a little bit. But then, of course, with losing the birds, I mean that's truly devastating.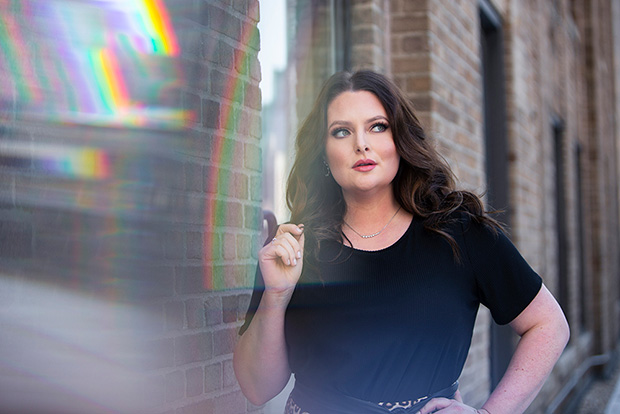 In a standout episode of the season, Dina recreates Beyonce's famous pregnancy announcement for her Christmas card. You were recently at the GLAAD Awards, where Beyonce was honored. Did you run into her at all to show her your version?
I didn't and it's such a shame because it was such a great homage, that photo shoot. People really loved that episode. I also love any episode where I get hung from the ceiling, and I love that I can say any episode that I get hung from the ceiling, because it seems to happen at least once a season now.
Speaking of taking flight, what about Dina losing her birds? What has the fan reaction been like to that story twist?
I will say that the response on Twitter has been mixed. A lot of people have been like, "You can't just show us the birds then take them away in the same episode!" But then, I've had a lot of bird owners reach out to me and be like, "As a bird owner, this is my biggest fear. Please say her birds come back." Who would have known that out of all the hot button, socio-political issues that Superstore covers, the biggest, most controversial [issue] is the losing of the birds!
Seriously! So then, what does the aftermath of the birds leaving look like for Dina?
I think the big thing in the short term for Dina is that [the birds' escape] really focuses her on things like her friendship with Amy and wanting to help Amy. She's got a lot of time now, both mental and literal, so she's ready to be like, "Oh, you need help? Let's do it, let's go." Dina's very excited about the idea that Amy's on the management track because it's like Rizzoli and Isles, the two of them… In the long term, the story will come back by the end of the season; we will see more on this. Obviously, her relationship with Garrett and what happened with them … there's fireworks to come, I'll say that much!
Looking ahead to season five. As a fan, I have been waiting to meet Dina's family.
We need to meet Denise. We need to meet her dad, who abandoned her at the gas station. We need to meet Colleen, from the Bellridge store, who she also hates. Truly, those are my three dream scenarios for season five. I've got to start pitching them now.
Do you have dream casting for the parts?
Well, Mark Hamill is a huge fan of Superstore, to the point that he reached out. Someone [on Twitter] said, "Hey, Mark Hamill you should watch Superstore." And he responded, "I've never missed an episode." That caused me to burst into sobs. Heaving sobs… I woke up in my hotel room to that and I was like "Ah!" So, I sent him a tweet back that was just like, "I just want you to know you have literally made my life, that you've even seen my show." And he wrote this huge tweet back. It was thoughtful… I think it would be hilarious if Mark Hamill was Dina's father. I'm gonna put that out there now, because sometimes when you put things out there in the universe, they happen.
They do happen!
I think it would be really fun! My dream is to see the people in Dina's life that soften her… because anybody who is like her, there's somebody or some people in her life that inevitably make her feel small. I want meet those people and see who they are and see that interaction. I think a Dad character, since he abandoned her as a child, there would obviously be a lot of play there. And yeah, I think it would just be cool if Luke was my father!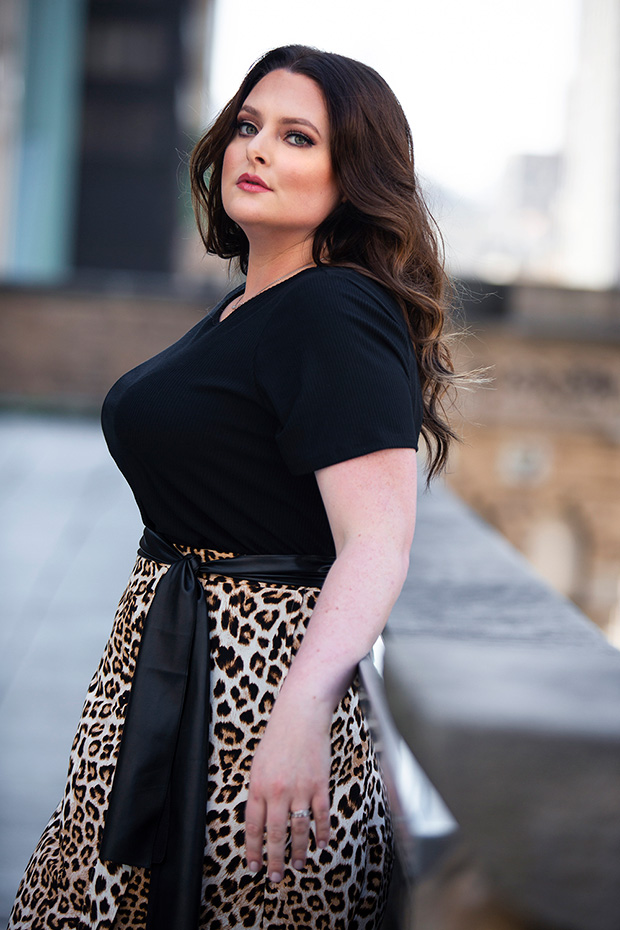 Since we're shooting our shot, what about a musical episode in season five?
We have been campaigning, from the first table read. We hadn't even shot the pilot, and we were like, "When can we do a musical episode?" … I think it was too soon [before now], that's like a season five thing. Well, guess what — you're just making the penny drop. We're getting into season five, I'm going to start rallying. I'm going to send a text to the cast text chain as soon as we're done here being like, "We gotta get on this!" I think all of us sing. All of us.
Who would be the most resistant to doing it?
Oh, Ben Feldman. Ben Feldman. First of all, he hates joy. Second of all — that's not true, but it is a little bit. [Laughs] He hates karaoke, and I love karaoke. Every year at Christmas time, I throw a giant karaoke party for the cast and crew and he hates it. He refuses to do it. We found out that when he was on Drop Dead Diva, he made it so known that he hated karaoke that the writers f*cked with him and they put a karaoke scene into the show. It's literally Ben Feldman singing, "Baby I need your loving, got to." So, the first karaoke party for Superstore, he didn't come. He was in New York or something. So we, as a cast, filmed ourselves singing that song and sent it to him. So he would be the one to push back the most, but he's a music theater nerd so I feel like we could pull him over.
Let's switch gears to She-Ra. Do you find that fans of the show are more 80's babies or actual kids?
It's a mix. She-Ra, without hyperbole, was my favorite cartoon show as a kid. It was very emotional for me. I had all the dolls. I have She-Ra T-shirts that I've worn to She-Ra recording sessions. So, there are people like me, who knew the show in the 80's and it's iconic to them and it's so cool to see the re-imagining. But then, there's also a lot of kids too. I think what's cool about that is that they have no concept of what that show was. They're seeing this as though it's a new invention… It holds up either way, which is a pretty special thing. I think that's pretty cool, when you have a reboot, a reimagining, however you want to label it, that works on both levels because I don't think that always happens.
It doesn't and I don't feel like the show has experienced much pushback as a reboot. It's very accepted. It's very championed.
I'll say this: I get thousands and thousands of positive messages on social media; I've had one negative. One negative, and it was a guy who was like, "This chubby Scorpia isn't my Scorpia." What's amazing about it is that I'm in the public eye, I've had people write terrible things about Lauren Ash and how I look, and it rolls off my shoulders. But for some reason, this person attacking Scorpia, I got so upset. I was like, "Oh my God! I can't believe! She's so sweet. How could you say that about her body? She's a warrior." Anyway, I went to block the guy, then I unblocked immediately, because I was like, "No, Lauren, no. Just wait." I gave it five minutes and the teen mob came, dragging this guy. And that's what's cool about this show existing in this era … the few naysayers who want to go publicly about it are destroyed limb from limb. And that's a kind of fan rabidity that I've not experienced before, which is pretty cool.
Scorpia is so soft-hearted that as a viewer, you end up asking yourself, "Is she a villain?" When you approach this character, is there something in the back of your mind that says, "I have to somehow weasel in some evil?"
No, because I think the key to her, the core of her, is extreme, extreme loyalty. She grew up in this world, so that's where her loyalties lie. If she had grown up in a different world, that's where her loyalties would have lied. I don't think that she necessarily, and I say this with love, I don't think that she necessarily chooses those beliefs; she's a follower. She's a super loyal friend. The other thing I realized was, if you look at season one of the show, the only time she fights anybody, it's in defense of somebody else. It's in defense of a friend, or to help a friend… it's never like she's an aggressor. She's the defender… I feel like it's fun to get to see the interplay between her and Catra for example, who is completely not impressed by her. In season two, we get to see a lot more of the Catra/Scorpia play and it is hilarious, but also heartbreaking. Because Scorpia's like, "I'm here! I'm here! I'm here! Look at the things I'm doing! I'm doing everything for you!" And there's a scene where she's literally saying, "Catra left me in charge. Me! She said even I couldn't mess it up. Me!" She's so blinded by her getting accepted and getting some sort of attention that she doesn't even see that [Catra's] kinda mean to her.
The show is very dominated by women: you have woman producers, you have woman writers, and a predominately female cast. That's a very rare experience for anybody in the industry. What is that like?
It's amazing. I mean listen, I love the company of women; it's so rare. I spent so many years in my career where that hasn't been the case, so it does feel nice. There was a day on Superstore too actually, where the director, the writer, the producer on set, and all the actors in the scene were women. It was this moment where we were all like, "Oh my gosh, there's like 25 of us here today and we're all women."… First of all, it's sad that this is a novelty, that there's so many women present. But secondly, I was like, "This week has been so productive, we have moved so quickly." No messing around. Just efficiency. So, listen, I'm not saying women are more efficient than men, but I am.
What can you tell me about the homage this season to the original 80's series?
It's really fun! There's an episode where Bo is setting up a plan on this D&D map and then he's like, "This is how I see things going." Then goes to his kind of fantasy and everybody's in the original costuming. It's so great. She-Ra's just so uncomfortable because [the costume] is so impractical. She's also so big, which is awesome and powerful in the new version, but she's like, "This doesn't feel right, my boobs are hanging out and my butt's hanging out." Then they show Catra in the original outfit and then Catra also transforms into the cat. At WonderCon, we were watching the clip on a big screen and I hadn't seen it before and I went "Oh!" because I was such a fan of the original show. I was so excited. The girl who plays Catra, [AJ Michalka], was like, "Wow, this really spoke to you!" And I was like, "It did! It did!"
Catch Lauren on Superstore, Thursday at 8pm, on NBC, and on Netflix's She-Ra and the Princesses of Power. Season one streaming now, and season two starts April 26.