Kim Kardashian is being accused of photoshopping an adorable picture of her daughter, Chicago, laying next to her cousin, Stormi Webster. The pic was originally post by Kylie Jenner, captioned 'Slumber Party,' showing the two toddlers snuggled next to each other in matching pink pajamas. When Kim reposted the picture, several people were quick to compare it to the original and claimed KKW photoshopped her 9-month-old's curls and forehead. What?!
Well, it definitely appears that Kim put a filter on the au naturale image Kylie posted, and brightened up the lighting a little, which in turn, changed the appearance of Chi and Stormi's skin tones. However, it doesn't seem that she did much more than that! The difference in Chicago's curls and forehead was first pointed out by the account CelebFace, which also has narrowed in on many of Kim's posts and the editing she's done on them. They noticed the major differences in hairstylist Chris Appleton's IG and Kim's own IG while promoting her KKW Beauty campaign! With Kim's edits on her personal IG, Kim's eyes go from their original brown to green, her face is slimmed and more contoured, and her cleavage is more prominent.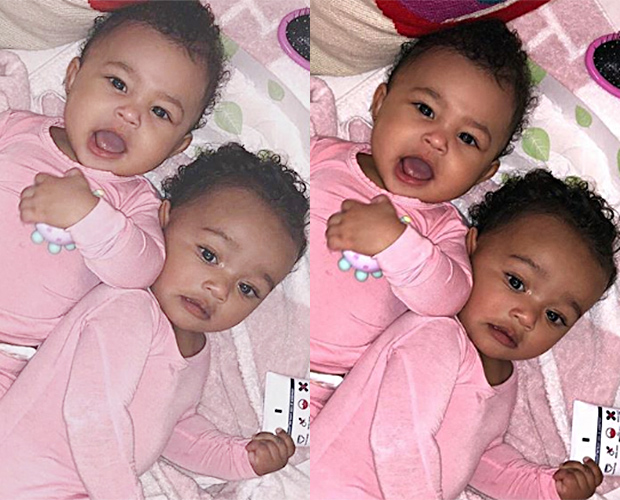 Of course, the photoshop accusations on Kim's pic of Chicago brought in an onslaught of shade from social media users. "Can't believe you would photoshop your own children lmfao," one user wrote. "OH so you just gonna photoshop your own babies head now. Real cool!!!!" another slammed. Yikes. Kim has yet to respond, but you know she isn't afraid to come back at the haters, so we're definitely going to monitor the situation, but this looks like it's just a case of a filter!