Jeff Lee: Alex Rodriguez COO Reveals Workout Secrets & Why A-Rod & JLo Are The Perfect Match
While we may see what's on the outside when it comes to Alex Rodriguez and Jennifer Lopez, it's the behind-the-scenes stuff that really makes these two truly magical! From business ventures to intense workouts, Jeff Lee tells us what its like to be their right hand man!
Ever wonder what it's like to travel the world with Alex Rodriguez and Jennifer Lopez, to witness their genius unfold each step of the way as their careers continue to flourish, and as the couple continues to conquer more iconic feats? — Yeah, us too, which is why we went to their go-to man, their rock in the gym and in business. We had the privilege of candidly speaking with the one man who helps define their career DNA, as a force in A-Rod's business, as well as a support system in the gym and in their personal lives — Jeff Lee.
Lee is the Chief Operating Officer at Alex Rodriguez Corporation, but manages to wear many other hats while sitting at the right hand of the Yankee legend. He even helps get Alex ready for ESPN's Sunday Night Baseball each week. Lee is also a fitness guru who says he's been the only person to have worked out at every Equinox gym in existence, which personally blew me away. Not only that, but Lee is continues to stay grounded and humble despite garnering immense success. And, to this day, A-Rod tells the story of how he hired Jeff the moment he knew Jeff had worked out at every Equinox gym in existence.
Where it all started — "I was an incredibly fat kid growing up, overweight until my first year of college. All I did was study. I would eat cake everyday and have absolutely no physical activity, whatsoever," Lee begins about his younger years. "One time I went to a gym and I put 90 pounds on each of the chest press barbells and realized I couldn't lift it and ran out in terror. That was the first and last time I was in a gym. I used to pop out my contact lenses in soccer class so everyone would have to look for them so I didn't have to play…"
"Then I went to Stanford. I lived in a dorm with a whole bunch of olympians and people who were apart of this incredible culture of fitness. It was the first time where I learned that you could combine the two, have both the academic life and be fit as well. I get competitive about everything, so for me it was a new journey."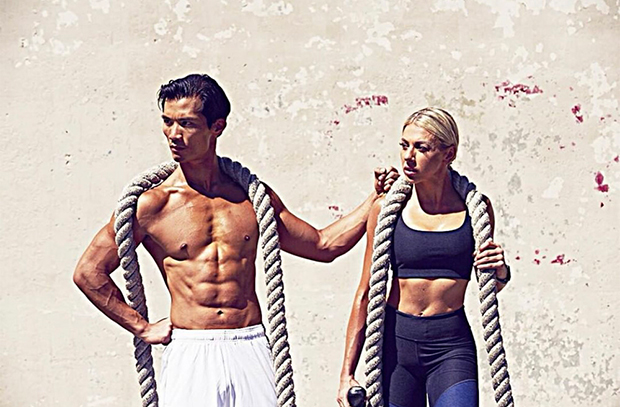 A few years later, Lee decided to get certified as a personal trainer, while in business school. "I wanted to educate myself," he says of the decision. "Along the way, I was training a lot of Miss Universe contestants as more of a hobby. I have a philosophy, I'll never ask anyone to do something I won't do myself. Whoever I'm training, I usually do the exercises with them, I sweat alongside them."
Lee went on to explain that he had trapped himself in the world of Equinox, first because he was a corporate lawyer, traveling and still getting his workouts in on the road at different clubs. Yes, he's also a Yale graduate. In a small time of six months, he had traveled around the world to Canada and other Equinox clubs spread throughout the globe to accomplish his goal to train at every one.
Now, he dedicates most, if not all of his time to A-Rod, and Jennifer as well. "It's a 24/7 job," Lee says of his role with the power couple. "I'm responsible for all of Alex's media appearances. I serve as his communications officer and rep. I'm also in charge of our legal as well since I was a practicing lawyer. I also help oversee out investments a number of different areas, and in terms of Jennifer, that's where I work most with her. She and Alex have gone into a number of businesses within fitness. These are businesses that represent a change for Jennifer since she has never been an equity holder in businesses. Alex and I work very closely to bring here into the investment side of things."
Lee went on to explain how A-Rod and Jennifer compliment one another so well as they continue to grow their businesses. "He has one of the greatest business minds I've ever seen, and she has the greatest business gut," Lee says, adding that it's very easy to see the "match" and how they "make so much sense together." — "There are people who've been saying this since they were in their teenager years, they're both people who have lived a lot of their lives through the harsh light of the public lens. It's great to see them come together at this time in their lives. It makes so much sense."
"One of the greatest things I've seen with them, I spend a lot of time with either one or the other — They're always thinking about the other one's problems when they're not with each other. His challenges and his business are what preoccupies her when she's not with him and vice versa. He's always thinking, 'How can I help Jennifer with things,' even when it's not in his wheelhouse, when he's not with her."
When Lee takes a quick break from the business talk with the two, they all enjoy a challenging workout. "They're both extremely fit people and very healthy people. They eat clean, they don't drink, party or smoke. She doesn't drink at all," Lee reveals. "I work out with both of them and I feel that Alex and I have an extremely good rhythm, but I always feel intimated when she's working out because she's probably the one person I can't keep up with. Jennifer gets her game face on! It's intimating how hard she works out."
"I truly believe this — Both of them are the most elite athletes of the highest order."
"Jennifer is someone who works out not only on stage, but she's working out before and after," Lee reveals. "She's made her body, not just her voice, but in her own sense, a very fine-tune instrument. And, that's something Alex has done throughout his entire career. So, you kind of take your cues from them, and it's been the perfect job to be with two people who are so fitness and wellness oriented."
In terms of workout tips, Lee says from his own experience with the couple that there are certain things they have to do to stay fit because they're always in different cities. "You can never use the excuse of jet lag, there's always a gym around you, or you have to work out smart. I like body weight exercises — So, I'll do burpees in my hotel room in the morning to get myself going."
Lee is a big believer that fitness is always a competition. "You should be shameless about it," he admits. "It doesn't matter if you're competing with the 90-year-old woman next to you in a class, or the body builder next to you. That's why group fitness is a part of the DNA.. There's no greater motivator than healthy competition."
Another tip of Lee's is to utilize the tools you have. "I'm a big believer in using your carbs and caffeine, but in the right way," he says. "Build up a tolerance early," Lee adds, giving an example of how he loves to drink black coffee. "So, I like to time my coffee before a workout. And the same goes for carbs. They have a bad rep, but if you have the right carbs like basic bananas and time them before a workout." But, Lee does not eat carbs at night. "I time carbs before and after intense workouts that way I'm getting the most out of them and not suffering the negative effects of them."
Aside from his work with A-Rod and Jennifer, Lee is also focused on maintaining his own health around his busy schedule. "Half the time my workout could be carrying Jennifer's VMAs dresses, which are extremely heavy, or if I'm carrying a crate of legal documents… You know, there's a lot of heavy lifting around being the COO of A-Rod Corp," he says, laughing. "It's about finding an opportunity anywhere you can. Alex and Jennifer are always on note go, so it trickles down, we have a very fit company."