Lara Trump Shares Photo Of Son Luke, 5 Months, Looking EXACTLY Like Grandpa Donald — See Pics
It's a mini Donald! Eric Trump's wife, Lara, took to Instagram to show off adorable pics of baby Luke, and his hair reminds us of his President grandpa!
Lara Trump, 35, took to Instagram over the weekend of Feb. 12 to post the cutest photos of her 5-month-old son Luke, and he looks like none other than his grandpa Donald Trump, 71! The wife of Donald's son Eric Trump, 34, was celebrating the 5 month anniversary of her amazing baby and it definitely seems like she's a proud mommy! "I know buddy, we're as shocked as you! Happy 5 month birthday!!!! 😁🎂🍼💛," she captioned one photo. Luke's blond hair was styled sticking up with a bit of a mohawk look and we couldn't help but compare it to Donald's own blond hair, especially the recent airport pics of his hair blowing around in the wind!
Lara and Eric's sweet Luke was born back in Sept. and they've been super excited about his arrival since the day they announced they were expecting. It's the first child for both but the 9th grandchild for the Donald and he's already so loved! Lara's social media is full of sweet photos of Luke and her family. From a play date with another baby to dips in the pool, the pics are totally irresistible and reflect how happy the trio seem to be.
In addition to showing off little Luke, Eric's been making headlines by supporting his dad Donald and his presidency. He was recently slammed by Twitter users for promoting the publication Trump Magazine. Many didn't like the idea of another Trump publication or the fact that the cover of the magazine was a picture of the Trump International Hotel in Washington DC.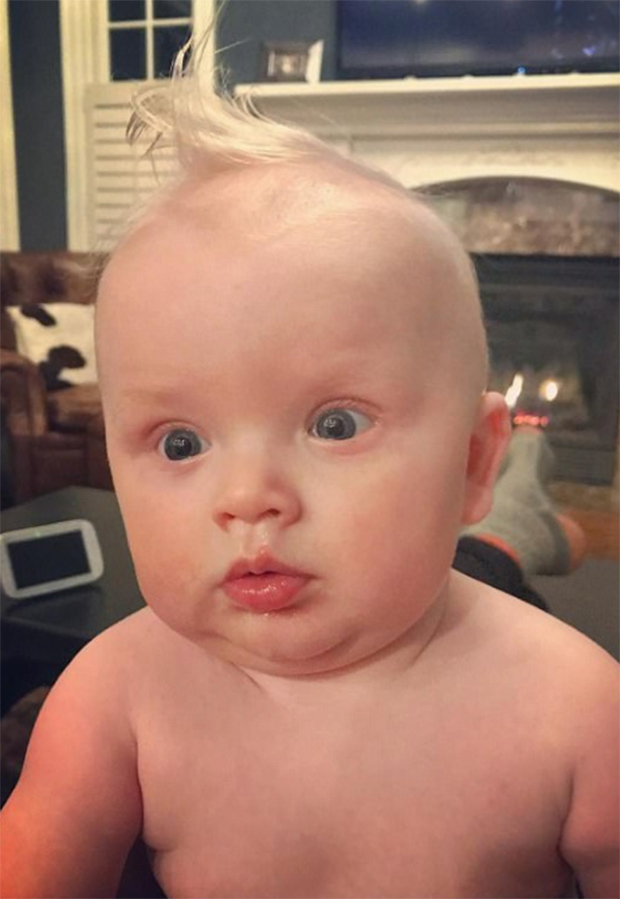 HollywoodLifers, do you think little Luke looks like Grandpa Donald? Let us know!